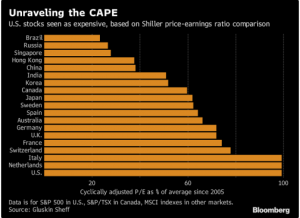 One of the main drivers of Brazil's monster rally this year should continue at full steam: earnings growth.
Brazil's Ibovespa index has advanced over 15 percent so far this year, one of the best performers among main global benchmarks, as corporate results shined amid record low interest rates and subdued inflation. In the third quarter, earnings before interest, tax, depreciation and amortization grew 27 percent for Ibovespa listed companies, according to Banco Santander Brasil SA.
"Brazilian companies have already adjusted their cost structure and we see a cycle of financial deleveraging," Santander strategist Daniel Gewehr said in an interview. The bank expects Brazil's earnings per share to grow 20 percent in 2019, double the average of emerging markets, and across sectors, according to Gewehr.
Santander Brasil has been favoring stocks in the consumer and industrial sector, which benefit from the ongoing economic recovery, as well as some state-run firms.
Bank of America Merrill Lynch is also optimistic, with the bank's Latin America equity strategist David Beker saying earnings growth will be "robust." BofAML sees the Brazilian economy expanding 3.5 percent in 2019, above consensus, and earnings per share growing 22 percent. Beker has one of the most bullish forecasts for the Ibovespa too, seeing it at 120,000 by the end of next year.
Investors are also eyeing consumer sentiment. Data released by the Getulio Vargas Foundation last week showed that consumer confidence in November reached the highest level in four years. For Franklin Templeton's Brazil Chief Investment Officer Frederico Sampaio, the numbers might be signaling higher odds of a significant upward revision to the economic activity forecast.
"Confidence is always the first visible signal to emerge," Sampaio said.