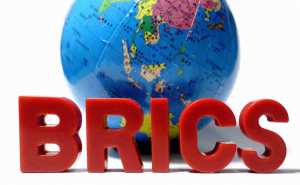 The leaders of BRICS countries, namely Brazil, Russia, India, China and South Africa, unanimously voiced support Friday for the multilateral trade system represented by the World Trade Organization (WTO), hours before the 2018 G20 summit begins in Buenos Aires.
Chinese President Xi Jinping, Brazil's Michel Temer, Russia's Vladimir Putin, South Africa's Cyril Ramaphosa and Indian Prime Minister Narendra Modi held an unofficial meeting in the Argentine capital ahead of the summit.
The five countries agreed to keep the global trade system transparent, open, inclusive and free from discrimination. They called on all WTO members to oppose unilateralism and protectionism that violate WTO rules, according to a press release of the meeting.
BRICS countries voiced their support to the WTO reform, calling on the core values and basic principles of the organization, as well as the benefits of developing members to be protected.
The joint press release also emphasized that the dispute settlement mechanism is vital to the stable operation of WTO and urged the organization to start the appointment of members of the appellate body.
Meanwhile, the five countries reaffirmed support for a peaceful and stable world as well as for the United Nations to strengthen multilateralism, and urged a more representative global order with fairness, equality and democracy.
The BRICS members voiced support to the implementation of the 2030 Agenda for Sustainable Development and the Paris climate agreement.
Amid sluggish economic growth and changes to the global economic landscape, the consensus voiced by BRICS countries showed their expectation to strengthen cooperation and protect mutual interests, according to the press communique.