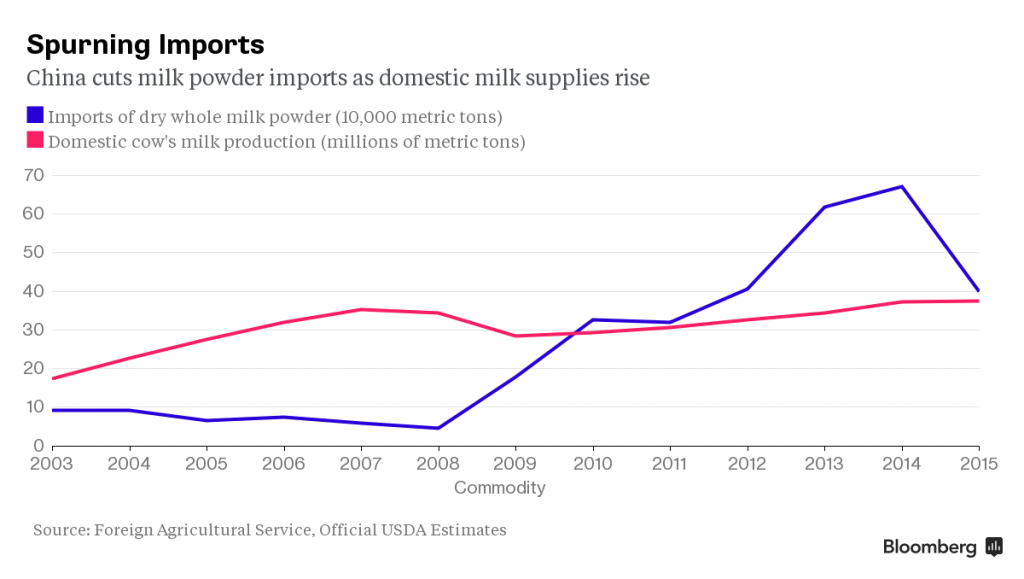 When China lost much of its appetite for imported milk powder this year, farmers 11,000 kilometers (7,000 miles) away in New Zealand went into a tailspin.
New Zealand supplies about two-thirds of the whole milk powder exported internationally, and China is its biggest customer. Shipments were down 65 percent in the first five months of this year, the U.S. Department of Agriculture said this month, and prices globally are the lowest since 2009.
That's contributed to a plunge in farm-gate milk prices that may make most of New Zealand's 12,000 dairy farms unprofitable this season, said Con Williams, a rural economist with ANZ Bank New Zealand Ltd. in Wellington. Last week, it helped prompt New Zealand's central bank to cut interest rates for a second time in six weeks, and has helped make the kiwi dollar the second worst-performing major currency this year.
 Fonterra Cooperative Group Ltd., the world's biggest dairy exporter, slashed its payment to New Zealand farmers to NZ$4.40 ($2.92) a kilogram of milk solids in the season ended May 31, from NZ$8.40 a year earlier. It's likely to cut a May forecast of NZ$5.25 for the new season after its board meets on Aug. 7.
Rival Open Country Dairy Ltd. last week forecast a payment of NZ$3.65 to NZ$3.95 for the current season, according to Hocken, who supplies the Auckland-based processor. Company officials weren't immediately available for comment.
Meantime, an extra 3 million tons of milk produced in China last year bolstered domestic supplies just as a slowing economy and an easing in dairy consumption growth there softened demand for imported products.
"Chinese milk consumption on a per-capita basis, particularly in the main cities, has reached levels where we are starting to see signs of market maturity," Moynihan said. "We're starting to see a reduction in growth on a per-capita consumption basis."