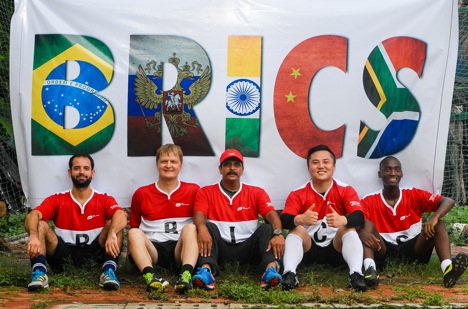 After Indian Prime Minister Narendra Modi's call to BRICS leaders to create a group sports council with soccer meets, Russia's Vnesheconombank and the Russian Consulate in Mumbai launched the first BRICS football tournament with India's South Kickers Soccer Academy. The tournament was held last weekend in Mumbai.
Six local children's teams and a team of players from the five BRICS countries, drawn mainly from the diplomatic and business communities, participated in a BRICS football tournament at Mumbai's Cooperage Football Stadium on July 25th, 2015.
"The idea to organize such an event between BRICS countries is in tune with Narendra Modi's proposal at the Ufa Summit to hold an annual BRICS football championship. This BRICS mini-cup in Mumbai was suggested by Consul General of Russia Alexey Novikov, and today we are happy that we could not only bring this idea to life but also bring children of our five nations together," Sergey Kotlyar, Russia's Dy. Consul General in Mumbai said.
Representatives of Vnesheconombank's (VEB) Mumbai office, with the Russian consulate and Indian partners, including the South Kickers Soccer Academy, joined efforts to turn the idea of uniting five BRICS nations through football and other sports to reality. The event was organized under the aegis of VEB annual sports festival, "Partners of the 21st Century," held every summer in Russia.
"Following this old tradition, we wanted to time this BRICS mini-cup to the games that are taking place in Moscow next month," Alexander Perminov, head of Representative Office of VEB in Mumbai told RIR. "We were also very happy to hear India's PM Narendra Modi saying that India will host BRICS football cup next year at the latest BRICS summit in Ufa. We believe some of the children whom we have seen on the field today will play in the grand BRICS football cup someday".
The BRICS mini-cup brought together six children teams from different parts of Mumbai, India's financial hub. The BRICS team that played with children at the tournament comprised diplomats and businessmen from all five BRICS.
"This event was a great success and great fun too," Jeffery Campus, Head of South Kickers Soccer Academy said. "I am quite sure that with the help of our Russian friends, and other BRICS nations, we will continue conducting similar sports events in other disciplines, since it gives our children not only experience in sporting but the great exposure into global world".
"We have to overcome such a big challenge as stereotypes that can totally ruin the exchange between countries, and these socializing events can definitely help that".