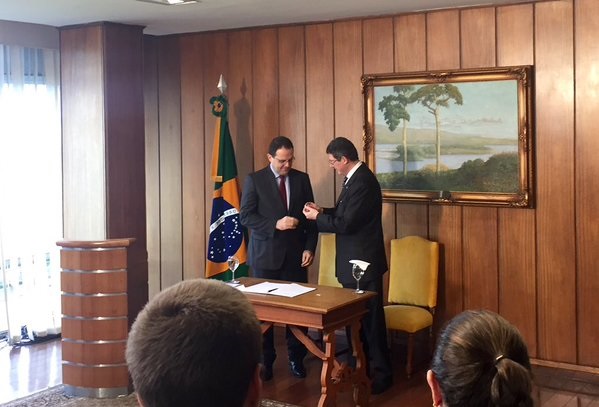 Brazil's President Dilma Rousseff said on Monday that changes at the helm of her economic team does not alter the government's objectives in the short term: "restoring fiscal balance, reducing inflation and urgently resuming economic growth".
Rousseff was speaking at the swearing-in ceremony of Nelson Barbosa, her new Finance Minister.
The Brazilian President said the country needs to overhaul its regulatory framework and reform its tax system to become more competitive.
Rousseff also said the priorities of the new economic team will continue to be balancing the country's fiscal accounts and restoring growth.
Rousseff named leftist economist and close aide Nelson Barbosa to replace fiscally conservative finance minister Joaquim Levy.  Barbosa is closer to Rousseff's party (Workers Party) leaders than Levy was.
"We must improve regulatory framework to create new opportunities for jobs and improve the economy," said Barbosa on Monday.
"At this point, our biggest challenge is fiscal. It is to build the conditions to stabilize and then reduce our level of public debt, both in net debt and in terms of gross debt," he added.
Rousseff has said she has tasked her Finance Minister Barbosa and new Planning Minister Valdir Simon to reassure Brazilians that "fiscal balance and economic growth can and should go together".
Barbosa assumes charge at a difficult time for the Brazilian economy with the budget deficit swelling to the widest in at least two decades and the country's investment-grade rating gone.
Alfredo Saad Filho, Professor of Political Economy at the SOAS, University of London, calls it "the most severe economic contraction in a generation", due to the turmoil in most middle-income countries, and to an 'investment strike' targeting the President's downfall.
"Despite its volcanic energy, the new right is devoid of support outside the élite. There is not, then, a crisis of the state, but a crisis of government that cannot be addressed in the absence of economic growth. However, growth is unlikely to return while the PT (Workers Party) remains in power," Filho tells The BRICS Post.