India and China will sign several business agreements worth about USD 10 billion at the India- China Business Forum to be addressed by Prime Minister Narendra Modi in Shanghai tomorrow.
Official sources told PTI that agreements worth about USD 10 billion will be signed at the event which will be attended by heads of a number of Indian and Chinese business houses.
Modi, who will leave Beijing for Shanghai tonight, will meet CEOs of top Chinese business houses in Shanghai tomorrow.
Earlier, Indian Ambassador to China Ashok K Kantha had said that the two countries "agreed on a close developmental partnership during Chinese President Xi Jinping's visit to India and Modi's visit will delineate on how to take forward the bilateral economic engagement."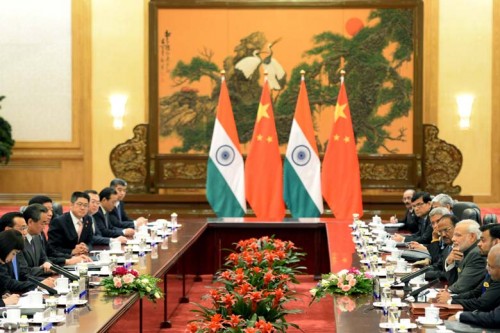 "We expect more than 20 business agreements to be signed in Shanghai during the visit," the Indian envoy had said.
The Indian envoy, however, did not elaborate on the business agreements likely to be signed.
Several others areas ranging from cooperation between provinces, cities, skill development, disaster management, smart cities and outer space will see concrete progress which will take forward the relations in a "fairly comprehensive manner", Kantha had said.
India and China today signed a record 24 agreements in key sectors, including in railways and education, on day two of Prime Minister Narendra Modi's first visit to the communist neighbour.
Protocol for setting up Consulates-General at Chengdu and Chennai besides an MoU on consultative mechanism for cooperation in trade negotiations were among the 24 agreements signed in the presence of Modi and his Chinese counterpart Li Keqiang here.
An action plan between the Indian Railways and China National Railways on enhancing cooperation in the railway sector was also signed.
"Today, we have signed over 20 agreements, covering diverse areas of cooperation. This shows the depth and maturity of our relationship and the positive direction of our partnership," Modi said in his address.
"Our decision to open consulates in Chengdu and Chennai reflects growing mutual confidence and shared commitment to expand relations," he added.
An MoU on education exchange programme and 'Space Cooperation Outline' were also signed.
Other key agreements are on developing China India think tanks, maritime cooperation and ocean sciences.
Four agreements were signed on sister-state and sister city relations between Karnataka and Sichuan province; Chennai and Chongqing; Hyderabad and Qingdao; and Aurangabad and Dunhuang.
An agreement on setting up a Mahatma Gandhi skill centre in Ahmedabad was also signed besides a broadcast tie-up for Doordarshan and China's state-run CCTV.
Agreements on education exchange programme, on mining and minerals, skill development, tourism and vocational education also figured on the list.
Two MoUs between Indian Council for Cultural Relations (ICCR) and Yunnan Minzu University and another with Fudan University were signed on the establishment of a Yoga college and centre for Gandhian and Indian studies, respectively.
First Published on May 15, 2015 12:04 pm