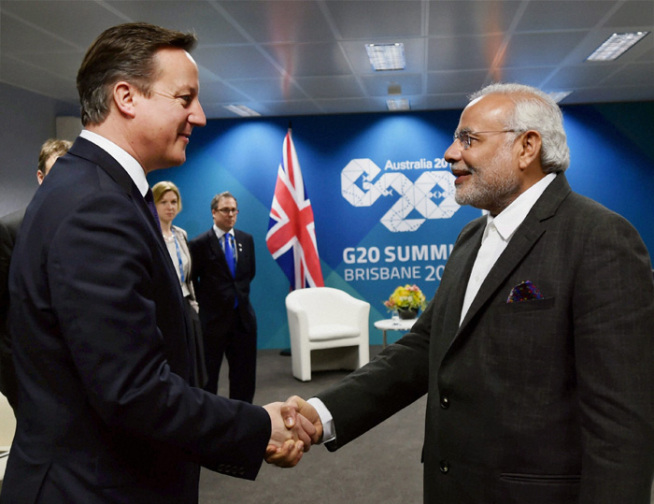 New Delhi: Narendra Modi will begin his first visit to Britain as Indian Prime Minister on Thursday, seeking to boost investment in his booming country and win the backing of a large and influential diaspora community.
Modi will have lunch with Queen Elizabeth—an honour usually only accorded to heads of state—and address parliament as Britain rolls out the red carpet for the leader of one of the world's fastest-growing major economies.
Around 60,000 British Indians are expected to attend a sell-out rally at Wembley Stadium billed as the biggest reception ever given to a foreign leader in Britain.
It is a remarkable turnaround for a politician who was effectively banned from visiting the former colonial power for nearly a decade over anti-Muslim violence in his home state of Gujarat in 2002.
Britain was among the first Western countries to end its boycott of Modi, who has denied any wrongdoing over the violence that killed more than 1,000 people, mostly Muslims.
Prime minister David Cameron will come under pressure to raise the subject of human rights in India after 40 law makers including opposition leader Jeremy Corbyn signed a motion for parliament to debate a host of issues.
They range from alleged abuses by police in Kashmir to a ban on a BBC documentary about a 2012 gang rape in New Delhi that shocked the world.
But investment and trade will be the main focus of the visit.
Cameron has visited India three times as prime minister, eager to boost trade with the rising Asian power, which reached $14 billion in 2014-15 according to Indian government figures.
A Downing Street spokeswoman said "nothing is off the table".
"Our focus is on how can we work together on challenges facing our countries from economic prosperity to security," she told AFP.
Modi will meet chief executives for a roundtable discussion in London, seeking investment to maintain a pace of economic growth that has hit around 7%.
"My message to the business community is clear—come, make use of the opportunities India is offering and invest in India," he said in a Facebook post.
Analysts said the Indian premier, who swept to power last year on a promise to create jobs for a growing young population, would seek to sell India as a safe bet to investors in London—one of the world's main financial centres.
"The main thrust will be on leveraging investors," said Sreeram Chaulia, Dean of the Jindal School of International Affairs.
"India stands out as a rare beacon and the prime minister will play that up, focus on that really, and say, 'look, India's a safe and stable bet'."
Mitigating against that message is an ongoing tax dispute between Indian authorities and Britain's Vodafone that has become a symbol of the problems foreign firms face in doing business in Asia's third-largest economy.
That will likely feature on the agenda, as will Indian plans to market rupee-denominated "masala bonds" in London.
Defence deals are also on the cards as India undertakes a multi-billion-dollar upgrade of its ageing military hardware.
Among the $15 billion worth of deals reportedly expected to be signed during Modi's stay is an agreement for Britain's BAE Systems to sell 20 more Hawk trainer aircraft to India.
India remains the world's largest importer of defence equipment, but Modi has made clear his determination to boost the domestic industry, lifting a cap on foreign investment in defence production.
"India is now looking at purchases that involve technology transfer and manufacturing in India," said Neelam Deo, a former Indian ambassador and now director of the Gateway House think-tank in Mumbai.
Modi will also inaugurate a London memorial to the low-caste leader of the struggle for Indian independence, Bhimrao Ambedkar, during his three-day visit.
It comes as the Hindu nationalist leader faces criticism at home over what critics see as rising intolerance after a spate of violent attacks on secular intellectuals and Muslims.
An invitation to speak at the University of Cambridge has reportedly triggered a letter of protest from scholars concerned by those attacks.
But for many British Indians, the visit will be a cause for celebration.
The rally at Wembley Stadium, which sold out months ago, will include a huge fireworks display to mark the festival of light, Diwali, which this year falls in November.
Modi has addressed similar rallies in New York and Sydney, but the London event will be the biggest yet, drawing tens of thousands of supporters who will travel from across the country in special "Modi express" buses laid on by the organisers.
"Relations between Britain and India remain substantive and I think that has a lot to do with the expatriate community," said Deo.