JOHANNESBURG, Dec. 8 (Xinhua) — International rating agency Moody's said Tuesday it had revised to stable from negative its outlook on the South African banking system for the next 12 to 18 months.
Although subdued economic growth and rising interest rates will increase non-performing loans (NPLs), South African banks' financial performance is expected to remain resilient, a Moody's report says.
The agency's stable outlook on the banking system is consistent with the outlook on most South African banks' ratings and its stable outlook on the sovereign rating.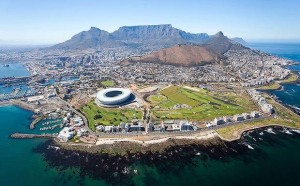 Moody's rates 11 commercial banks, comprising about 96 percent of the banking sector's total assets.
"The stable outlook reflects our view that South African banks are well-positioned to withstand headwinds from the country's weak economy," said Nondas Nicolaides, Moody's vice president who acts as senior credit officer.
"While we forecast NPLs of between 3.5 percent-4.0 percent of gross loans in 2015-16, up from 3.3 percent in June 2015, South African banks' resilient core earnings and ample capital buffers will enable them to manage asset quality deterioration," said Nicolaides.
While the South African economy is under pressure from a softening in global demand and lower non-oil commodity prices, its large corporates are generally lowly-leveraged and sufficiently liquid to weather the challenges in the economy, supporting banks' asset quality, says the report.
Muted demand for South Africa's exports from Europe and China remains a risk for the economy and the banks, as it accounts for around a third of the country's export, according to the report.
"At the same time, the banking system's return on equity (ROE) of 16.3 percent combined with a Tier 1 capital ratio of 11.6 percent as of June 2015, provides sufficient cushion to absorb any increased credit losses," said Nicolaides.
Moody's expects banks' ability to raise funding through deposits and the capital markets to remain intact, although at marginally higher costs due to rising interest rates, stricter liquidity requirements and a challenging operating environment.
"We also think that liquidity will remain sufficient, despite the likely increase in cost and the small retail deposit base," Nicolaides said.
On balance, Moody's expects that banks' pre-provision income will remain resilient as net interest margins remain stable on the back of a predominantly floating rate loan book. The rating agency also expects banks' return on assets (ROA) to stabilise at around 1.1 percent, from 1.2 percent reported in June 2015.
"We consider that efficiency levels will remain steady, although some pressure will arise from inflation-linked salary increases and certain foreign currency-denominated expenses following the depreciation of the local currency," Nicolaides said.