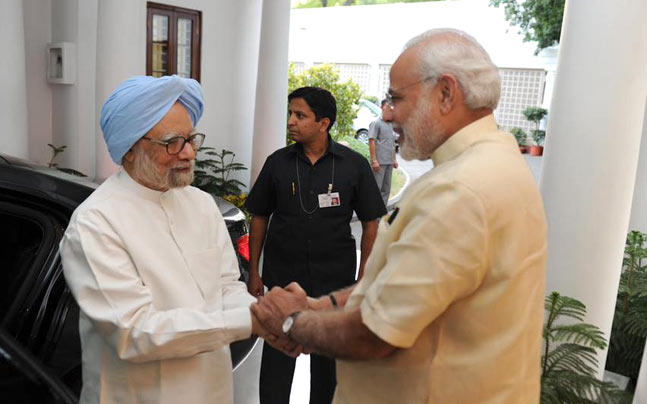 Prime Minister Narendra Modi met the former incumbent Manmohan Singh at his official residence in New Delhi on Wednesday, a day marked by a rare attack by the Congress leader on the first anniversary of the NDA government.
"Very happy to meet Dr. Manmohan Singh ji & welcome him back to 7RCR. We had a great meeting," Modi tweeted from his personal handle, with a photo of the two leaders clutching each others' hands outside 7, Race Course Road, the official residence of the Indian prime minister.
While the details of what transpired in the meeting between the two leaders is not yet known, it is being speculated that Manmohan paid a courtest visit to his successor to wish him on completing a year in power. Hours earlier, however, Manmohan, in an unusually outspoken attack a year after losing office, accused the Modi government of rewriting Indian history to suit the Hindutva agenda since storming to power in May last year.
"The institutions of democracy are under threat. The entire edifice of the welfare state is now being dismantled. The past is continually being rewritten to promote a highly biased and communal view of history. Dissent is being suppressed," the 82-year-old Congress leader said in a speech to young Congress members in New Delhi.
Modi hit back shortly afterwards, joining the BJP's recent chorus against the ten years of UPA rule, alleging that extra-constitutional authorities wielded real power in the Manmohan Singh-led government, a reference to the BJP's charge that the remote control to Manmohan Singh's government lied with Congress chief Sonia Gandhi and her coterie.
The mild-mannered Singh, who enjoyed a reputation for personal probity, also denied any wrongdoing during his decade-long rule. "I can say in all humility that I have not used my public office to enrich myself, enrich my family or to enrich my friends," he said.
On Tuesday, former TRAI chief Pradip Baijal accused Singh of allowing the 2G spectrum allocation scandal in 2009. The former prime minister also faces allegations of involvement in corruption involving coal mining licences, which he has denied.