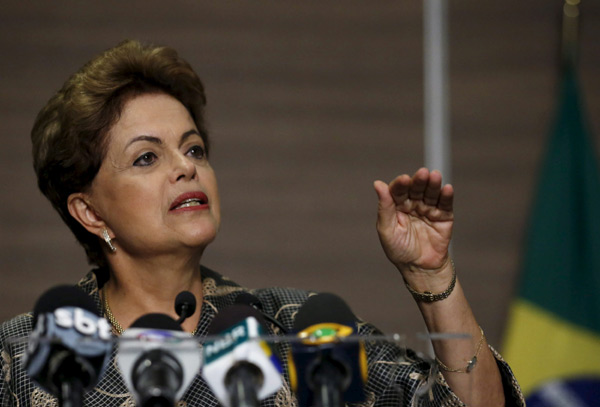 RIO DE JANEIRO – Brazil President Dilma Rousseff said Wednesday her country was ready to collaborate with Swiss and US authorities over their probe into football corruption.
Swiss police arrested seven officials from football's governing body FIFA on Wednesday for alleged fraud, racketeering and money laundering over 24 years.
Among those detained was Jose Maria Marin, the president of the Brazilian football federation (CBF) from March 2012 to April this year.
"I believe that any investigation into this matter is very important," Rousseff told reporters during an official visit to Mexico.
"It will allow for greater professionalism in football. I don't see how it can be of detriment to football in Brazil. It will only be of benefit."
Rousseff said she was not aware of any request to assist authorities in their investigations so far.
"We have an agreement with the US attorney's office and the department of justice to collaborate systematically when necessary," she added.
Others arrested in Zurich were Jeffrey Webb, Eduardo Li, Julio Rocha, Costas Takkas, Rafael Esquivel and Eugenio Figueredo.
Those detained did not include Sepp Blatter, who is favorite to be reelected for a fifth term as FIFA president on Friday.
The US has sought the extradition of the seven detained officials.
Swiss authorities have launched a separate probe into the decision to award Russia and Qatar respective World Cup hosting rights in 2018 and 2022.
Argentina great Diego Maradona, who has had a long-running feud with FIFA, praised the action of US and Swiss authorities.
"They called me mad, but thankfully today the truth is out and I am enjoying it," Maradona told Argentine radio station La Red.
"They hate football. They hate transparency. Enough shady dealings. Enough lying to the people."
Former Brazil striker Romario, now a federal senator, also applauded Wednesday's arrests.
"The imprisonment of Jose Maria Marin is the start of a great future for our football," Romario said in a televised statement.
"We hope that things change and that we can finally put people who act for the good of football in charge of its institutions."