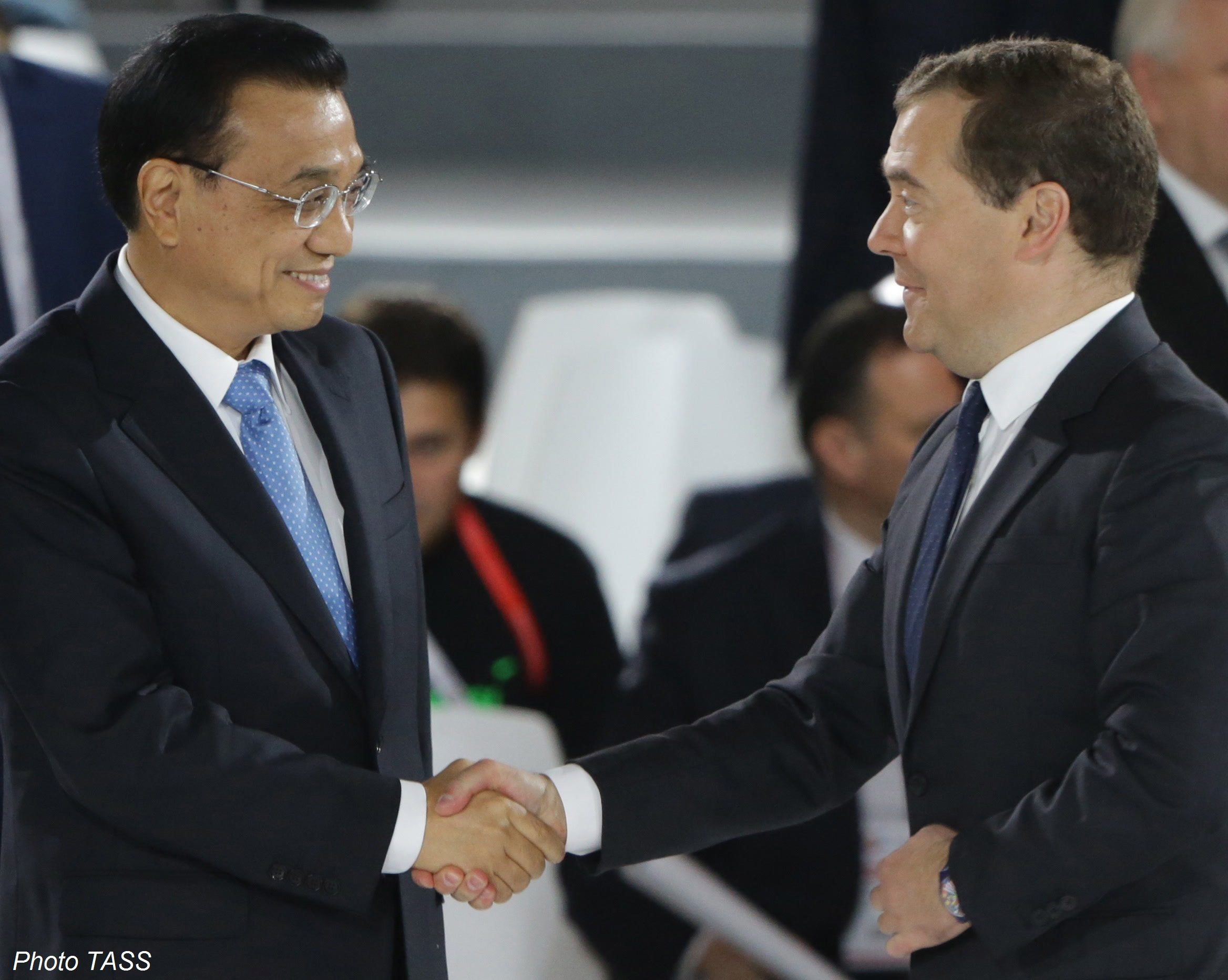 Russian Prime Minister Dmitry Medvedev is rounding off his official visit to China on Thursday.
The last day of Medvedev's Chinese visit will begin with a meeting with representatives of the Chinese youth and a wreath-laying ceremony at the Monument to the People's Heroes in Beijing's Tiananmen Square that commemorates Chinese revolutionary heroes of the 19th and 20th centuries.
After that, the Russian prime minister will meet with Premier of the State Council Li Keqiang. The two heads of government will hold the 20th regular meeting that is expected to yield a number of documents.
Chinese Deputy Foreign Minister Chen Guoping said earlier the two premiers would discuss Russian-Chinese cooperation in the political, economic and humanitarian areas, as well as in the sphere of security. Apart from that, it is planned to sign agreements in the areas of energy, space research, civil aviation, nuclear energy, and in the sphere of scientific and humanitarian exchanges.
Later on, Medvedev will speak at the ceremonies of closing the years of friendly youth exchanges and opening of the Russia-China cross-years of the mass media.
Cooperation Between Moscow and Beijing
The Russian-Chinese relations of partnership and strategic cooperation have comprehensive, equal and confidential character and are in the interests of the peoples of the two countries, an official at the Russian government administration told TASS. The legal framework of the relations between the two countries includes more than 300 treaties and agreements embracing practically all spheres of cooperation.
The mechanism of regular meetings between the two countries' heads of government, existing since 1996, is a structure that organizes and control development of bilateral cooperation in the key areas. This mechanism includes deputy-prime-minister-level commissions (on preparations of regular meetings of the heads of government, on humanitarian, investment and energy cooperation) and 19 sectoral subcommissions. Under the 2014 decision of the two premiers, a high-level working group (co-chaired by deputy prime ministers, Dmitry Rogozin of Russia and Wang Yang of China) was set up within the mechanism to control the implementation of strategic projects of economic cooperation.
Cooperation in Figures
Since the beginning of the 21st century, Russian-China trade has increased by more than ten times. China is Russia's biggest foreign trade partner, accounting for 11.3% of Russia's foreign trade in 2014. Russia is China's ninth trade partner, with a share of 2.2% in China's foreign trade in 2014.
However in the unfavorable foreign trade situation in January-August 2015 bilateral trade demonstrated downwards tendencies (by 29.8% on January-August 2014) and droped to 41.4 billion U.S. dollars. Russia's exports to China were 19.1 billion U.S. dollars, or down by 26% Imports from China stood at 22.4 billion U.S. dollars, or down by 32.7%
Russia's priority plans are to change the structure of trade, including by means of increasing the share of high value added goods in its exports and expanding the geography of trade exchanges.
According to the Russian government, China's cumulative investment in the Russian economy reached 8.7 billion U.S. dollars as of late June 2015, or up by 11.9% on June 2014. Chinese investments basically go to the mining sector, timber processing, construction, processing industries and agriculture.
Promising Areas
Moscow and Beijing are maintaining active cooperation relations in the oil sector. In the first six months of 2015, Russia's oil exports to China increased by 15% on the same period last year.
Russia is expanding electricity export to China, with electricity exports in a period from January to October 2015 reaching 2.8 billion kilowatt hours.
Cooperation in the sphere of transport is demonstrating positive dynamics. The two countries are actively developing interregional cooperation. In the financial and banking sphere, the two countries are more widely using their national currencies in mutual trade and investment transactions, as well developing cooperation between the national payment systems. The two countries have vast potential of cooperation in high technology areas too, the Russian government noted.
An agreement has been reached with Chinese partners to select new top-priority joint projects in such areas as the industry of nano systems and new materials, energy and energy supplies, rational management of natural resources and environment protection, information and telecommunications technologies.
In 2014-2016, support will be offered to nine such projects to an aggregate sum of 305.5 million roubles (4.3 million U.S. dollars).
A top-priority area of cooperation is work on a new wide-body long-haul civil jet and a heavy helicopter.
"Russia and China are expanding cooperation to integration the Eurasian Economic Union and the Silk Road Economic Belt. Both sides proceed from the importance of practical steps to implement this project," the Russian government official said.