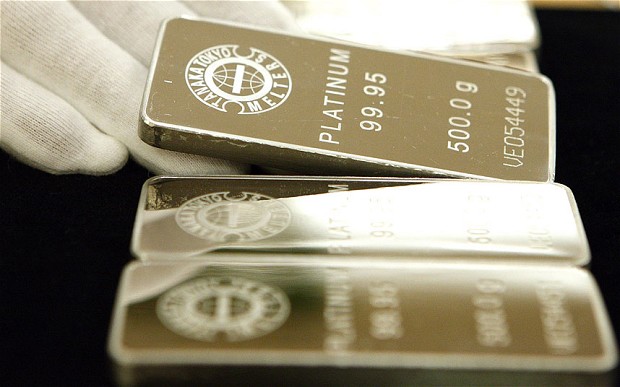 Lonmin Plc, the world's third-largest platinum producer, said South Africa should push its BRICS emerging-market partners to enact stricter laws to curb vehicle emissions and adopt the metal as a reserve holding to drive demand.
Platinum producers in South Africa, which provide more than 70 percent of global supplies, are grappling with a 44 percent slump since 2011 in prices for the metal, used in devices to clean vehicle emissions and for jewelry. In an attempt to support the industry, the government, miners and labor unions have proposed the adoption of platinum as a reserve currency as part of a draft plan to promote investment.
Tougher vehicle-emissions standards in BRICS nations would pay off by increasing the use of platinum in catalytic converters for cars, while "reducing the health bills" of those countries, Lonmin Chief Executive Officer Ben Magara said at an African Mining Network presentation on Thursday in Johannesburg.
Lonmin and other producers are in talks with South African authorities "to see to what extent even our own Reserve Bank could consider platinum as a reserve currency," Magara said. "The question is then, what South Africa could do through BRICS. We really believe it's something that has got legs."
Aside from South Africa, BRICS includes Brazil, Russia, India and China.
Lonmin, which has been operating at a loss, is reorganizing its operations with plans to reduce capital spending and cut 6,000 jobs. Its shares have dropped 81 percent in London this year over concerns that it may struggle to refinance about $550 million in debt facilities that mature next year.
"The board has announced that it is looking at all the long-term capital options and cash injections to make sure that we will be a sustainable business," Magara said. "I am confident" of finding a solution, he said.
Platinum for immediate delivery gained 0.7 percent to $1,007.50 as of 7:55 a.m. in Johannesburg, paring losses for the year to 17 percent.