The real sank to a 12-year low and the Ibovespa sank on speculation that Latin America's largest economy is struggling to put its finances in order and avoid a credit-rating cut to junk. Brazil's bond risk traded near the highest level since 2009.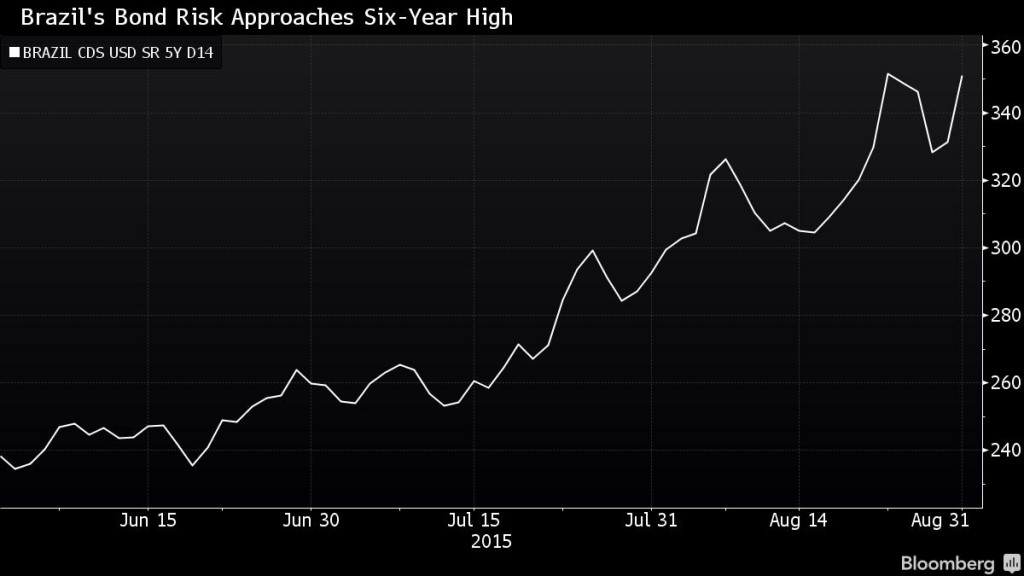 The equity gauge extended the worst monthly slide in 2015, led by banks, after President Dilma Rousseff was said to have abandoned the idea of reviving a tax on financial transactions to boost revenue. Brazil's government cut its estimate for budget savings for the second time this year, forecasting a deficit for 2016 as Congress steps up its opposition to tax increases and spending reductions. Stocks also slumped on renewed concern that China, Brazil's top trading-partner, will fail to revive its economy.
"Brazil is getting closer to a rating cut," Alvaro Bandeira, an economist at Banco Modal, said from Rio de Janeiro. "There's lack of credibility toward the fiscal adjustment. In addition to that, all the uncertainties regarding China's growth is dimming the outlook for Brazilian exports."
Bear Market
Brazilian shares entered a bear market this month, after plunging more than 20 percent from their peak in May, as Rousseff faces backlash from lawmakers as she tries to approve measures to shore up the budget amid forecasts for the longest recession since the 1930s. Moody's Investors Service cited lack of political consensus on attempts to repair government finances as well as a faltering economy when it lowered Brazil to the lowest level of investment grade this month. Standard & Poor's cut its outlook for the nation in July, moving closer to reducing its credit rating to junk.
The Ibovespa tumbled 1.1 percent to 46,625.52 on Monday, bringing its monthly slide to 8.3 percent. The real retreated 1.1 percent to 3.6205 per dollar. Credit-default swaps insuring Brazil's debt against non-payment jumped to 3.51 percentage points.
Brazilian stocks and the real also slumped after analysts forecast a deeper recession, while remaining unconvinced that inflation will slow to the target in 2016. The economy will contract by 2.26 percent in 2015 and by 0.4 percent next year, according to the Aug. 28 central bank poll of about 100 analysts. The top five economists surveyed by the monetary authority cut their median outlook for the currency at the end of next year to 3.83 per dollar, which would be the weakest since October 2002.
Global Rout
A renewed selloff in global equities also rattled Brazilian markets as concern grew that China's efforts to prop up its markets will fail and Federal Reserve officials signaled they're prepared to raise interest rates.
U.S. prosecutors have expanded their probe of currency-market manipulation by some of the world's largest banks to include the Russian ruble and Brazilian real, according to two people familiar with the matter. The Justice Department is using cooperation agreements it reached with banks in May to gather information and interview traders about suspected market rigging, said the people, who asked not to be named because the investigation is confidential.
'Reality Check'
"Brazil's current story is a reality check," said Martial Godet, the head of Europe and emerging-market equities and derivatives strategy at BNP Paribas SA in Paris. "The nation is facing more bad news almost every day."
Financial shares led losses on the MSCI Brazil index. Itau Unibanco Holding SA contributed most to the Ibovespa's decline, while brewery Ambev SA retreated for the first time in five days. Petroleo Brasileiro SA rallied with oil. Pulp producer Fibria Celulose SA climbed as a weaker real bolstered export prospects.
Swap rates, a gauge of expectations for changes in borrowing costs, soared 0.27 percentage point to 14.22 percent on the contract maturing in January 2017, extending their monthly increase to 0.79 percentage point.