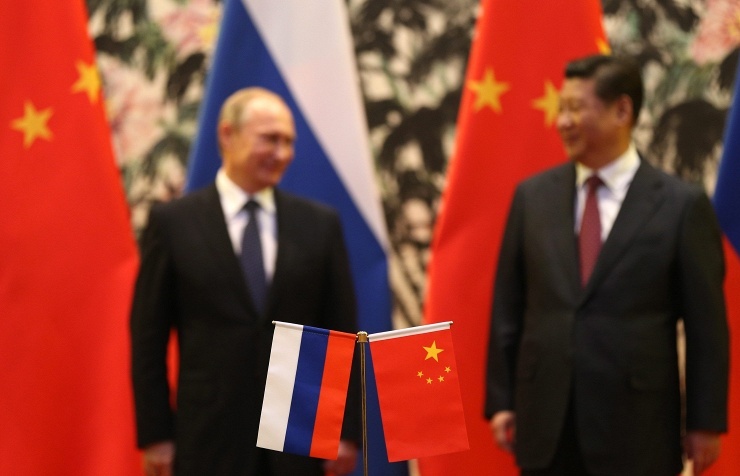 It is planned to sign around 30 bilateral documents during Russian President Vladimir Putin's visit to China on September 2-3, presidential aide Yury Ushakov told journalists on Monday.
"Around 30 different documents are being prepared that will be signed in the presence of Putin and Xi Jinping," Ushakov said.
According to the official, the agreement on western route natural gas pipeline to China is unlikely to be signed during the visit.
"Currently, right at this present moment of time it's unlikely," Ushakov said when answering the question whether the signing of the agreement on "western route" in China is planned.
Kremlin spokesman Dmitry Peskov told journalists earlier that the package of documents that are planned to be signed during Russian President Vladimir Putin's visit to China has not been agreed yet.
"There is no final agreement on the documents yet, the list has not been finally coordinated yet," Peskov said adding that it will announced after the final agreement on the package is reached.
Putin will pay an official visit to China on September 2-3 on Chinese President Xi Jinping's invitation to participate in the celebrations devoted to the 70th anniversary of Victory in the War against Japan and the end of the Second World War. The two leaders also plan to hold talks focusing on development of bilateral relations, especially in the framework of implementing agreements reached during Xi Jinping's visit to Russia in May and on the sidelines of BRICS and SCO summits in Ufa in July.
Putin and Xi will exchange opinions on pressing international and regional issues, prospects of deepening cooperation in the framework of the United Nations Organization, G20, Asia-Pacific Economic Cooperation and other international organizations, as well as linking the Eurasian Economic Union with the Silk Road Economic Belt project.
A package of bilateral documents will be signed during the visit. "These documents include all aspects of bilateral cooperation, including in finance and investment, transport and logistics," Russia's Ambassador Extraordinary and Plenipotentiary to China Andrey Denisov said last week. "In general, it is obvious that the visit of our leader will give an additional impetus to our strategic cooperation in all spheres," the diplomat added.
Putin will also hold bilateral meetings with several leaders who will take part in celebrations in Beijing.