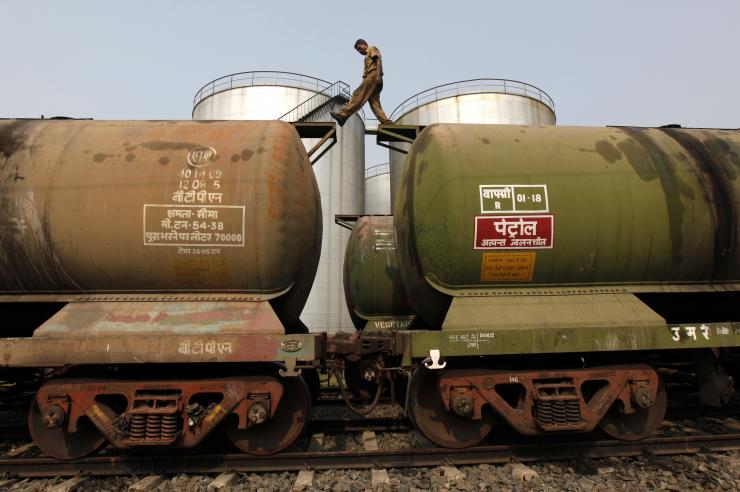 Spurred by the prospect of an end to western sanctions, Iran has agreed to consider Indian demands for steep oil price discounts and other buying incentives, sources said, as it works to rebuild market share in a world awash with crude.
Tehran's return to the market will deepen a global supply glut that has cut benchmark Brent crude prices by two-thirds since 2014, below the lows hit during the 2008 financial crisis and to levels last seen in 2004, leaving producers to battle for market share.
The National Iranian Oil Company's international affairs director, S.M. Ghamsari, met Indian refiners last week, the sources told Reuters, including firms that halted imports from Tehran because of the sanctions.
Rather than quoting its own terms and prices, people involved in the negotiations said the Iranian delegation made the rare move of asking the refiners for proposals that would make their supplies more competitive than those of rivals.
"I haven't seen them as flexible as they were in the recent meeting," said a refinery source who met Ghamsari. "They have sought our feedback on how to make pricing of their crude competitive."
Ghamsari was willing to consider better pricing and sales terms, as well as offering new grades of crude, to boost market share, said four Indian refinery sources with direct knowledge of the talks.
"Naturally, we will see if Iranian oil fits into our model. If it is economical, only then we will go for it," said a source at an Indian refinery that does not buy Iranian oil.
Currently, Iran offers 90-day credit, free shipping and some discounts on crude prices to buyers in India.
India is Iran's second-biggest customer for oil, and at around 4 million barrels per day (bpd) is the world's fourth-biggest oil consumer. The country imports some 80 percent of its needs and demand is set to rise fast as the economy grows at over 7 percent a year.
Ghamsari's office in Tehran said he was not available for comment.
CUT-THROAT COMPETITION
No date has been set for the lifting of nuclear sanctions on Iran, but Tehran said on Friday the country will export most of its enriched uranium to Russia in coming days, a key part of a deal reached last year with a group of six world powers.
Iranian exports would go head to head with competitors within the Organization of the Petroleum Exporting Countries (OPEC) like regional rivals Saudi Arabia and Iraq, which produce similar types of crude and have virtually the same trading routes and prices.
"The Saudis and Iraqis are already in the market. If Iran wants to corner their share, it has to offer better terms in the form of discounts and payment conditions," said Ehsan Ul-Haq, senior analyst at London-based consultancy KBC Energy Economics.
"It will be a cut-throat fight for market share among the Gulf producers," Haq said.
Formerly the second biggest OPEC exporter, Iran's crude exports have more than halved to around 1 million barrels per day (bpd) since 2011.
Tehran has said it plans to ramp up output by 500,000 bpd once sanctions are lifted, adding to overproduction that is estimated at between half a million and 2 million bpd.
The moves in India follow agreements to extend crude sales with its top two Chinese buyers into 2016.
In India, Iran already supplies oil to Mangalore Refinery and Petrochemicals, Essar Oil and Indian Oil Corp. Reliance Industries Ltd, Hindustan Petroleum Corp, HPCL-Mittal Energy Ltd, Chennai Petroleum Corp and Bharat Petroleum Corp stopped imports from Iran due to sanctions that hit banking channels.
No official comment was immediately available from Indian refiners.