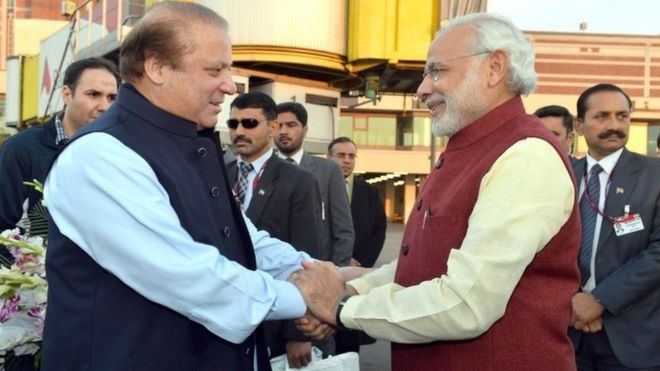 NEW DELHI: India's trade with Pakistan could get a boost through a more liberal visa regime, closer links between business houses and grant of most favoured nation status to the country by the Nawaz Sharif government, following Prime Minister Narendra Modi's fresh initiative to reach out to his counterpart in an attempt to improve bilateral relations.
Officials said improvement in economic relations is one of the least controversial and, therefore, the most easily achievable of the confidence building measures envisaged in the comprehensive bilateral dialogue recently launched by the two sides. Bilateral trade was one area which saw some progress when structured dialogue between the two neighbours was resumed in 2011 after the 2008 terrorist attack in Mumbai.
India-Pakistan trade touched a peak of $2.7 billion in 2013-14, before dropping to $2.35 billion in the next fiscal. Trade through third countries is estimated at $3.5-4 billion. Modi had urged Sharif at their first meeting in Delhi in May 2014, a day after he was sworn in as PM, to take steps to improve cross-border business relations. While there has not been much progress on the ground so far, Modi's surprise visit to Lahore on December 25 and the impetus this is likely to give to relations could change things for the better, the official said.
In July last year, the Indian High Commissioner to Pakistan had announced the country's unilateral decision to grant three-year multiple entry business visas to eligible Pakistani nationals. This came after the revised visa agreement of September 2012 liberalised provisions regarding business visas and allowed visa holders to travel to 10 cities for business purposes.
Although efforts have been made to give a fillip to exchange of trade delegations over the past few years, Pakistan has alleged delay in granting business visas to visit India. Further liberalisation of the visa regime could be discussed at the next commerce secretary-level meeting, officials said.
India had accorded MFN status to Pakistan in 1996 to boost bilateral trade, but a Pakistan cabinet decision of November 2, 2011 to reciprocate this remains unimplemented. In March 2012, Pakistan substituted a 'positive list' of over 1,950 tariff lines permitted for import from India by a 'negative list' of 1,209 lines, Pakistan government officials said.
The two countries had during the commerce secretary-level talks in Islamabad in September 2012 agreed on a road map to move toward full normalisation of bilateral trade. However, Pakistan is yet to implement its decision as per the road map – permitting all importable items through Wagah-Attari land route against only 137 at present – Indian officials said.
Three agreements – Customs Cooperation Agreement, Mutual Recognition Agreement and Redressal of Trade Grievances Agreement – were signed during the 2012 talks, officials said. In January 2014, the commerce ministers of the two countries reaffirmed the commitment to expedite establishment of normal trading relations and to provide non-discriminatory market access (NDMA) on a reciprocal basis.
The ministers decided to intensify and accelerate the process of trade normalisation, liberalisation and facilitation, and to implement the agreed measures before the end of February 2014. However, implementation of these steps, including removal of 'negative list' and restrictions on the number of importable items via Wagah land route by Pakistan is still awaited, officials said.
They said the two sides may also consider cooperation in gas and petroleum sector. In 2013, the Pakistan PM had asked for assistance to tackle power crisis in Pakistan. The possibility of supplying up to 5 million cubic metres gas per day by extending the Dadri-Bawana-Nangal pipeline from Jalandhar via Amritsar to Lahore, and establishing a 500 MW high-voltage direct current link from Amritsar to Lahore to facilitate power trading were explored.
The integrated check post at Attari now possesses better infrastructure to facilitate trade and travel.
Spread over 118 acres, it contains a passenger terminal measuring 9,600 square metres, a dedicated 4,700-sq-metre cargo terminal and separate import and export warehouses measuring over 10,000 sq metres, apart from over 50,000 square metres of parking space for trucks and an equally large area for future expansion.
Officials said the two sides have earlier discussed initiatives such as 24×7 operation at Attari-Wagah trade route, movement of containers between Amritsar and Lahore, and meeting point for business persons at Attari-Wagah. Various segments of Pakistan society have spoken in favour of opening more land trade routes with India, including Munabao-Khokhrapar, officials said. A joint working group is slated to consider this matter.