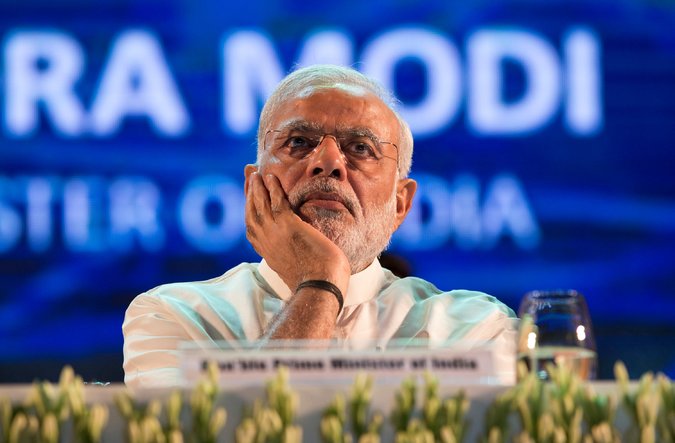 NEW DELHI — Standing alongside some of the titans of Indian industry and senior ministers in his cabinet, Prime Minister Narendra Modiannounced the start of a "Digital India week" at a packed stadium in the capital last week, highlighting his government's push for greater Internet connectivity and services for more of the country's people and a desire to jump-start Indian manufacturing in electronics.
With an analogy, he evoked the image of a small child, once enthralled with a pen, or a pair of glasses in an adult's pocket, now captivated by a mobile phone.
"That means that he may or may not understand anything else, but he can understand digital power," he said on Wednesday. "Time demands that we understand this change, and if we don't understand this change, then we will be left in a corner and the world will move far away and we will be left watching."
The statement was not, analysts said, needlessly overwrought. India has lagged behind much of the world in digital infrastructure. It ranked 115th on its average connection speed in the first quarter of this year, according to a study by Akamai Technologies. Just over 100 million subscribers, in a population of more than 1.2 billion, have broadband connections, data in April from a government regulatory body showed.
The problem lies partly in the slow progress of a project started in 2011 to expand the country's fiber optic network.
But India also represents great opportunity in the digital economy because of its bulging population and a fast-growing market for electronic goods. Mr. Modi noted that imports of electronic goods were second only to oil.
"Why can't we make quality electronic goods that are globally competitive?" he asked.
Mr. Modi underscored his government's aim to substantially cut his country's imports of electronics by 2020, an ambitious goal for an India that, according to Neeraj Aggarwal, a senior partner and director at the Boston Consulting Group in India, is "almost not a player in this space."
In addition, the Digital India campaign includes a commitment to providing citizens with access to health care, education, banking, insurance, pension and agricultural services through a network of "common service centers" that are supposed to be open in 250,000 villages across the country by 2019.
"In a sense it's what we've been waiting for," said Nikhil Pahwa, the founder and editor of MediaNama.com, which analyzes India's digital economy. "No government till now had made a strong, concerted effort on focusing on digitizing India."
Industrialists at the announcement, including Mukesh Ambani, the chairman of Reliance Industries, and the leaders of some of India's largest outsourcing companies, pledged nearly $71 billion to realize the government's goals.
The event on Wednesday was a statement of intent more than a detailed policy brief, and the path to the goals the government described is not easy.
While Mr. Modi spoke of empowering young people to build start-ups and innovate, Mr. Pahwa complained of byzantine regulations for technology companies. He cited the government's efforts to regulate Uber, the American ride-hailing company.
Entrepreneurs complain that online payments in India have also been hamstrung by a series of measures.
Some expressed skepticism that the government could keep its promises.
"The Internet in India has grown despite government policy, not because of government policy," said Mr. Pahwa, who also worked on a campaign in India for net neutrality, a concept that all data should be treated equally.
But Mr. Aggarwal, of the Boston Consulting Group, said the expansion of infrastructure and services could have the potential to pull in a huge base of consumers.
"It creates an enabling infrastructure, and a lot of private sector innovation can ride on top of that," he said.
As for the manufacturing of electronics, India faces tough competition from China, which has incentives for foreign companies and a well-established manufacturing structure.
In India, cumbersome land and taxation laws have the potential to scare off global companies. But a surge in the Indian market for electronics could provide India with the boost it needs, if coupled with swift policy action, Mr. Aggarwal said.
"This is a window of opportunity that, if lost now, will be harder to recover," he said.