In recent years, the Indian startup ecosystem has really taken off and come into its own—driven by factors such as massive funding, consolidation activities, evolving technology and an burgeoning domestic market.
The numbers are telling—from 3,100 startups in 2014 to a projection of more than 11,500 by 20201, this is certainly not a passing trend. It's a revolution. And it's going to change the way the markets are working today in India.
In this story, I'm going to highlight some key aspects of the Indian startup ecosystem and underline the steps needed to make the environment more conducive for it. Starting with some of the most disruptive startups, we'll go on to explore how they raised their recent funding. Next, we'll take a look at the investment trends, escalating M&A activity, and the key enablers who are fostering this growth.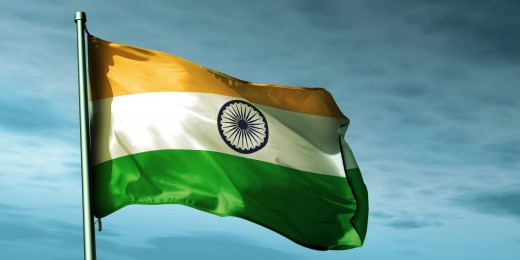 The knowledge pool and sharing of research is already one of the strong points of this startup landscape. Hope this adds to it.
Disruptive Startups from India
A lot of startups in India have entered the industry either unearthing an entirely new market or through gaps in existing markets or product lines. Although there are many successful startups, here are five, that are growing rapidly and changing how an existing industry works in the process:
Housing.com
They're growing intelligently and rapidly and surpassed all competition within two years of launch. They recently acquired Delhi-based Realty Business Intelligence for an estimated USD 2-4 million. Realty BI tracks real estate trends and creates collateral risk management tools through the use of technology. Though, recently, Housing itself has been in the news for more reasons than they probably wanted.
Zivame
"I realized that lingerie as a category in India is under-served. There is unavailability of sizes, social discomfort and very poor market penetration", says Richa Kar, CEO of Zivame.com who is taking the women's underwear market by storm.The freedom of choice and the sense of liberation that it has provided to its consumers is unmatched by traditional lingerie stores.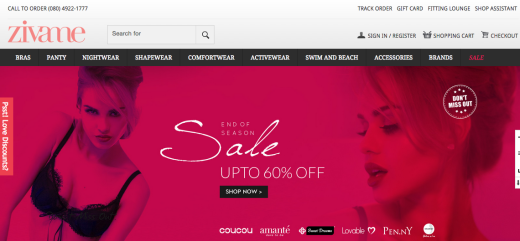 AdPushup
While ad networks have ruled the Internet for over a decade, doing all the optimization inside the ad unit including targeting, relevance, creative optimization; No player has optimized the ad layout of the page. By optimizing the ad layout, AdPushup fights banner blindness, increasing the website's ad revenue from existing ad networks. A transparent organization, they have blogged about how they raised their first round of funding, built their office and how they did their marketing.
Paytm
Boasting 80 million mobile wallets and more than 15 million orders per month, Paytm has revolutionized mobile commerce in India. It's a leading payment solutions provider to e-commerce merchants using its RBI approved semi-closed wallet, also its USP. From Domino's Pizza to Zivame to Uber, it's everywhere.
Redbus
It's incomprehensible to imagine now that there was nothing like RedBus for a long time despite the thriving existence of MakeMyTrip and Yatra. When an increasing number of consumers were booking tickets online for trains and flights, why were buses left out? This compelling question gave birth to RedBus, now acquired by the ibibo Group for $138 Million.
InMobi
Securing a coveted spot in MIT Technology Review's 50 most disruptive companies of 2013, InMobi's international acquisitions and exponential growth continues to challenge industry giants like Apple, Facebook, and Google. Their pioneering innovation in data science epitomizes typical startup growth DNA. In InMobi's words, they're going to, "democratize the understanding of user behavior".
This list is not exhaustive but it serves as an appetizer for delving deep into the world of the Indian startup ecosystem, the 4th largest on the entire planet.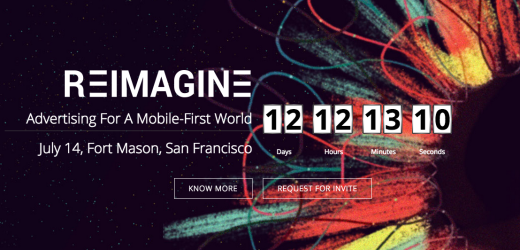 Recent Investments
Between 2010 and 2014, the infusion of VC and PE increased from $13 million to $1,818 million. Angel investment too has multiplied almost 8 times from $4.2 million to $32.2 million. So, how did these startups raise their recent funds? How will this money help them grow? Let's look at a few examples.
Chaayos
Chaayos retails tea leaves, which it sources from tea estates to create its own blends and has designed innovative kettles that can deliver a liter of chai, keeping it hot for an hour and a half.
The first round of institutional funding for Gurgaon-based Chaayos came as a non-tech investment. This year, Tiger Global led a $5 million financing round in this tea chain, with participation from Ola founders Bhavish Aggarwal and Ankit Bhati.
Using this investment, the tea chain is planning to expand its services to Mumbai, Bangalore and Delhi NCR by opening more than 50 new outlets. It will also use the funds for pushing its delivery service through mobile apps. Besides expanding its chai-on-demand service, Chaayos will also focus on retailing its packaged tea blends, which it introduced a few months back, in partnership with Amazon, Big Basket, Grofers, and the recently launched Ola Cafe.
The plan for Chaayos is to setup 60 more outlets in 2015 and scale up rapidly. Apart from outlets, they already have tie-ups with corporates for delivery. Their app is coming out soon, which will be open a B2C subscription channel as well5.
Housing.com
Last year, house hunting portal Housing.com raised a sum of $90 Million from SoftBank, the Japanese telecom and internet giant.
Their products like Slice View and Price Heat Maps (gauging the price variations in real estate across the city) emphasize their strong focus on Data & Analytics and will require a major share of the received funding.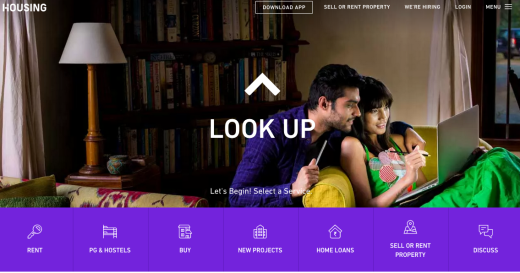 Apart from investing heavily in their in-house Data Science Lab (DSL) and expansion into more cities, Housing has always been focused on hiring the right talent.
Ola
Ola (formerly Olacabs), in April 2015, announced raising $400 million in its series E round of funding led by DST Global with participation from GIC, Falcon Edge Capital, and existing investors SoftBank Group, Tiger Global, Steadview Capital and Accel Partners US. From this amount, Ola has earmarked $100 million towards fuelling expansion and growth of the acquired TaxiForSure.
While the range of services offered like Mini, Sedan, Prime, Auto-rickshaws, Taxis, and Café (food delivery) has continued to increase over the past year, Ola plans to further invest in localising its offerings for the benefit of citizens and driver partners in every market. Ola plans to be in 200 cities by the end of this year.
Through "Ola Pragati" in partnership with the State Bank of India, drivers can now avail of a daily loan repayment facility and a lower down payment to buy a car of their choice. Ola aims to offer this program to over 100,000 driver entrepreneurs across India within the next two years under its expansion program.
International Money entering India
Foreign investor interest in India can be attributed to various factors but the biggest one is the consumer growth backed by the mobile revolution.
Also, the India focus of New York based Tiger Global Management (TGM) has given confidence to other global private equity and hedge funds to come to India.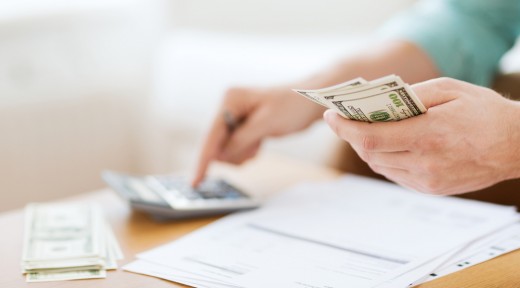 Making big bets on Indian innovation has become a global point of interest. The following are a few examples of foreign investors investing in Indian startups:
TGM is currently the top investor in startups in India during the first four months of 2015. Indian startups have featured in 18 of its 26 funding rounds globally in 2015 so far. It has started to make early-stage investments in India now.
Tiger was among the top investors in India at $422 million in 2014, despite a lean start. After April, with massive fund infusion into Flipkart, which raised a total of almost $2 billion in 2014.
It was followed by Russian investor Yuri Milner-led DST Global, which invested $352 million.
Japanese telecom giant Softbank invested $282 million in Indian startups in 2014.
During the same period last year, VC firm Nexus Venture Partners was the largest VC player in the country with $73 million in funding, followed by Kalaari Capital with $45 million in six deals.
VC firm Sequoia Capital has made investment worth $208 million in the first four months of 2015 across 14 deals.
Accel Partners, one of the early investors in the scene have made multi-stage investments in internet technology companies between $0.5-50 million in its portfolio of companies which include BabyOye, BookMyShow, Myntra, CommonFloor, Zansaar, Probe, and Flipkart.
Other foreign investors that have shaped the Indian funding landscape since 2009 are 500 Startups (by Dave Mclure and Pankaj Jain), and Inventus Capital Partners among many others.
Active Investors in the Indian startup landscape
Based on data published by YourStory, in 2014, Helion Venture Partners was top of the investors list going by the total number of deals made, followed by Sequoia Capital, Blume Ventures, Kalaari Capital, and Accel Partners.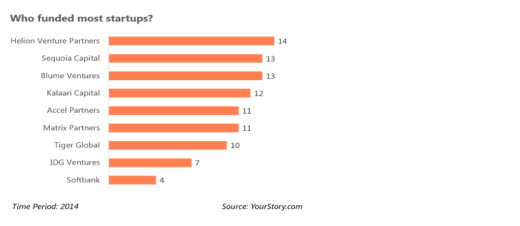 As you can see in the next chart, the market has witnessed a bit of a shakeup with Tiger Global taking the top spot in 2015 with cumulative investments of $269 million (Ventura Intelligence) in 11 deals, followed by Sequoia Capital with $208 million invested in 14 deals, and Steadview Capital with $107 million with two deals.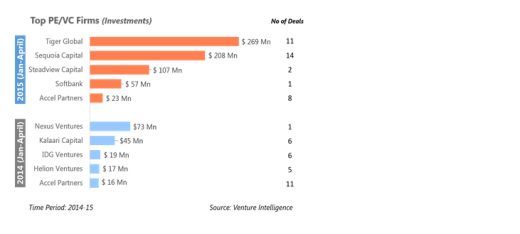 When it comes to the cities where the startups that got funded were based, Bangalore led the charts with $2.43 billion, followed by New Delhi at $1.43 billion, and Mumbai stood in the third position with $610 million.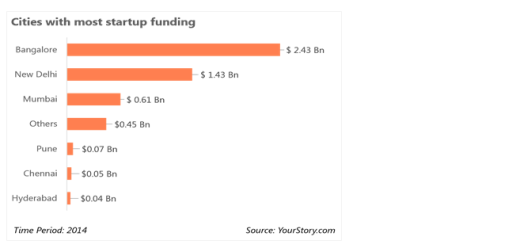 And if we break it down by sectors, e-commerce unsurprisingly took the biggest piece of the pie with $3.23 billion, followed by the closely related sectors of consumer Internet and mobile apps.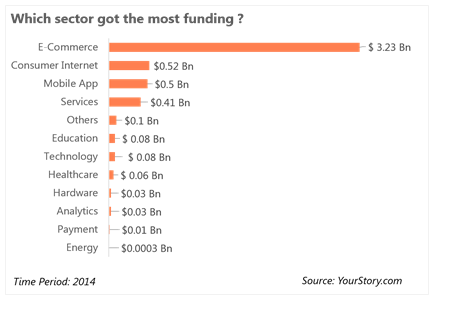 With the process of investment and exit becoming smoother due to a combination of factors, the scenario looks promising.
According to a KPMG Survey Report for 2015, such strategic opportunities provide fertile grounds for increased acquisition momentum in the near future.
Recent M&A Activity in India
Traxcn, a startup tracking deal-making involving startups, provides some perspective here.
In 2014, 43 startups were acquired; so far this year the number has been 41, with startups themselves being the most acquisitive of the lot. Of the 41, merely two deals were struck by large corporates, with Godrej and Mahindra & Mahindra as the buyers.
This frenzied deal-making does not revolve around just money. By such acquisitions, the young startup brigade is proving to be gutsy, and ambitious.
With Housing.com being recently in the news for acquiring Realty BI, let's look at some other M&A deals of this year till now.
Livspace acquired Dwll.in (a curated online network of interior designers) in its second acquisition deal this year
Asia's largest doctor search engine, Practo, acquired Fitho (digital fitness solution)
MakeMyTrip Limited announced the acquisition of the intuitive travel planner Mygola in April
Snapdeal acquired FreeCharge to build the most impactful digital commerce ecosystem in India
To broaden the timeline, here is an infographic showing M&A activity over the last 3-4 years: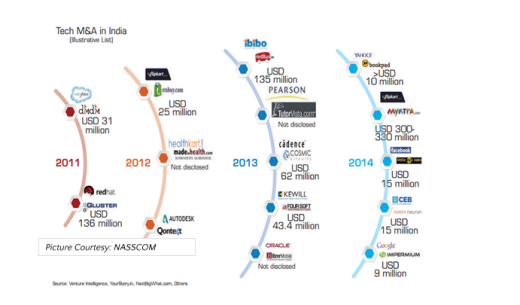 Why the Sudden Rise?
Let's look at some strategic opportunities that motivate buyers:
Acquisitions are opportunistic and buyers plan to act as soon as the right target became available
To expand their geographical reach
For expanding their customer base
To enter into a new line of business
Sometimes the buyer is looking for profitable operations and/or gain on exit
For enhanced intellectual property
To defend against competition
To invest in another function in the supply chain
A buyer in India has one or a combination of these reasons as their focus when they go ahead and acquire another venture.
International M&A:  What Does This Really Mean?
Like they say, the best way to understand the future is to understand the past. Similarly an acquisition, whether it is for product extension, service offering or patents, can speak volumes about the company's future strategy.
In early 2015, Twitter acquired ZipDial–a mobile marketing and analytics firm based out of Bangalore. ZipDial is a "missed call marketing" platform with an impressive client list including Unilever, Disney, Gillette, Amazon, Facebook, and of course, Twitter. In a country like India where internet penetration is still very low compared to western counterparts, Twitter is planning to deliver content to a large number of non-internet users through SMS.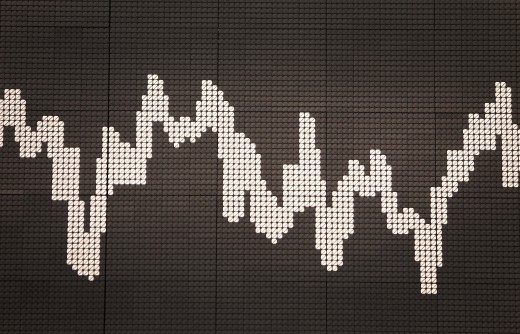 In January 2014, Facebook had acquired Bangalore-based Little Eye Labs–a startup that made a software tool for analyzing the performance of Android apps. The deal was said to be worth somewhere in the range of $10-15 million. This deal was clearly aimed at taking Facebook's mobile development to the next level.  Little Eye Lab's ability to improve Facebook's mobile application has an opportunity to make an impact on more than one billion people who use Facebook.
In an acquisition deal rumored to be around INR 50 Crores, Yahoo bought Bookpad last year, a Bangalore based startup that has built an end to end document handling technology for the cloud. This makes sense for Yahoo not only because it is thinking of moving into the document collaboration space to better compete with companies like Microsoft, Google, Box and Dropbox, but it also makes for a good acqui-hire, given the skill set of Bookpad's engineers.
Indian Startup Ecosystem Enablers
Startups in India have given rise to more startups. Enablers, accelerators, and incubators are firms providing startups with growth advice and decision-making tools. From advising on government policies to act as market catalysts, they grow the maturity of young ventures.
Enablers like NASSCOM and iSpirt bring together key stakeholders of the ecosystem including startup incubators, accelerators, angel investors, venture capitalists, support groups, mentors, and technology corporations.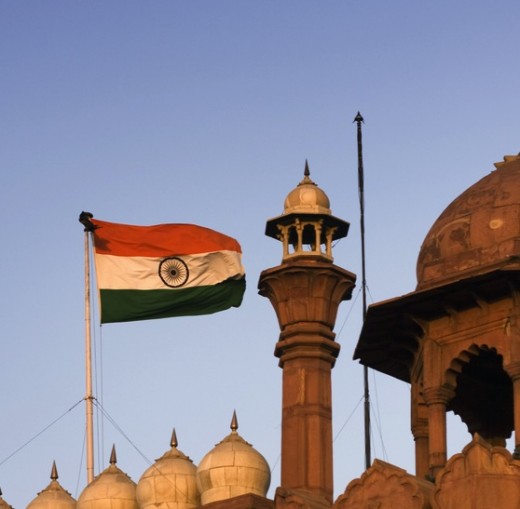 Their main aim is simply to provide funding and support for startups. Here are some examples with a brief history of the work that they have been doing:
NASSCOM 10,000 Startups
NASSCOM has come up with an ambitious initiative called "10,000 Startups", aiming to scale up the startup ecosystem in India by 10x. The program is supported by Microsoft, Google, Intel, Verisign, and Kotak.
10,000 Startups aims to enable incubation, funding and support for 10,000 startups in India over the next ten years.
The program has been able to successfully impact 150+ technology startups, aiding in the raising of funds, acceptance into acceleration programs, found customers, and on-boarded members through the initiative.
iSPIRT
iSpirt is a think tank dedicated to promote existing Indian software product companies. It is different from NASSCOM, which is a trade body and an industry association. They are now looking at replicating the success of Silicon Valley here in India and is being lead by pioneers like Sharad Sharma.
Closing Thoughts
Coming out of their difficult ruts, investors in India as well as abroad are becoming experimental, yet extremely well-informed decision makers. But funding activities still are the biggest driving factors in any startup ecosystem.
The average valuation of an Indian startup is $2.3 million as compared to $4.2 million of an American one.
43 percent of product/digital organizations are focusing on the global market and 28 percent continue to be technology hotspots.
With a 59 percent of B2C, 37 percent of B2B, and 4 percent  of B2C/ B2B startups, this ecosystem has a lot of ground to cover in terms of securing funding.
Let me address some key points to think about.
What the Indian Ecosystem Gets Right
Acqui-Hiring, technology acquisition, market consolidation, and customer acquisition are the main drivers for increase in M&A of Indian startups.
With increase of momentum in M&A in India, investors are getting more exit opportunities.
Startups are adopting innovative approaches to attract and retain top talent.
What It Gets Wrong
Indian startups are often alleged to be copying foreign startups.
Often don't have a proper scaling plan.
There is a need for directional efforts to help increase supportive government policies (ease of doing business, tax incentives, participation in Government contracts, availability of risk capital, etc.).
What Other Ecosystems Can Learn From This
Startups consolidating and buying other startups.
Successful entrepreneurs coming forward to support other emerging startups by mentoring them through various channels.
Young entrepreneurs dominating the startup landscape with over 73 percent of founders in the age bracket of less than 36 years.
Women entrepreneurs starting to become more prominent in the innovation economy.
Listing is touted to be the next big frontier. Several companies are preparing for initial share sales, but these will most likely happen overseas and not in India.
Predictions made for startups are more in number than the startups themselves. But the interest these few companies are generating cannot be undermined.