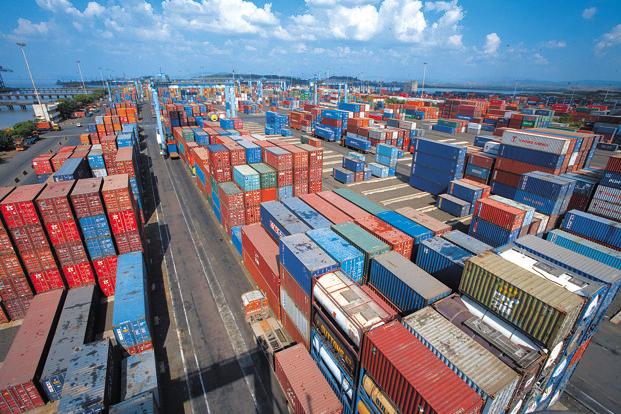 New Delhi: India's merchandise exports contracted for the 15th month in a row in February amid tepid global demand and a volatile global currency market.
The trade deficit narrowed further from its previous month's low, data released by the commerce ministry showed. Exports shrank 5.66% in February and imports contracted 5.03%, leaving a trade deficit of $6.5 billion.
In the same month, China's exports fell 25.4%—the eighth straight month of decline, data released by the Chinese General Administration of Customs showed. Imports tumbled 13.8%—for the 16th month. Both exports and imports fared far worse than expected.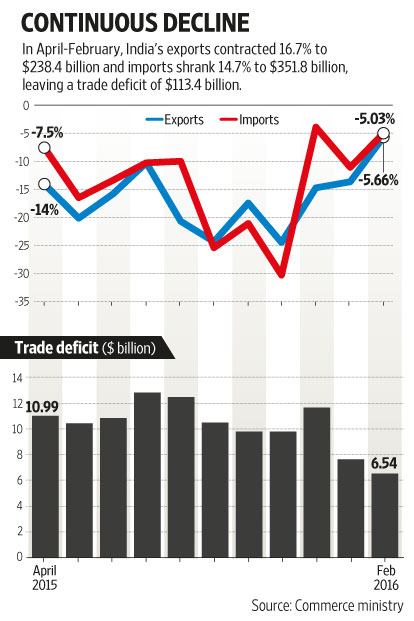 In April-February, India's exports contracted 16.7% to $238.4 billion and imports shrank 14.7% to $351.8 billion, leaving a trade deficit of $113.4 billion. Weak demand in struggling overseas markets has hurt India's exports. India's overall exports are projected by the commerce ministry to decline 13% from the previous year to $270 billion in 2015-16, with a trade deficit of $120-125 billion.
The government's earlier target of $900 billion in the export of goods and services by 2020, raising the country's share in world exports to 3.5% from 2% now, looks more daunting.
The Economic Survey released before the budget last month said even though India's long-run potential gross domestic product (GDP) growth is 8-10%, its actual growth in the short run will also depend upon global growth and demand.
"After all, India's exports of manufactured goods and services now constitute about 18% of GDP, up from about 11% a decade ago," it added.
The devaluation of the Chinese yuan last August and again in January this year has raised fears of a currency war and has made Indian exports more uncompetitive.
The Economic Survey said one tail risk scenario India must plan for is a major currency re-adjustment in Asia in the wake of a similar adjustment in China as such an event would spread deflation around the world.
"Another tail risk scenario could unfold as a consequence of policy actions—say, capital controls taken to respond to curb outflows from large emerging market countries, which would further moderate the growth impulses emanating from them," it added.
Perturbed by the continuous decline in exports, the government raised duty drawback rates for exporters and implemented an interest stabilization scheme in November.
While the increase in duty drawback rates will help exporters recover higher input tax outgo that they pay during the process of making the final product, the interest stabilization scheme will allow exporters to receive bank loans at a lower rate of interest.
Non-oil imports contracted 0.47% in February, while oil imports slumped 21.9% due to falling crude oil prices.
Only eight out of the 30 import items reported growth in February, compared with 10 in January. Among the major items, the import of coal (-16.85%), petroleum (-21.9%), chemicals (-1.05%), iron and steel (-12.46%), transport equipment (-7.9%) and gold (-29.5%) contracted, while the import of precious stones (41.2%) and machinery (50.2%) shot up.
Shipments of 14 out of the 30 top export items grew in February, against 13 in the previous month. Among the major items, export of gems and jewellery (11.2%), pharmaceuticals (8.8%) and chemicals (4.5%) increased, while export of engineering goods (-11.2%), readymade garments (-0.72%) and petroleum products (-28.3%) fell.
The Engineering Export Promotion Council (EEPC) of India chairman, T.S. Bhasin, said the rate of decline in India's overall exports in February looked smaller when compared with the previous months because of a low base over which the fall has come about. "It would be incorrect to say the crisis is behind us. Likewise, the situation in the engineering exports remains worrisome with a more than 11% drop in February which, again, is on a low base of the same month in the last fiscal," Bhasin said.
Data released by the Reserve Bank of India, or RBI, showed that net services exports fell to $5.7 billion in January from $6.9 billion a month ago.
The net export of services for April-January was $59.3 billion, which is lower than the net export of services of $62.1 billion during the same period in the previous year, raising concerns of a loss of competitiveness.
With this decline in merchandise trade deficit, rating company ICRA Ltd expects the current account deficit to have halved in the third quarter of 2015-16 from $8.2 billion in the same quarter a year ago, said Aditi Nayar, a senior economist at ICRA.
"The current account deficit is likely to shrink to a comfortable $20 billion in FY16, from $28 billion in FY15," she added.