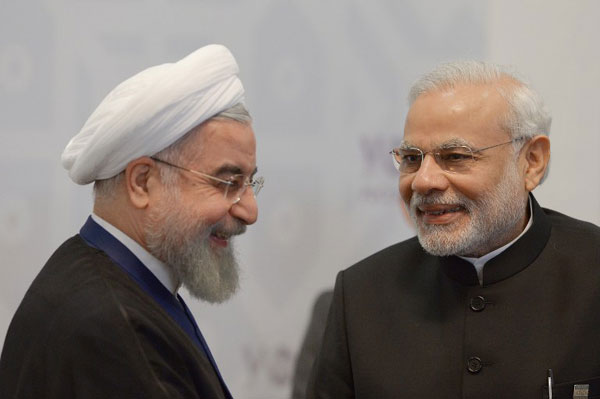 Indian Prime Minister Narendra Modi  is headed to Iran on Sunday where he will witness the signing of several economic agreements with the Islamic Republic.
President Hassan Rouhani's office has announced that during the visit, both sides will ink a number of agreements to 'deepen their mutual ties' in the post-sanction era.
"India and Iran enjoy civilizational ties and have shared interest in the peace, security, stability and prosperity of the region," the Indian Prime Minister tweeted on Sunday morning.
"Enhancing connectivity, trade, investments, energy partnership, culture and people to people contacts would be our priority," he added.
The US and European nations lifted oil and financial sanctions and released billions in assets after international inspectors concluded Iran had complied with the agreement to dismantle much of its nuclear program.
India continued purchasing oil from Iran while sanctions blocked US and European competitors from the market.
India is buying about 350,000 barrels of Iranian crude a day, Iran's oil minister, Bijan Namdar Zanganeh said in April this year.
During his May 22-23 Tehran trip, Modi will hold talks with Iranian President Hassan Rouhani and Iran's supreme leader Ayatollah Ali Khamenei.
The Chabahar deal under which India will develop two terminals and cargo berths at Chabahar, on the Gulf of Oman, is expected to be signed during Modi's visit.
Iran is seeking to attract $50 billion annually in foreign investment for the country's ailing $400 billion economy.
India may invest as much as $20 billion in Iran's energy industry and ports and boost imports of crude from the Persian Gulf nation if it gets favorable terms, India's Oil Minister Dharmendra Pradhan told Bloomberg in an interview in April.