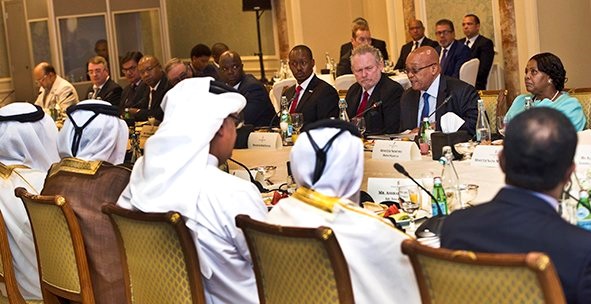 South African President Jacob Zuma has met with the Qatari emir, Sheikh Tamim bin Hamad al-Thani on Thursday to discuss investment and bilateral ties between the two countries.
Following talks, the two leaders witnessed the inking of several cooperation agreements including defence and security. Zuma has urged Qatar businesses to invest in what is nowthe third largest economy in the African continent.
Zuma, accompanied by Trade and Industry Minister Rob Davies, also addressed the South Africa-Qatar Business round table in Doha.
Qatar is one of South Africa's largest trading partners in the Middle East.
President Zuma said Qatar can invest in the petrochemical and agricultural sectors, mining and infrastructure development, and retail industry in South Africa.
Trade between the two countries has increased from R4 billion in 2012 to R7 billion in 2015.
On Thursday, Zuma and the leader of Qatar also discussed the crises in the Middle East and international issues of common concern, particularly the latest developments related to Palestine.
South Africa is a vocal supporter of Palestine. The close working relationship during the 1970s and early '80s between Israel and the former apartheid regime in South Africa has led a majority of South Africans and the top leadership of the ruling African National Congress to root for the Palestinian cause.
South African Foreign Minister Maite Nkoana-Mashabane also met her Qatari counterpart Mohamed bin Abdulrahman al-Thani on Thursday in the Qatari capital.
Qatar and South Africa, however, are on opposing sides of the divide when it comes to the fate of Syrian President Bashar Al-Assad.
South Africa, along with other BRICS members, have repeatedly opposed Washington's and its allies' attempts to overthrow Assad in Damascus.
South African Deputy Foreign Minister Nomaindiya Mfekheto on Thursday met Assad in Syria where she held talks with the Syrian leadership.