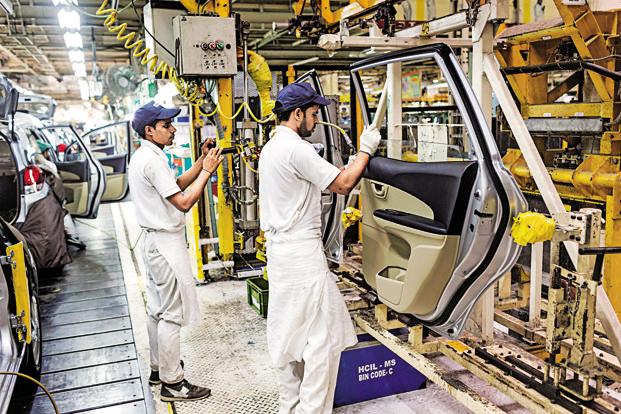 New Delhi: Encouraged by its 16-rank jump in the Global Competitiveness Index released by the World Economic Forum (WEF) on Tuesday, India believes its ranking will move up at least 10 spots in the Doing Business index to be released in October by the World Bank.
"We have carried out many reform measures in the last two years. If the World Bank doesn't change its methodology, India's ranking will go up by 20 places. But if they change the methodology unfavourably, India's position will probably go up by 10 places," an official at the Department of Industrial Policy and Promotion, which is coordinating with the World Bank on the matter, said on condition of anonymity.
If indeed this does happen, India will be viewed as a more attractive destination for foreign direct investment and global businesses.
India's ranking in the Global Competitiveness Index for 2016-17 improved to 39, up 16 ranks from last year, making it the fastest riser among 138 countries surveyed this year.
"Due to a series of structural reforms undertaken by the government since coming to power, India's rankings have improved by 32 places in the last two years," finance minister Arun Jaitley said.
"This signifies India's competitiveness vis-a-vis other economies."
India moved up four spots to 130 among 189 countries in the global rankings for ease of doing business released by the World Bank last year.
The World Bank takes into consideration reforms carried out by countries till 31 May and releases the report sometime in October.
The institution does not take into account government notifications of reforms, but bases the rankings on field surveys and interviews with corporate lawyers and company executives.
"We have done so many reforms, but how many of them World Bank takes into consideration is to be seen. We ask them to agree to the reforms we have carried out, some they don't agree to. A tussle is going on at present. We have carried out more than 200 reforms in the last two years," the official cited above said.
For example, under the "getting electricity" category, the World Bank says local authorities give electricity connections in 30 days to businesses, while the government insists that the time period has been cut to 15 days. "World Bank is saying there are five processes for getting an electricity connection, we are insisting that there are only three processes involved," the official said.
The official admitted that it will be difficult for India to climb to the top 50 on the Doing Business index anytime soon because of the procedural disadvantages posed by the World Bank rankings.
"Developing countries have a disadvantage because the World Bank always calculates any cost of business to per capita income of the country. So even if developed countries have a higher or same level of cost of business, say for registering property, they will end up with a higher ranking because they have much higher per capita income than India," the official said.
India's ranking could see a really significant improvement in 2017 when the World Bank would have to take into account both the goods and services tax and bankruptcy code the government is putting in place, the official said.