Russian oil firm Rosneft said on Wednesday it had signed a set of documents on selling stakes in Russian oil fields to Indian firms.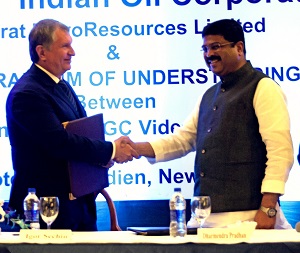 Indian Minister of petroleum and natural gas Dharmendra Pradhan witnessed the signing of documents between the Russian and Indian state firms during an India visit by Rosneft CEO Igor Sechin.
Russia's Rosneft, Oil India, Indian Oil and Bharat Petroresources have also signed a legally binding share sale agreement related to a 29.9% participatory share in Rosneft's Taas-Yuryakh Neftegazodobycha field.
Among the agreements announced on Wednesday, India's ONGC will increase its stake in Rosneft's Vankor project to 26 per cent while Oil India, Indian Oil and Bharat Petroresources will buy up to 23.9 percent between them in the same field.
"The document also oversees the analysis of the joint trading development's potential, including the possibility of entering into long-term crude-oil supply contracts," said a Rosneft statement.
Rosneft also plans to close the deal on purchase of 49 per cent stake in Indian Essar Oil refinery by late June 2016.
State-controlled Rosneft is the world's top listed oil producer by output.
"The signed documents literally mark the turning of a new leaf in the cooperation between Russia and India in the energy sector, reached in continuation of the agreements, achieved at the highest level between the President of the Russian Federation Vladimir Putin and the Prime Minster of India Narendra Modi," Rosneft CEO Sechin said.
"The cooperation formula, designed at the corporate level, is aimed at the creation of vertically integrated model, allowing India partners to participate in the upstream sector, whilst opening the growing India market to Rosneft. The reached agreements represent a shift from energy dependency to energy partnership of both countries," he added.
Rosneft is yet to disclose the value of the deals.
"The closing of the sale and purchase deal is expected in the short term," an official statement said.
If the deals go through, Rosneft will retain a 50.1 per cent stake in Vankor.
Last year, India's ONGC agreed to buy a 15 percent stake in Vankor, one of Rosneft's newest fields which produced produced 22 mln tons of oil and 8.71 BCM of gas in 2015- or around a tenth of Rosneft's total output.
China is one of the biggest clients of Vankor.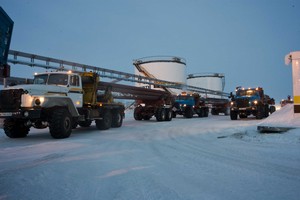 Recoverable resources of the Vankor field as of 1st January 2016 stood at 361 million tons of oil and condensate and 138 bcm of gas.
BP, a Rosneft shareholder, controls a 20 per cent stake in Taas-Yuriakh, another newly developed east Siberian oil field, but on a smaller scale than Vankor.
Sechin said in a separate statement that the deal on Taas-Yuriakh allowed the shareholders "to open new prospects for marketing east Siberian hydrocarbons."
"The signed documents are a remarkable achievement, demonstrating the level of partnership between Russia and India. It is of prime importance that the cooperation is of a long-term nature and it will deliver significant multiplicative effect for the economies of both countries," said Indian petroleum Minister Pradhan.