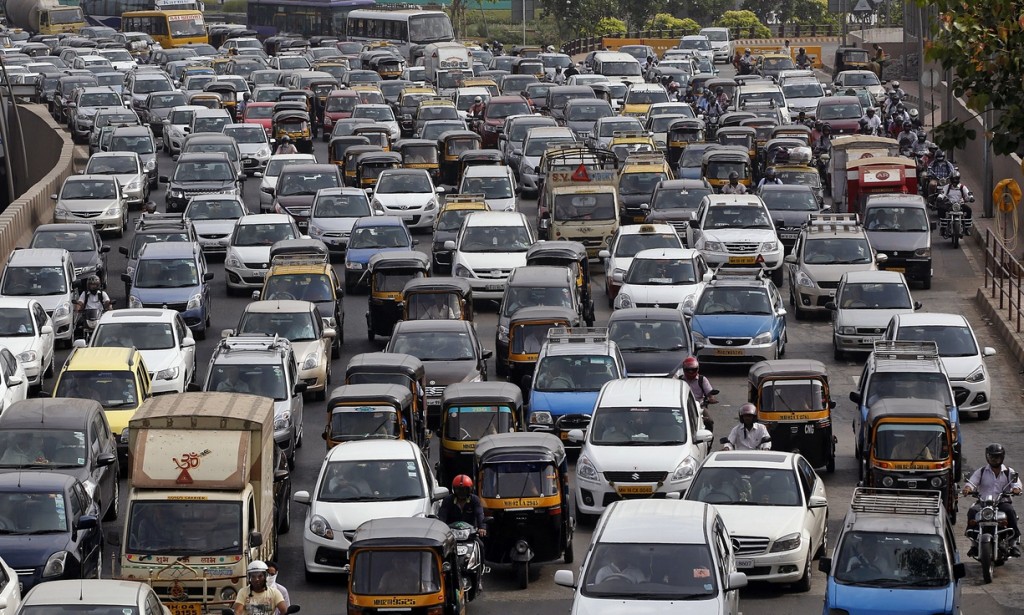 India, the world's third biggest greenhouse gas emitter, has pledged to source 40% of its electricity from renewable and other low-carbon sources by 2030.
It is the last major economy, following 140 other countries including China, the US and the EU, to submit a climate change plan to the UN before international talks to reach a deal on tackling global warming in Paris this December.
Campaigners welcomed the commitment to cut the "emissions intensity" of its economy – a ratio of carbon emissions per unit of GDP – by up to 35% by 2030.
India's population of 1.2 billion, about 363 million of whom live in poverty, is projected to grow to 1.5 billion by 2030. "It is estimated that more than half of India of 2030 is yet to be built," India's submission claimed.
The country has previously pledged an emissions intensity cut of up to 25% by 2020.
Prakash Javadekar, India's environment minister, said: "Though India is not part of the problem, it wants to be part of the solution. Our historical cumulative emission as of today is below 3%."
In a speech in New York, he referenced the pope's address to the UN last week and emphasised that while India was a big emitter, it was responsible for less carbon pollution than many developed countries since the industrial revolution.
"The developed world must take moral responsibility for the state of the world today. The pope has also mentioned that the huge consumption of the developed world has repercussions on the developing world," Javadekar said.
India's submission to the UN, known as its Intended Nationally Determined Contribution (INDC), focuses on clean energy, including solar power, which the prime minister, Narendra Modi, has already strongly backed. It also promised to plant more forests by 2030 to absorb carbon emissions.
Modi has repeatedly said India would not accept constraints on its development as part of any climate deal. Unlike China's submission to the UN in June, India's does not spell out when its emissions might peak.
Most environment groups and thinktanks said the plan, which was submitted to the UN late on Thursday, was good and recognised the impacts global warming would have on India.
Rhea Suh, the president of the US-based Natural Resources Defense Council (NRDC), said: "India's strong climate plan offers a comprehensive approach to curb the worst impacts of climate change."
Germana Canzi, an analyst at UK-based Energy and Climate Intelligence Unit, hailed India's pledge as significant and said: "The path of that India will now take in its development is extremely important for the future of the climate, particularly as the country is set to surpass China to become the world's most populous country by 2028, with 1.45 billion people."
Nitin Pandit, CEO of the World Resources Institute in India, said: "As one of the most vulnerable countries to climate change, India recognises the domestic benefits of confronting this issue. Its climate plan does a good job combining opportunities to reduce emissions in the near term, and it includes clear goals to restore landscapes that will bring long-term benefits."
But Durwood Zaelke, a climate change expert and long-time campaigner on the need to phase out climate-changing gases such as HFCs as part of the effort against global warming, said India "could do much better", and "easily", if it agreed to phase out HFCs, which are used in air conditioning.
Unlike the largely dry language of submissions by the US and EU, India's contains colourful passages explaining its attitude towards the environment, citing its long tradition of a harmonious relationship between man and nature. Mahatma Gandhi is invoked several times, including his comment that "Earth has enough resources to meet people's needs, but will never have enough to satisfy people's greed."
The Philippines also made an informal indication of its plans to cut its carbon emissions by 70% by 2030 but only if it receives financial assistance, a presidential aide told Reuters news agency on Friday.
An analysis of 140 countries' pledges to the UN so far found this week that they would see temperatures rise to 2.7C above pre-industrial levels by 2100. Governments at previous climate talks have committed to holding rises to 2C.
The quest for a deal in Paris is intensifying, according to Laurence Tubiana, the French ambassador for climate change, speaking during a Google hangout on Friday.
She said that countries must come up with adequate emissions reductions, and that all countries – including the poorest – must be involved in the deal. An additional pre-meeting will also take place in Paris two weeks before the actual summit which starts on 30 November, she confirmed, in an attempt to iron out any remaining difficult issues in advance.