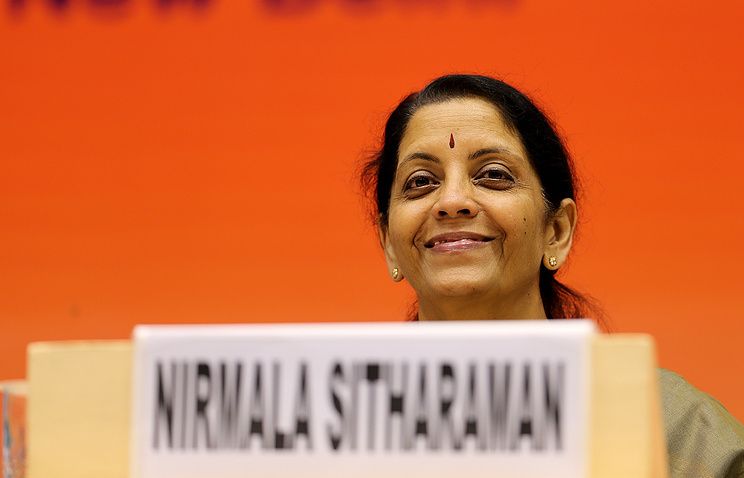 India considers necessary to expedite work on establishment of a free trade zone with Russia, Minister for Commerce and Industry Nirmala Sitharaman told TASS on Monday.
"We hope to sign a free trade zone agreement soon," the minister said. All the data on the joint working group are already available and signing of the free trade zone agreement should be expedited, she added.
According to the official, Russia and India discussed the opportunity for joint manufacturing of aircraft components.
"We discussed civil aviation issues [with Russian Industry Minister Denis Manturov – TASS] because Russia wants to sell civil aircraft to us," the minister said. The opportunity to produce components for the aviation industry was also discussed, she added.
The minister has also pointed out that Russia, India and Iran are in talks to simplify customs regime.
"We discussed (with Russia's Industry and Trade Minister – TASS) the issues that are interesting to both parties," he said.
According to Sitharaman, first of all the parties stressed the need to speed up negotiations on the Eurasian Economic Union, because it concerns the trilateral talks – between Russia, India and Iran.
The parties are trying to create a regulatory framework that will facilitate the movement of goods, he said. This includes the customs regime, that is the movement of goods from India through Iran to the countries of Central Asia, he said.
According to Sitharaman, the parties are interested in speeding up the process of signing an agreement on a free trade zone between the Eurasian Economic Union and India. Iran is also discussing with Eurasian Economic Union a possibility to sign a similar agreement, he said.