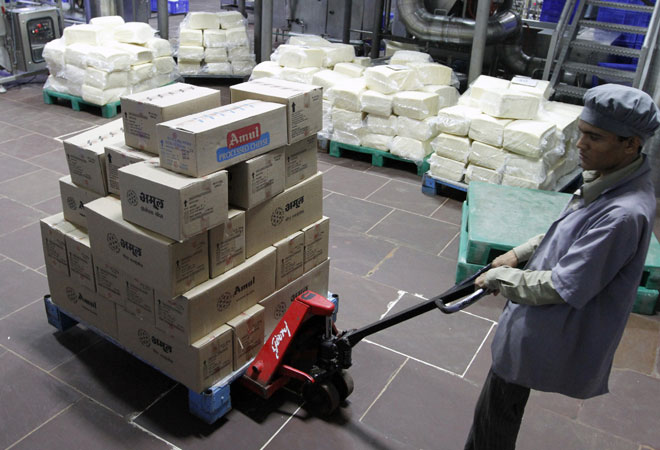 After nearly 16 months of formal announcement, India has finally signed protocol with the government of Russia for exports of dairy products to that country.
With this, Indian producers may start exports of dairy products largely hard cheese to Russia to which the first consignment is expected to leave Indian ports by June-end.
Estimated at 230,000 tonnes, Russia's hard cheese supply was met largely through imports from European countries. But, since restrictions were imposed on dairy products import from Europe in retaliation with the economic sanctions levied by European countries, the hard cheese import was diverted from South America and neighbouring Russian markets including Belarus etc.
Amid stiff conditions on quality, therefore, Russia was desparately looking for alternative supply of hard cheese from Asian countries and India being the largest milk producer in the world, could get some pie of the Russian markets.
"The government today signed the protocol, which would allow Indian dairy exporters to start shipment of hard cheese," said a senior industry official.
Russian announced opening of its dairy product markets for Indian exporters in December 2014 coinciding the visit of its President Vladimir Putin. But, the actual shipment hit a roadblock due to stiff conditions laid down by the Russian phytosanitary authority Rosselkhoznadzor.
After visiting around two-dozen factory premises and facility of milk procurement in India, Rosselkhoznadzor officials concluded that farms with less than the herd size of 1,000 cattle would not be allowed to export dairy products to Russia. In India, therefore, only two dairy farms including Parag Milk Foods and Schreiber Dynamix were conforming to this norm.
While Parag MD Devendra Shah recommended the government to sign the protocol to begin with the exports and negotiate for the liberalisation in norms later, dairy companies like Amul brand producer Gujarat Co-operative Milk Marketing Federation Ltd (GCMMF) insisted the government to sign the protocol only after liberalisation in this norm.
The objective of GCMMF was to accommodate more companies including small and medium size producers for exports.
"After signing the protocol by the government of India, the Rusian authority would sign it. The entire process would take at least 15 days to one month. After that, negotiations of prices and trade terms would take at least one more month. So, by June- nd we would be able to supply first consignment of hard cheese to Russia," said Shah,
Industry sources, however, said that the Russian authority has liberalised norms to accommodate more Indian players in dairy exports. Instead of herd size of 1,000 cattle, the Russian authority has focused on traceability of milk procurement and quality of cheese India produces.
"More than exports of dairy products, Russia would be able to pay some premiums compared to other export destinations which would help raise prices of skimmed milk powder (SMP) and other products which have been under tremendous pressure for over 18-month. Once dairy farms begin to get higher realisation, they would pass on to farmers for milk procurement. So, farmers would benefit ultimately," said Shirish Upadhyay, Senior Vice President (Strategic Planning), Parag Milk Foods.