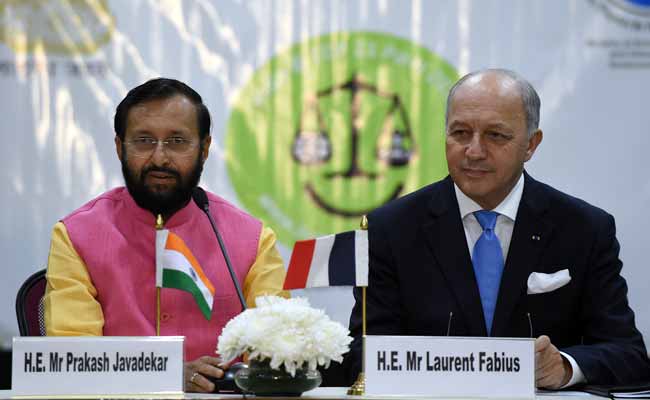 NEW DELHI: India will urge rich nations to deliver "climate justice" for developing countries at a major environmental conference in Paris later this month, Environment Minister Prakash Javadekar said in an interview with AFP.
Mr Javadekar called on industrialised countries to commit to more stringent targets to free up "carbon space" for the developing world to generate emissions as a necessary byproduct of growth.
The UN COP21 conference starting on November 30 will bring representatives of 190 nations together to seek a groundbreaking global agreement on curbing Earth-warming emissions.
"We want climate justice for the billions of poor of this world," Mr Javadekar told AFP, adding that the burden for curbing emissions should lie with developed economies.
"India and the developing world has taken more than their fair share (of responsibility) and the developed world has taken much less than their fair share, much less than their capacity," the Environment Minister said.
India will push for a 'polluter pays' policy in Paris, he added, a principle whereby polluting countries bear the cost of the environmental damage they cause.
Last month India, the world's third biggest carbon-emitting country, vowed to slash carbon intensity – the amount of pollution per dollar of GDP – by up to 35 percent by 2030.
But unlike the top two emitters, the United States and China, India has balked at committing to major carbon reduction targets, instead vowing to double coal production by 2020.
It argues stricter emissions targets would compromise efforts to boost living standards of more than a quarter of its 1.2 billion population which lives in poverty.
Mr Javadekar also called on wealthy countries to support the developing world in dealing with the effects of climate change, including the increasing frequency of floods, drought and erratic monsoons.
"The developed world needs to walk their talk on finance and technology. Technology brings the solutions… It has to be made available at an affordable cost," he said.
– 'Taking the brunt' –
India has pledged to generate 40 percent of its electricity from renewable energy sources by 2030.
Yet, Prime Minister Narendra Modi has been insistent on increasing coal use to fulfil an election promise to end crippling blackouts and bring power to more than 300 million people living without electricity.
US President Barack Obama has repeatedly urged PM Modi to act on the environment, saying during the latter's visit in September that "India's leadership in this upcoming conference will set the tone not just for today but for decades to come".
French Foreign Minister Laurent Fabius visited New Delhi on Friday as part of a last-minute tour of major emerging economies to ensure they are on board for an agreement in Paris.
But the government points out that it needs billions of dollars just to reach its current goal of 175,000 megawatts of green energy by 2022, up from 30,000 at the moment.
"There is this central dilemma between the costs that you need to put in now and the climate benefits that you get later," Ajay Mathur, chief of the government's Bureau of Energy Efficiency, told AFP in a separate interview in Delhi.
"And what we're trying to do is to walk a tightrope between these two tensions," said Mr Mathur, a member of the Prime Minister's Council on Climate Change.
In Paris, nations will aim to seal a pact to cap temperature rises at no more than two degrees Celsius (3.6 Fahrenheit) higher than pre-industrial times.
Mr Javadekar told AFP India would readily meet its targets, having "over-achieved" on earlier promises to reduce carbon intensity by 20-25 percent by 2020.
"I am very confident that we can walk a sustainable growth path," Mr Javadekar said.
"We will achieve (our targets), we are 100 percent sure."