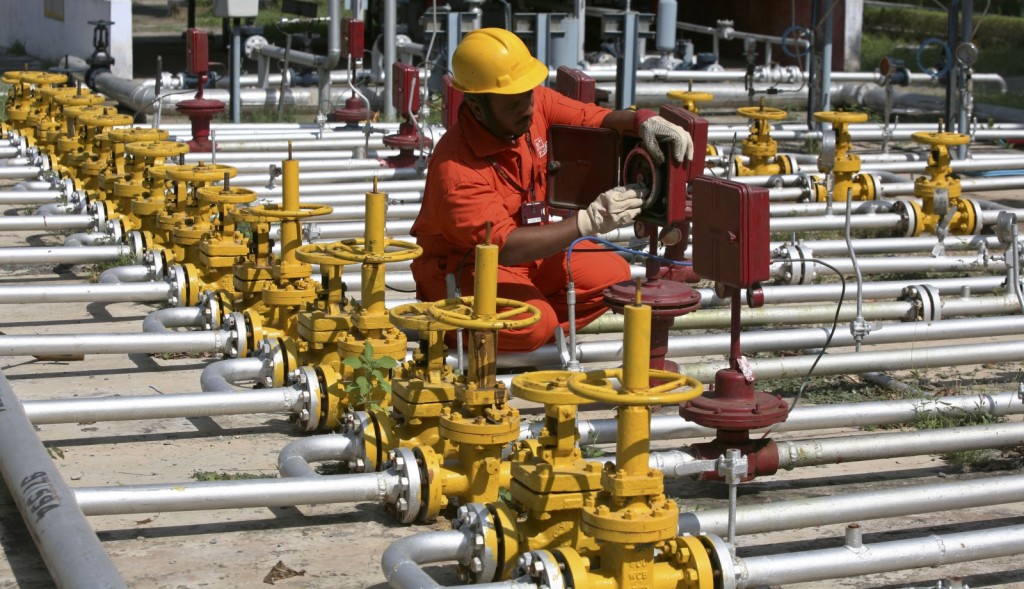 India is considering deregulating the price of natural gas extracted from local fields, following petitions from producers of the fuel that the current tariff is too low to support exploration and production costs, people familiar with the plan said.
The government is studying the possibility of allowing producers to set the price in consultation with customers, according to two people, who asked not to be identified because the talks are confidential. Market rates can be set for gas extracted from 69 small fields due for auction by the end of the year, Oil Minister Dharmendra Pradhan said on Sept. 2.
Explorers in India including Reliance Industries Ltd. and its international partner BP Plc, state-run Oil and Natural Gas Corp. and Gujarat State Petroleum Corp. have been seeking independent pricing, arguing that current prices make new investments unviable. Raising local gas output is key to reviving industries such as fertilizer and power that have had to cut capacity use for lack of the fuel.
"The industry has been pressing the government for arms-length pricing mechanism for the last five years," said Ashu Sagar, secretary general at the Association of Oil & Gas Operators, whose members include Reliance, ONGC and GSPC. "The investors decided to bid for auction rounds based on hopes that free pricing will become a reality."
ONGC shares gained 0.4 percent to 255 rupees at the close in Mumbai. Reliance Industries rose 1.1 percent to 902.95 rupees.
Squeezing Profit
On Sept. 30, the government cut the price of natural gas by 18 percent to $3.82 per million British thermal unit. The price, based on the gross heat value, is effective from Oct. 1 for six months. The U.S. Henry Hub spot price declined marginally to $2.43 per mBtu as of Oct. 13.
The reduction will squeeze profit margins at major producers including ONGC, while benefiting consumers. The nation sets prices every six months, based on a combination of global prices.
State control on fuel pricing has been a key factor prompting oil majors such as Exxon Mobil Corp., Chevron Corp. and Royal Dutch Shell Plc to stay away from India's exploration-block auctions, which started in 1999. BP, Europe's second-biggest oil company, is the only overseas company with any significant presence in India's exploration sector. Now, Prime Minister Narendra Modi, who has made energy security his priority, is lifting restrictions to attract foreign investments.
Marketing Freedom
In 2007, Reliance, controlled by billionaire Mukesh Ambani, was allowed to set the price of gas it produces from the fields in the Bay of Bengal on India's eastern coast. In 2013, the government decided to set a formula-based pricing for natural gas, subtly ending the freedom given to the producers.
"Marketing freedom coupled with free-market pricing needs to be instituted and maintained, which suitably incentivizes entities to allocate risk capital for upstream exploration and production," A. Didar Singh, secretary general at the Federation of Indian Chambers of Commerce & Industry, wrote in a letter to India's Oil Secretary Kapil Dev Tripathi on Oct. 6.
The government's decision to cut natural gas prices has prevented energy explorers and producers from undertaking new capital expenditure, according to Standard & Poor's Ratings Services.
Uncertain Prices
"The gas price reduction will likely discourage capital expenditure in exploration and development of gas reserves in India, where most large finds are in deep water zones," S&P said in an e-mailed bulletin on Oct. 1. "Investment by private sector oil and gas companies in India has been small and their capital expenditure commitments are likely to be uncertain because of the price revision."
India's gas output from local fields has fallen 36 percent over five years to 33.7 billion standard cubic meters in the fiscal year ended March 31, according to oil ministry's Petroleum Planning & Analysis Cell. The output is the lowest in five years.
Production is predicted to increase to 140 million standard cubic meters a day in the next 10 years, while demand is forecast to reach 330 million standard cubic meters, according to New Delhi-based rating company ICRA Ltd.