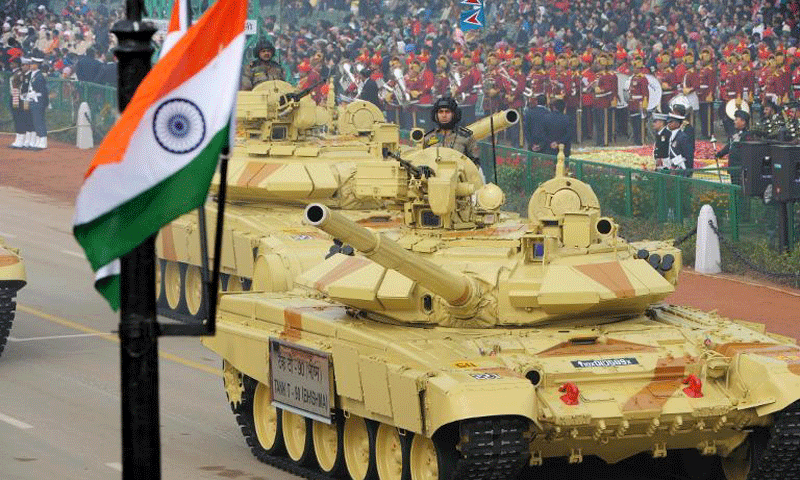 NEW DELHI: India continues to remain the world's largest arms importer, accounting for 14% of the global imports in the 2011-2015 timeframe, in yet another indicator of the country's enduring failure to build a strong domestic defence-industrial base (DIB).
The latest data on international arms transfers released by a global think-tank, Stockholm International Peace Research Institute (SIPRI), also shows India's arms imports remain three times greater than those of its rivals China and Pakistan. Its biggest suppliers are Russia, the US, Israel and France.
After India, China ranks second in the global arms import list with 4.7%, followed by Australia (3.6%), Pakistan (3.3%), Vietnam (2.9%) and South Korea (2.6%). China used to top the imports chart earlier but has gradually built a stronger DIB over the last couple of decades to even emerge as the world's third largest arms exporter after the US and Russia.
Incidentally, Pakistan is the main recipient of Chinese arms exports, notching up 35% of the total, followed by Bangladesh (20%) and Myanmar (16%). Russia, in turn, is China's largest arms supplier with 59%, followed by France (15%) and Ukraine (14%).
Noting that India's arms exports has jumped by 90% between 2006-2010 and 2011-2015, SIPRI reiterated the well-acknowledged fact that "a major reason for the high-level of imports is that the Indian arms industry has so far largely failed to produce competitive indigenously-designed weapons".
As earlier reported by TOI, India has spent over $120 billion on arms acquisitions over the last 15 years, most of them from foreign suppliers, and will spend much more than that in the coming decade. Since it came to office in May 2014, the Modi government has launched a major "Make in India" drive in the defence sector but it's yet to translate into anything concrete on the ground.
The import bill is further set to zoom upwards with some major deals, without any Make in India component, in the pipeline. This includes the direct purchase of 36 French Rafale fighters for over Rs 60,000 crore and the Rs 39,000-crore acquisition of five advanced Russian S-400 Triumf air defence missile systems.
Defence minister Manohar Parrikar, on his part, has warned DRDO and its 50 labs as well as the five defence PSUs, four shipyards and 39 ordnance factories to improve their performance and be ready to compete with the private sector in the defence production arena.
Parrikar hopes the new Defence Procurement Procedure (DPP), which will be notified within a couple of months and gives top priority to a new indigenous design, development and manufacturing (IDDM) category under "Buy Indian", will help bolster the indigenous DIB.
Under it, as reported by TOI earlier, private sector companies will be chosen for "strategic partnerships" in six broad areas ranging from aircraft and warships to tanks and guided missile systems. The "strategic partnership model" is designed to create capacity in the private sector, in tie-ups with foreign collaborators, over and above the capacity and infrastructure that exists in defence PSUs.