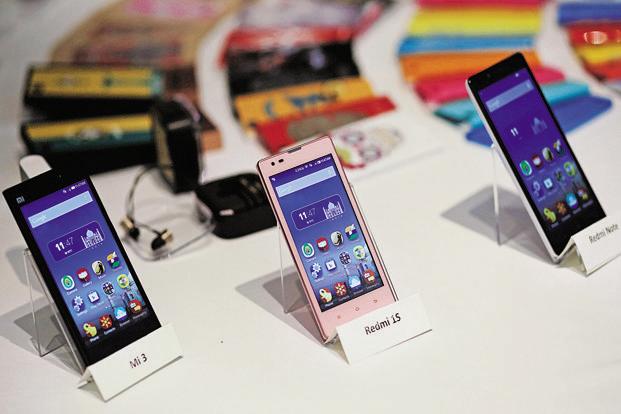 India's smartphone market, one of the fastest growing in the world, is incredibly competitive, with a host of new entrants seeking to grab a share of it. And a key battlefield is the online and social media space, where consumers share feedback, first impressions and much more.
This word-of-mouth and image leadership in turn impacts brand choice and sales volumes. This year, in many ways, will be a pivotal one for smartphones in India, as handset makers jostle for thought leadership and market share. And the start of the year is always an important period that sets the tone.
Net Impact, a marketing consultancy-cum-digital agency with a specialization in social analytics, analysed about 830,000 conversations around 40 smartphone and tablet brands from 1 January 2016 to identify who is winning the social buzz and why. The results are shared below and make for a riveting read.
Unexpected new leaders
When social conversations by volume are bucketed by brand, one of the key standouts is the composition of the leading brands—the top two actually not being the usual brick-and-mortar leaders Samsung and Micromax. The most talked-about brand socially in January was Xiaomi India, which was followed closely by LeEco. Xiaomi maxed out with some very well-crafted engagements, including one that invited social fans to participate in the design of its new user interface #Mebydesign.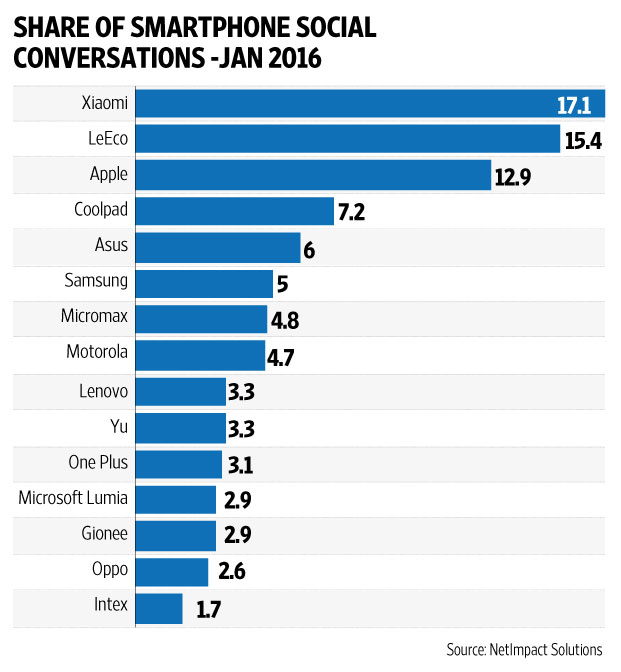 While Xiaomi is now a relatively familiar face, the surprise big hitter in the social space at No. 2 was Le Eco. It smartly managed the build-up of its maiden online launch of the LeEco Le 1s on Flipkart on the back of a value disruption in specifications. While many "online only" launches claim to be successful, the huge social chatter around the launch of the LeEco Le1s clearly showed genuine excitement around the kind of specifications being offered in a device for Rs.10,999 and a willingness to register online to purchase it.
"There is a value redefinition that is under play in 2016 and the traditional leading brands have to be at the top of their game to survive market share erosion. Lead indicators from social indicate this clearly," said Rahul Saighal, managing director of Net Impact.
Power of brand iconicity
Social loves brand cool. Despite minimal social marketing interventions by the brand, the iPhone's iconic branding and pull finds it a place in the top bucket at No. 3 in terms of share of social conversation. News and updates about the various models and features continue to get shared organically and interestingly. It seems to be the default phone to be won in contests and deals across categories.
Online savviness and camera power
The Coolpad was at No. 4 in January and it is no fluke. It is a brand that is clearly punching above its weight in the online and social space on the back of phones which disrupt value and a certain online marketing savviness. In January, it kept its fans engaged in various conversations around the launch of Coolpad Note3 Lite, which debuted at Rs.6,999 and also magnified the "Made in India" theme.
Asus finds itself in fifth position, powered by the launch of its Asus Zenfone Zoom, which created a lot of buzz even at a price of Rs.37,999 with a 13 megapixel rear camera and its claim to be the world's thinnest 3X optical zoom smartphone. Clearly it leveraged the camera features well online—a key driver in the smartphone space.
Brick-and-mortar leadership doesn't translate automatically online
Perhaps a significant point that stands out is how the traditional volume share leaders like Samsung, Micromax and Intex are not necessarily the leaders in the online social buzz battleground. Samsung and Micromax are at No. 6 and 7, respectively, in the Social Buzz ranking in January.
"Many of the new brands, especially some of the Chinese ones, are trying to create a beachhead in the smartphone market by flanking from the online space," says Saighal. "Leading in the online and social space is not an automatic translation of brand awareness and a large footprint in retail—it requires different skills, savviness, strategic focus as well as staying on the ball week on week".
While Samsung was not in the top 3 in January, it did manage to be in the top 6 and if conversations around the S2 Gear smartwatch, are added, it would go up a rank. The early buzz and anticipation around the flagship Galaxy S7 was present in January itself and it will be interesting to see how that unfolds in the remainder of the quarter.
With Micromax, the top conversation point ahead of the products and launches was around the marriage of founder Rahul Sharma and actress Asin, which seems to have caught the fancy of the social world. And while Yu (a sub-brand from the Micromax stable) gets mentioned in the top 10, if negative conversations (largely around service issues) are removed, it would be out of the top 15.
Interestingly, more than 50% of the top 15 brands are Chinese—perhaps a sign of things to come.
Methodology
The number of conversations has been arrived at using the following methodology and Net Impact's proprietary techniques:
• Time frame taken: 1 January to 31 January 2016 (four weeks).
• Conversations are defined as shares, tweets, mentions and comments across social media, blogs and reviews.
• Conversations measured are those which could be captured by various tools and packages and Net Impact's proprietary techniques. These are not exhaustive but strongly directional given the 830,000 conversations captured across 40 mobile brands.
• These conversations are the ones that had a direct or indirect mention of the brand. The conversations include those around both smartphones and tablets.