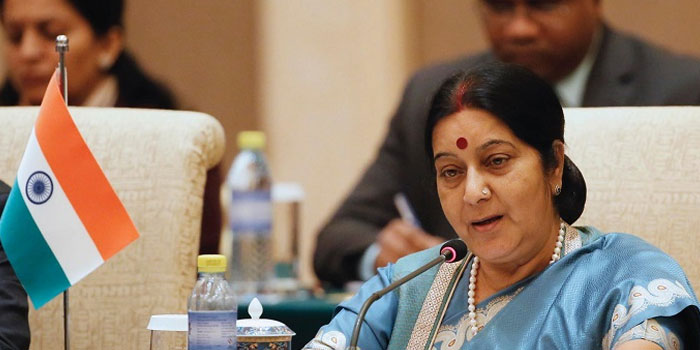 ISLAMABAD: External affairs minister Sushma Swaraj said on Wednesday that India is "willing to join hands with Pakistan and Afghanistan for trade and commerce."
"It's time we display maturity and self-confidence to do business with each other and strengthen regional trade and co-operation. The entire world is rooting and waiting for a change. Let's not disappoint them," Sushma Swaraj while addressing the "Heart of Asia" summit in Islamabad.
"India is ready to receive Afghanistan trucks at Attari border," she said.
"India's vision of 'Heart of Asia' is one of interlinked trade, transit, energy and communication routes, with Afghanistan as an important hub," Sushma Swaraj added.
"India is working with Afghanistan and Iran to develop trilateral transit through development of the Chahbahar Port," she said.
Earlier, Pakistani Prime Minister Nawaz Sharif and Afghan President Ashraf Ghani jointly inaugurated the "Heart of Asia" conference attended by foreign ministers of several countries, including external affairs minister Sushma Swaraj.
Sharif, in his inaugural address, said, "Afghanistan is the heart of Asia and if there is trouble in the heart, the entire region will be turbulent."
He said peace was vital for development and extended full support for the elected government of Afghanistan, saying it was the "only representative of the Afghan people".
Sharif also called for collective approach to combat the menace of extremism and terrorism.
"Working for the achievement of a peaceful neighbourhood is a cardinal principal of Pakistan's foreign policy. We firmly believe that peace is vital for development, and development is vital for durable peace." he said.
The Pakistan Prime Minister welcomed the delegates and promised full support to all efforts for increasing peace in the region with the emphasis on stabilising Afghanistan.
Ghani spoke at length about prospects and challenges his country faced. He said Afghanistan has come a long way in building close ties with his all its neighbours.
He highlighted that security was a threat but promised that "2016 will be better".
The theme of the conference, Sharif said, "reflects our desire for promoting regional development, increasing economic linkages, improving quality of life for our peoples and meeting security challenges."
In his address, Sharif said, "the democratically elected government in Afghanistan is the legitimate authority in the country."
"The enemies of Afghanistan are the enemies of Pakistan and the (Pakistan) government will continue to support an Afghan-led and Afghan-owned peace process that remains the most viable option to promote stability and end violence," he said.
"For us, Afghanistan is more than a neighbour. Our cordial ties are rooted in shared history, common religion, cultural and linguistic affinities and people to people relations since time immemorial. Due to these close bonds, Pakistan has always stood by Afghanistan," he said.