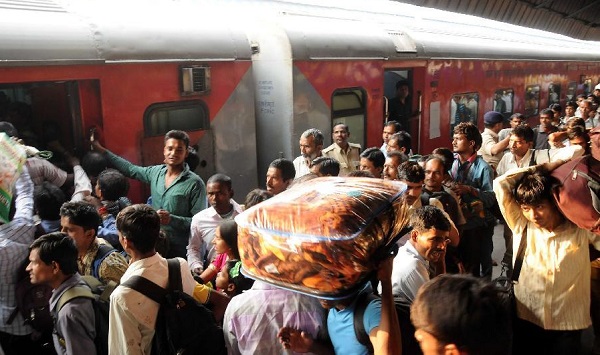 The Indian government Thursday unveiled its railway budget for the financial year 2016-2017, promising that it would "reflect the aspirations of the people" and aim at restructuring and rejuvenating the world's fourth largest rail network.
Presenting the budget in the parliament, Indian Railway Minister Suresh Prabhu said the focus was on "revenue, norms and structure" and the core objective was "to become an engine of economic growth, create employment and improve customer experience at the individual level."
The planned budget outlay for the railways would be 1.21 trillion rupees ($17.6 billion), up about 20 percent from the current year's estimated expenditure.
"My Ministry's plans are designed around pride of passenger, speed of the train and development of the country," said the 62-year-old minister, who left the heavily-subsidized passenger fares unchanged.
"We need to look beyond the current approach to expand the basket (of freight commodities). We will make sure we recapture the traffic," he told India's parliament, announcing plans for three new dedicated freight corridors across the country.
Prabhu also announced out three new trains – Humsafar, Tejas and Uday Express.
"India's first rail auto hub to come up in Chennai. We will also introduce overnight double-decker trains on business travel routes. Fully unreserved superfast trains are also to be introduced on dense traffic routes," he said.
Talking about passenger facilities and safety, the minister said mobile phone SMS facility would be provided so that commuters can request the cleaning of coaches and closed-circuit TV cameras would be installed at all tatkal (immediate) ticket counters.
"The Railways will re-develop at least 400 stations and will also introduce free Wi-Fi services in 100 new stations this year," said the 62-year-old minister, who is a chartered accountant hand-picked by Prime Minister Narendra Modi to script a turnaround for the cash-strapped Indian Railways.
The state-run railways operate more than 12,000 trains, carrying 23 million passengers daily. But decades of neglect, low investment and subsidized fares have left the network in a shambles.
Experts say this year's budget aims at rejuvenating the ailing railways.
"These are challenging times…We are faced with two headwinds, entirely beyond our control; tepid growth of our economy's core sectors due to an international slowdown and the looming impact of the 7th pay commission," Prabhu said earlier this week.