Rezaul H Laskar, Hindustan Times, New Delhi
Updated: Jun 01, 2015 12:07 IST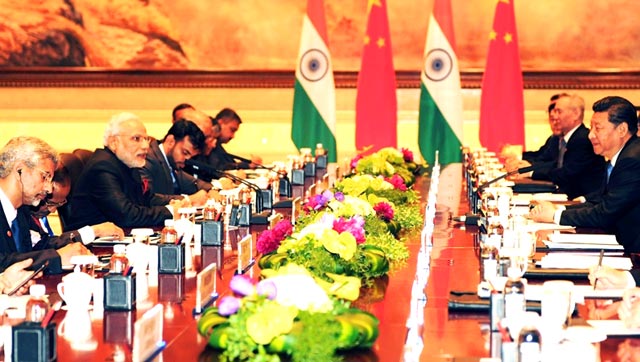 India and Pakistan have sparred over the $46 billion Pakistan-China economic corridor, with Prime Minister Narendra Modi informing the top Chinese leadership that the project passing though Pakistan-occupied Kashmir is "unacceptable".
The 3,000-km corridor running from Pakistan's southern Gwadar port on the Arabian Sea to China's western Xinjiang region, was launched in April during President Xi Jinping's visit to Islamabad despite India's strong objections.
External affairs minister Sushma Swaraj told a news conference in New Delhi on Sunday that Prime Minister Modi raised the economic corridor during his visit to Beijing and told the Chinese leadership that it was "unacceptable".
The Indian government also summoned the Chinese envoy to protest.
"We lodged a protest (by) calling the Chinese ambassador. We lodged a protest through our ambassador (in Beijing). And when the Prime Minister had gone (to China), he talked about it very firmly. He raised it very strongly that it is not acceptable to us what you are talking about – (a) China-Pakistan economic corridor going to PoK," Swaraj said.
Sartaj Aziz, the advisor on foreign affairs and national security to Prime Minister Nawaz Sharif, said in Islamabad on Sunday that Pakistan's "enemies" will not succeed in sabotaging the project. He said Islamabad is committed to the venture despite New Delhi's objections.
"Pakistan's adversaries have started their conspiracies to sabotage the Pakistan-China Economic Corridor, but (let me) make it clear that the enemies' nefarious designs will never succeed," Aziz told a gathering at the Nazriya Pakistan Council.
The future of Pakistan and the entire region depends on the completion of the economic corridor, he said. Aziz said Pakistan will not allow what he described as "India's desire for regional hegemony", and added that economic prosperity and self-reliance are imperatives for a strong defence.
The economic corridor, a network of roads, railways and pipelines, will pass through Pakistan's restive southern Balochistan province, where separatist groups have targeted security forces for years.
The corridor is part of China's plans to create a new "Silk Road" to markets in the Middle East and Europe.
Pakistan's Gwadar port, which will form the gateway of the project, is located just 400 km from the Strait of Hormuz, one of the world's busiest shipping routes for crude oil. China is hoping the corridor will shorten its crude oil transportation route by 85%, experts said.
China is also increasingly concerned about reports of links between Muslim separatists in Xinjiang and Pakistani terror groups active in the volatile tribal region bordering Afghanistan. Speaking a day before the corridor was launched on April 20, President Xi linked economic cooperation with security.
"Our cooperation in the security and economic fields reinforce each other, and they must be advanced simultaneously," Xi said.
On the other hand, Pakistan's planning minister Ahsan Iqbal has said the corridor will help his country forge closer ties with "all weather friend" China and markets in Central Asia. "It will integrate three engines of growth in Asia – South Asia, China and Central Asia," he said.
The corridor, which could eclipse US spending in Pakistan over the past decade, has worried India mostly because of the route passing through PoK. There are also concerns about the strategic implications of the infrastructure created for the project in the Kashmir region being used for military purposes by China and Pakistan.
Read | China, Pak launch economic corridor plan worth $46bn
Read | China and Pak: Little in common yet closest of allies
Tags: India Pakistan Pakistan-China economic corridor Pakistan-occupied Kashmir