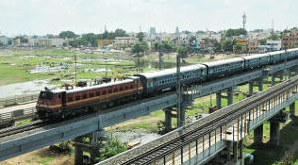 CHENNAI: Realizing that around 15% of suburban travellers — 8 lakh to 10 lakh per day — change over from the southern line to the western line every day, Southern Railway is planning to introduce direct trains between Tambaram and Arakkonam via Beach railway station.
Now people get down at beach and board trains to Tiruvallur or Arakkonam from another platform.
Divisional railway manager, Chennai, Anupam Sharma said, "The 12-car services will start by end of the year. This will ensure that there will be more 12-car trains on the Beach-Tiruvallur-Arakkonam route."
Tambaram-Beach and Beach-Arakkonam line together handle more than 80% of the suburban traffic.
"The demand for a through train has been there for a long time. The number of commuters who get down at Beach railway station and board trains to Tiruvallur and Arakkonam has increased," said a railway official. He also said that the move to run 'through' trains came because of the patronage for services.
The move will be beneficial to hundreds of commuters because they currently spend 15 minutes to 20 minutes at Beach waiting for the connection on the Arakkonam route.
In November, six trains on the Arakkonam-Beach line and two trains on the Sulurpet-Beach line were extended to Velachery. This includes a ladies special from Arakkonam at 7am.
Railway Passengers Association, Tiruvallur, K Baskar, said, "Railways should introduce fast trains between Tambaram and Arakkonam with stops at major stations. This will not only cut down the travel time but also make the trains less crowded."
Several passengers who live in the western suburbs travel to Saidapet, Guindy and also Tambaram for work and education.
Similarly, people who live in neighbourhoods along the southern line travel to Perambur, Ambattur and Tiruvallur for work.
"Trains are cheaper for people. It costs Rs 1,000 to buy a monthly pass on bus but a season ticket will cost only Rs 235 from Chrompet to Tiruvallur. This matters a lot to the monthly budget of people. Trains are faster also," said Baskar.
Railways have started to upgrade stations on Beach-Tiruvallur to accommodate 12-car trains. "Platforms are being lengthened at many stations. We are planning to extend platforms at five stations between Korattur and Pattabhiram and in seven stations between Egattur and Puliyamangalam this year so that the services can be operated from Tambaram," said Anupam Sharma.
He also said that a new foot overbridge would be built and platforms 2 and 3 would be extended at Arakkonam railway station.