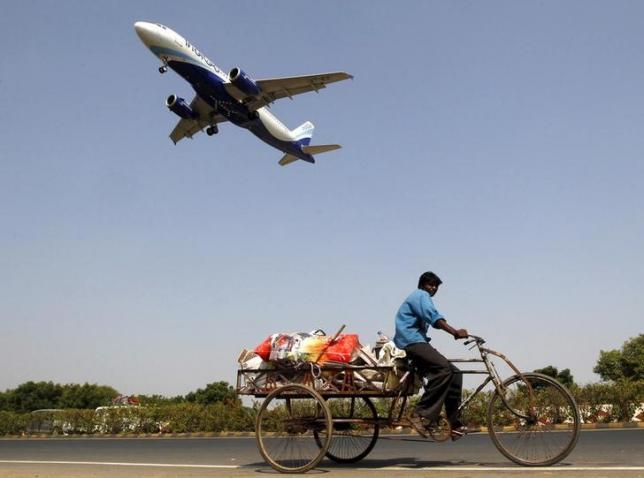 India overhauled rules governing the world's fastest-growing aviation market on Wednesday to make it easier for new airlines to fly overseas, aiming to boost air travel and economic growth.
Prime Minister Narendra Modi's government presented the national civil aviation policy, which has been years in the making, in a bid to make flying more affordable for India's expanding middle class, bolster competition and get more of the country connected.
Implementing the policy is a sign that Modi's government is beginning to find traction with key reforms, which also included the recent introduction of new real estate and bankruptcy laws, after a series of setbacks in his first two years in office.
Under the policy, domestic carriers will no longer have to operate for five years before they can fly abroad, known as the 5/20 rule, although they must still deploy 20 aircraft or 20 percent of total capacity in India, whichever is higher.
The change, effective immediately, is a boost for Tata Group's two recent ventures – Vistara, in partnership with Singapore Airlines, and AirAsia India, with Malaysia's AirAsia Bhd – and could encourage other foreign carriers to enter the country.
"We need more airlines, more aircrafts serving our Indian skies, so if more airlines want to come to India they are welcome," aviation minister Ashok Gajapathi Raju told reporters.
Passenger numbers on domestic flights jumped 21 percent in 2015 to more than 80 million. The government aims to increase that number to 300 million by 2022.
International travel is growing more slowly, at 9 percent a year, but newer airlines are eager to start flying overseas where routes can be more lucrative than in the fiercely competitive domestic sector.
Easing the 5/20 rule, unique to India, marks a further step towards liberalising the country's aviation market.
While the change is a boost for the new carriers, incumbents like Etihad-backed Jet Airways, InterGlobe Aviation's Indigo Airlines and SpiceJet that already fly overseas had lobbied hard to keep the rule in place.
However, Vistara, with 10 jets, is at least a year away from having the 20 planes needed to fly abroad, meaning that there is no immediate threat to the established players.
AirAsia India has only six A320 planes but its CEO said it would accelerate fleet expansion plans.
"We will now take that (rule change) into account and invest in India to get to that 20 mark as soon as possible, as soon as viable," CEO Amar Abrol said.
Shares in Jet Airways, InterGlobe and SpiceJet rose on news the civil aviation policy had been approved.
REGIONAL CONNECTIVITY
The government also announced it would cap base fares on regional routes at 2,500 rupees ($37) per hour of travel to get more people flying to and from under-served destinations, with the government providing part of the funding to make it viable.
The cap does not affect the most popular routes, like New Delhi to financial capital Mumbai.
Funding for new "no-frills" airports would also be made available and excise duty on fuel would be cut, civil aviation secretary R. N. Choubey said.
India's air travel market has boomed in the last decade as it opened up to competition, ticket prices were slashed and the number of people wealthy enough to travel ballooned.
Still, India's annual trips per capita, at 0.04, compares to 0.3 in China.
Amber Dubey, head of aerospace at KPMG in India, said he welcomed the focus on regional connectivity and replacing the 5/20 rule, predicting it would accelerate growth.
"The National Civil Aviation Policy … is likely to enhance that further by taking flying to the masses through a slew of policy initiatives and fiscal and monetary support," he said.