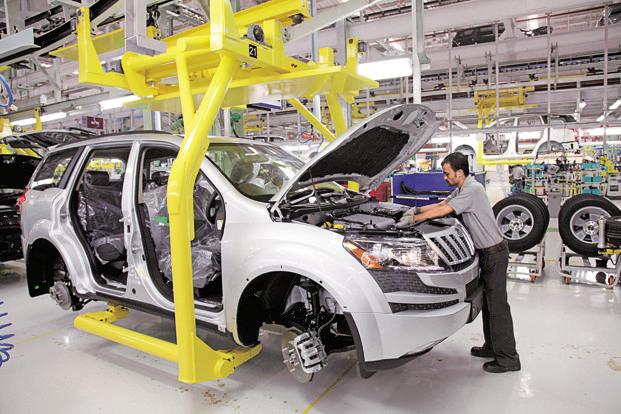 Mumbai: Auto sales advanced at a brisk pace in April on customer demand for newly launched models, offsetting a slide in diesel vehicle sales banned in the National Capital Region (NCR) centred on Delhi.
Two-wheeler sales strengthened for the third consecutive month as the launch of new scooter and motorcycle models targeted at the urban markets paid off, according to sales data released by automakers on Monday.
Starting the fiscal year on a strong note, car market leader Maruti Suzuki India Ltd sold 117,045 vehicles in the domestic market in April, up 16.2% from a year ago. Sales at the local arm of the Japanese carmaker were led by compact cars and utility vehicles. Sales of entry-level models such as the Wagon R and Alto fell, dropping 9.9% to 31,906 units. Sales of compact car models, led by the Baleno hatchback, rose 8% to 45,700 units.
In a strong indicator of changing consumer preferences, premium hatchbacks, sedans and utility vehicles account for a larger share of the overall sales at Maruti Suzuki, compared with small cars that had been leading sales until a year ago.
To be sure, the trend has been playing out for some time now with sales of entry-level models shrinking every year in the broader passenger vehicle market. The market share of small cars fell to the lowest in five years to 20% in the year to March from 30% in 2010-11, Icra Ltd said in a presentation on the passenger vehicle market trend on 28 April.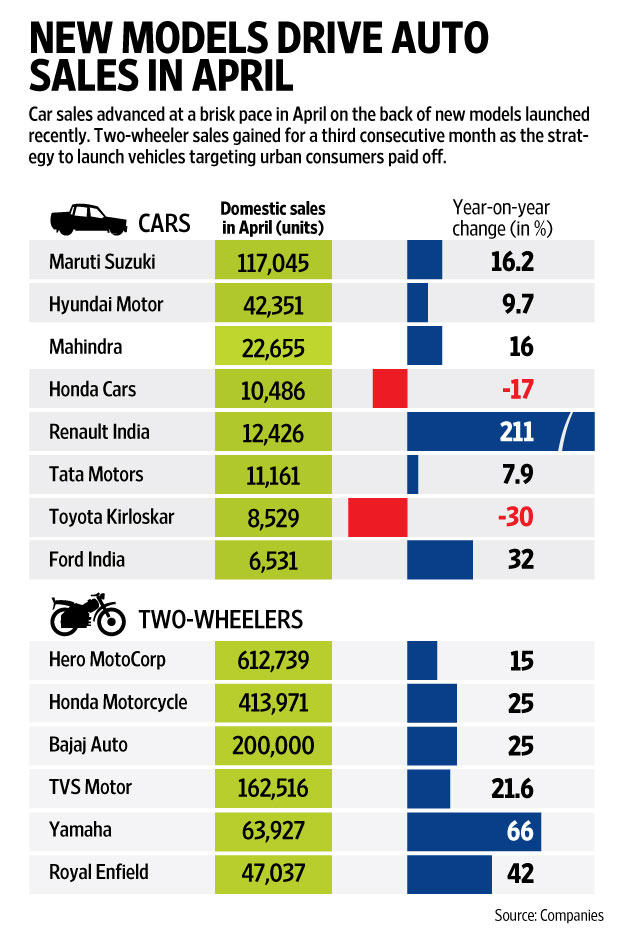 Hyundai Motor India Ltd, the second largest carmaker by volume, saw sales advance 9.7% to 42,351 units in April from a year ago. This was largely led by the best-selling Creta sport utility vehicle (SUV) and the i20 model.
Mahindra and Mahindra Ltd's passenger vehicles sales in the domestic market rose 16% to 22,655 units. Volumes at the market leader for utility vehicles were led by a 20% increase in its utility vehicle category, in which it has introduced new models KUV100 and TUV300.
Utility vehicle sales at the Mumbai-based auto maker went up to 21,484 units against 17,941 units a year ago.
"Going forward, we hope to maintain our growth momentum with our wide range of product portfolio as well as the new launches of variants and refreshes, as per the need of our customers," said Pravin Shah, president and chief executive (automotive) at Mahindra, in a company statement.
The company hoped the Supreme Court, when it takes a final decision on a ban on the sale of diesel vehicles in NCR on 9 May, takes cognizance of the role the automotive industry plays in industrial growth, Shah said.
Mahindra has been hurt the most by the Supreme Court order of December 2015, which banned the sale and registration of diesel vehicles with engines bigger than 2000cc in Delhi-NCR. The Delhi-NCR region contributes 4% of Mahindra's passenger vehicle volumes.
To tide over the regulation earlier this year, the company launched the Scorpio and XUV 500 models with 1999cc engines.
Analysts are waiting for the monsoon and its likely impact on demand after back-to-back droughts that eroded rural income hurt auto sales in the countryside.
"Will not like to read much into the month-on-month sales, a lot of it will depend on the way monsoons pan out," said Subrata Ray, an analyst at Icra.
Honda Cars India Ltd was one of two companies that posted a sales decline in April. The maker of the City sedan and Jazz hatchback saw its sales skid 17% to 10,486 units. For the month, the Japanese carmaker lost the fourth position in the pecking order to Renault India Pvt. Ltd, which has been growing on the back of demand for its model Kwid. Its sales increased twofold to 12,426 units.
In a statement, Jnaneswar Sen, senior vice-president of sales and marketing at Honda Cars India, attributed the tepid sales to a sudden shift in demand for petrol models from diesel ones.
"All these have impacted Honda sales as there is a big mismatch in demand and availability of required variants. We are now taking corrective measures to address the situation," said Sen.
Honda is now betting big on the BR-V, its maiden compact SUV offering which goes on sale on 5 May, to drive up volumes.
It was also a month of poor sales for Toyota Kirloskar Motor Pvt. Ltd, which too has been hurt by the ban on sale of diesel vehicles in the NCR. Sales at the firm fell 30% to 8,529 units.
"We are hopeful that the Honorable Court in the next hearing of 9th May 2016 will lift the ban on registration of diesel vehicles above 2000cc in the National Capital Region…," said N. Raja, director and senior vice-president (sales and marketing) at Toyota Motor.
Sales at the local arm of the world's largest automaker were also impacted as dealerships liquidated stock of the outgoing generation of Innova to make way for a new generation model called the Crysta.
With prices starting from Rs.13,83,677 (ex-showroom Mumbai), the company commenced bookings of the second-generation model from 2 May and will start deliveries from 13 May, said the company in a separate statement.