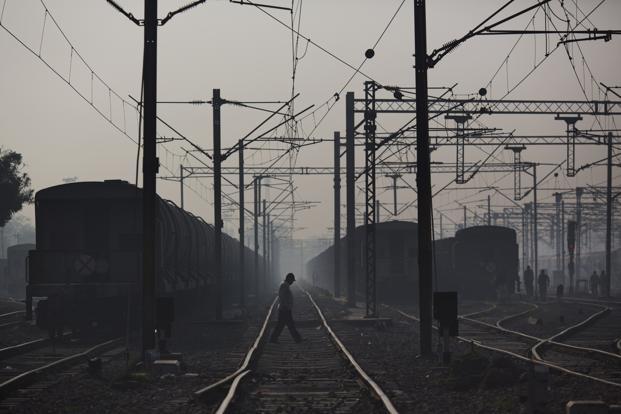 New Delhi: India is looking to build at least five new rail links with Nepal to boost economic links with the strategically located landlocked country which has no railway system of its own to boast of.
One line linking Raxaul in India to Birgunj in Nepal has been operational since 2005. Two more lines that are under construction are expected to be completed in the next two years, two people familiar with the developments said.
"Many railway stations on the Indian side (in the states of Uttar Pradesh and Bihar) are very close to the border. It's a question of extending the lines," said one of the people cited above, who did not want to be named. "We expected the two links under construction (in the state of Bihar) are to be completed in two years or so," the person said, adding that land acquisition was the main problem dogging the two projects.
"We are also looking at three new projects but that will come later," the person added.
Analysts say the advantage India has is that of geography—India's northern plains connect seamlessly to Nepal's plains or Terai region. Contrast that with China, which last year announced plans to build a rail link to Nepal. The connection, according to Chinese media reports, could include a tunnel under Mount Everest. It is to be an extension of the Qinghai-Tibet railway that links China with the Tibetan capital.
"India's influence will be greater as economic linkages with Nepal will be deeper," said Biswajit Dhar, a professor specialising in trade, at the New Delhi-based Jawaharlal Nehru University. "Offering landlocked Nepal greater connectivity with the world will increase the bond between the two countries," he said.
According to Indian government officials, India's plans for rail links to Nepal have nothing to do with Chinese plans.
"We have always focussed on improving connectivity with all our neighbours. This is part of that process," said an official, pointing to statements made by Prime Minister Narendra Modi, external affairs minister Sushma Swaraj and others, on improving connectivity in the South Asian region.
At a meeting of the South Asian Association for Regional Cooperation or Saarc in Pokhara in Nepal last week, Swaraj urged greater physical connectivity among South Asian nations. Saarc groups together Afghanistan, Bangladesh, Bhutan, India, Maldives, Nepal, Pakistan and Sri Lanka and is home to 1.6 billion people.
"Connectivity is central to our development and will determine how we meet our goals of growth, employment and prosperity. As we seek to overcome basic problems of physical connectivity, it is important for us to move forward quickly on pending agreements on rail and motor vehicles. Economic activities, cultural connections and people to people contacts will flow naturally from such connectivity," Swaraj said.
The reference was to two pacts that were to be signed in November 2014 at the 18th SAARC Summit in Kathmandu. Both remained unsigned due to Pakistan citing difficulties in obtaining internal clearances.
However, in June last year, India signed a pact for motor vehicle passage with Bhutan, Bangladesh and Nepal.
Bilaterally, India has restored three of the six rail links it had with Bangladesh before 1965. The three links that are operational are the ones between Petrapol in India and Benapol in Bangladesh, Gede in India and Darsana in Bangladesh, and Singhabad in India and Rohanpur in Bangladesh.
The links proposed to be opened are Radhikapur in India and Birol in Bangladesh, Karimganj/ Mahisasan in India and Shahbazpur in Bangladesh and Haldibari in India and Chilhati in Bangladesh. The Radhikapur-Birol link is expected to be opened in July, said one of the Indian officials cited above.
Separately, India also signed two pacts with Nepal during the February visit of Nepal's prime minister K.P. Sharma to India. One was on the "simplification of modalities for traffic of goods between Nepal and Bangladesh while transiting through India, through the Kakarbhitta (Nepal) and (Bangladesh) corridor" and the second was to "provide for transit facilities for Nepal through the Visakhapatnam port".
According to Dhar, if physical connectivity in South Asia increases, there can be links with high-growth South-east Asian economies in the future. India is already part of the Asian Trilateral Highway project linking India, Myanmar and Thailand. "There is a very good possibility of linkage between South and South-east Asia which will boost the region economically," said Dhar.