New Delhi: The Union cabinet on Wednesday got down to business after a two-week gap, clearing decisions focused on building infrastructure, providing relief to exporters, and allowing further disinvestment in Coal India Ltd—all measures that should boost the reformist credentials of the Bharatiya Janata Party-led National Democratic Alliance government.
The decisions will, among other things, benefit 34 stalled road projects; allow some exporters to receive bank loans at an interest rate three percentage points lower than what they would otherwise have paid; and put the government on course to meet its disinvestment target for the year by clearing the sale of a 10% stake in Coal India.
D.K. Srivastava, chief policy advisor at EY India, said the decisions will have an incremental impact on the economy. "The government should focus on taking faster decisions like these to stimulate demand. The 7th Pay Commission recommendations will also push demand next year," he said.
The 7th Pay Commission is scheduled to submit its report to finance minister Arun Jaitley on Thursday.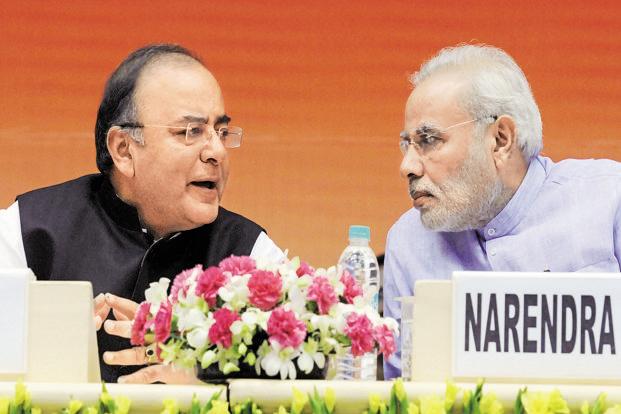 ■Roads and infrastructure
The National Highways Authority of India (NHAI) has been allowed to extend the concession period for current projects in build-operate-transfer mode that are incomplete for no fault of the developer. It has also been given the option of paying a compensation for delays. The move will benefit 34 stuck projects. The government also allowed segregating construction cost from civil cost, such as land acquisition and pre-construction activities, for the purpose of appraisal and approval of national highway projects.
In a statement, the government said that multiple stages of examination and appraisal of the same project by different ministries, departments and committees cause delays in award of national highways and empowered the ministry of road transport and highways to decide on any change in the contours of a project and approve projects with civil cost up to Rs.1,000 crore.
While speaking at the World Economic Forum's (WEF) National Strategy Day on India in New Delhi on 4 November, urban development minister M. Venkaiah Naidu said that the government would put in place a single-window clearance mechanism to provide quick approvals for development projects by the end of the month. He had also said that the government has created a unified platform for clearances.
The move should boost much-needed investments in infrastructure, where delays related to land acquisition, availability of fuel (for power projects), and environmental clearances have wreaked havoc on the financials of developers and banks. Many lenders have now become wary of lending to infrastructure projects; at least 25% of their non-performing assets are related to infrastructure projects.
Wednesday's announcements will help, but more needs to be done, said an expert.
"Though these are good initiatives, we need to have a technology-driven approval system so that there is transparency and we also need robust dispute resolution. Else, we will still have stalled projects in the future," said P.R. Ramesh, chairman, Deloitte Haskins and Sells Llp.
On Tuesday, Jaitley invited sovereign wealth funds of the United Arab Emirates to invest in India's National Infrastructure and Investment Fund, which was set up in July with a corpus of Rs.20,000 crore to assist development of infrastructure projects.
The cabinet also approved a policy on bilateral assistance to fast-track flow of overseas investments to infrastructure projects.
"We have today approved a policy on bilateral official development assistance for development cooperation with bilateral partners and modified the existing guidelines," power minister Piyush Goyal said at a press briefing.
The decision will provide a flexible regime and enable the external affairs and finance ministries to enter into bilateral agreements with various countries which will help India generate large amounts of investment at concessional terms for long durations, the minister said.
It will also help India in developing infrastructure in an expeditious manner, he said.
The decision is aimed at further liberalizing activities under bilateral cooperation agreements with various countries. India has bilateral cooperation agreements with countries such as Japan, the US and Germany. It is developing the Delhi-Mumbai Industrial Corridor project with Japan's assistance.
The minister said that the arrangement would largely focus on infrastructure development and will ensure that 50% of the loan is of an untied nature so that it can also encourage more Indian companies to participate in the projects which are awarded through international competitive bidding.
"… the overall framework has been made more liberal to allow faster flow of funds into India through bilateral cooperation with newer countries," he added.
According to the government statement, acceptance of special loans for capital-intensive projects and other projects of a special nature would be subject to conditions, including the stipulation that the minimum assistance from a bilateral partner would be $1 billion a year, of which at least 50% shall be normal untied loans.
Another condition is that not more than 30% of the total value of goods and services should be required to be sourced from the funding country, it said. Also, the annual rate of interest on special loans should not exceed 0.3% and the tenure should not be less than 40 years (with a 10-year moratorium on repayment).
Individual projects with a minimum project cost of $250 million will qualify for such special loans, it said.
■Exports
To help exporters become internationally competitive at a time when India's exports have contracted for the 11th consecutive month, the Cabinet approved a revised scheme for exporters, with an annual outgo of around Rs.2,700 crore, to provide them cheaper credit.
The long-pending so-called interest subvention scheme which expired on 31 March last year has now been replaced by a similar scheme (called the interest equalization scheme) for a period of five years starting 1 April this year. The impact of the scheme on export promotion will be reviewed after three years through a study by one of the Indian Institutes of Management, based upon which further continuation of the scheme will be decided.
Mint reported on 5 October that the scheme may be notified for a period of five years, subject to a review after three years.
All shipments by small and medium enterprises and labour-intensive exports of 416 commodities, including engineering, handicrafts, readymade garments and processed food, will be provided a subsidy of 3 percentage points in rupee credit.
"Financial implication of the proposed scheme is estimated to be in the range of Rs.2,500 crore to Rs.2,700 crore per year. However, the actual financial implication would depend on the level of exports and the claims filed by the exporters with the banks. Funds to the tune of Rs.1,625 crore under the non-plan head are available under Demand of Grants for 2015-2016, which would be made available to RBI (Reserve Bank of India) during 2015-16," a statement from the Cabinet Committee on Economic Affairs (CCEA) said.
■Disinvestment
The CCEA approved the disinvestment of 10% stake in Coal India out of the government's shareholding of 78.65% in the firm through the offer for sale route amid growing concern over its ability to meet its Rs.69,500 crore disinvestment target for 2015-16. The government sold 10% stake in Coal India for more than Rs.25,000 crore through an offer for sale in January. At the current level of market capitalization, a 10% stake sale could fetch about Rs.21,137.71 crore.
So far, the government has garnered Rs.12,642 crore through disinvestment in Rural Electrification Corp Ltd, Power Finance Corporation Ltd, Dredging Corp of India Ltd and Indian Oil Corp Ltd. The volatile equity market and the global meltdown in commodity prices have affected its ability to aggressively push for divestment of commodity stocks.
■Railways
For the railways, the government committed a sum of Rs.2,774 crore for a rail-cum-road bridge over the Ganga in Munger, Bihar, which has seen no progress in the last 17 years and set a deadline of mid-2016 to open the line. Power minister Piyush Goyal said that the announcement after the Bihar elections by the central government showed its commitment to the people of the state.
This is the second major announcement regarding railways in the state after the National Democratic Alliance lost the assembly elections. On 10 November, the Indian Railways awarded two contracts to General Electric Co. and Alstom to set up diesel and electric locomotive factories, respectively, in Bihar; the estimated cost of the projects is about Rs.40,000 crore.
The cabinet also approved doubling of three rail lines and addition of two rail lines to the East Coast Railway zone in the states of Odisha and Andhra Pradesh at a combined cost of around Rs.8,000 crore. The doubling will happen for the Jagdalpur-Koraput section of 110.22km, the Koraput-Singapur Road section of 164.56km and the Kottavalasa-Koraput section of 189.27km.
Additionally, a third and a fourth line between Budhapank and Salegaon via Rajathgarh of 85km each will also be constructed. The project is likely to be completed in the next three years and meet the demands of ever-increasing freight traffic between these sections.
"We believe these four lines will give a boost to the power sector, the coal sector, the steel sector, and to exports, also adding to the utilization of Vizag port," said Goyal. He added that the other major advantage of these lines will be the impact on the environment, as they will reduce freight movement on roads.
■Sugar
In a first-of-its-kind direct subsidy payment to farmers, the government has approved payment of a production subsidy to sugarcane growers.
For the sugar season that began in October, farmers will be paid Rs.4.50 per quintal of cane crushed by mills and the money will be paid directly to farmers, the cabinet statement said.
The move will ensure timely payment to farmers by mills and reduce their cost of procurement, the statement added.
The subsidy will be paid to farmers on behalf of the mills and will be adjusted against the cane price payable to the farmers towards the fair and remunerative price (FRP), including arrears relating to previous years, the statement said.
FRP is the government-mandated minimum to be paid by mills for procuring cane. The current FRP is fixed at Rs.230 per quintal.
■Other decisions
The CCEA approved an initial public offering for Cochin Shipyard, to offload a 10% stake in the country's largest ship-building and repair facility under its control. Cochin Shipyard's turnover has increased 5-fold from Rs.373 crore in 2005-06 to Rs.1,859 crore in 2014-15. Its net profit has more than doubled during the period from Rs.94 crore to Rs.235 crore.
The government ratified the articles of agreement to join the China-led Asian Infrastructure Investment Bank (AIIB). "Establishment of the AIIB will help India and other signatory countries raise and avail resources for their infrastructure and sustainable development projects. India stands to become the second largest shareholder of AIIB after China. This is a historic opportunity for India to play a prominent role in the governance of a multilateral institution," the statement said.
The cabinet also approved the determination of a marketing margin for supply of domestic gas to urea and LPG producers. Calling the move a structural reform, an official statement said "this decision is likely to enhance transparency and provide an element of certainty for future investments in the gas infrastructure sector".
Marketing margin is the charge levied by a gas marketing company on its consumers over and above the cost or basic price of gas for taking on the additional risk and cost associated with marketing gas.
At present, different transporters are charging different marketing margins for supply of natural gas. With this decision, there will be uniformity in the marketing margin on domestic gas charged by gas marketers.
The statement added that there would be a reduction in marketing margin paid by urea and LPG producers as a result of the decision.