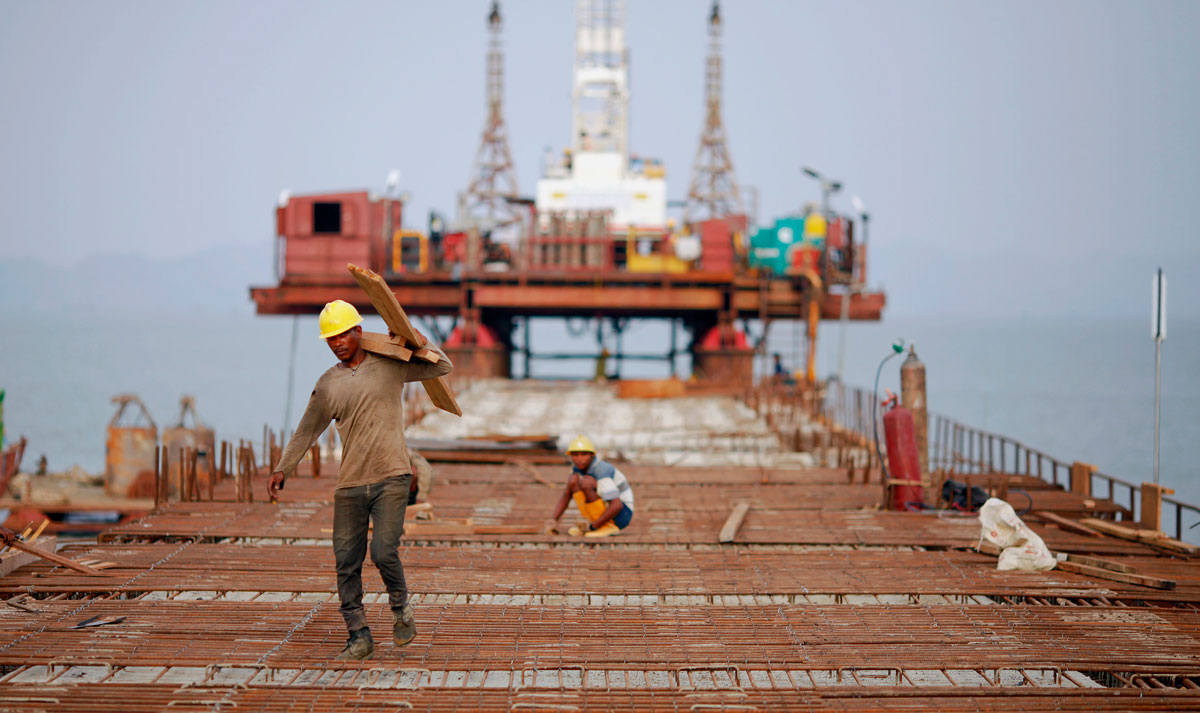 BEIJING: In a fresh bid to rope in India into its multi-billion dollar Silk Road project, China today said it regarded India as an important cooperative partner in the mega project and would like to listen its opinion and suggestions to address the concerns.
Asked about unanimous opinion expressed by top Indian ruling and opposition political parties on the country's concerns and reservations over the "One Belt, One Road" initiative, which included the China-Pakistan Economic Corridor that passes through Pakistan-occupied Kashmir, Chinese Foreign Ministry Spokesperson Hua Chunying said the projects were aimed at furthering regional economic cooperation.
"The Chinese side takes India as an important cooperative partner in the building of the 'One Belt, One Road' projects and would like to listen to India's opinions and suggestions on the Belt and Road and explore practical cooperation," Hua told PTI in response to India's concerns over the projects.
The OBOR mooted by Chinese President Xi Jinping in 2013 included highways and railways connecting China to Europe through Central Asia, 21st Maritime Silk Road (MSR), Bangladesh, China, India, Myanmar (BCIM) Economic Corridor and the China-Pakistan Economic Corridor (CPEC).
China has set up USD 40 billion for the implementation of numerous projects besides USD 46 billion for CPEC. It has set up Asia Infrastructure Investment Bank (AIIB) in which India and 56 other countries have joined to extend additional finance.
While India has protested over CPEC, it was reluctant to back MSR over strategic concerns over Chinese dominance in the Indian Ocean.
While so far China dealt with India's concerns over the projects diplomatically and at the leadership level, it for the first time came face to face with vocal opinions of the Indian political parties at the recently held International Association of Asian Political Parties (IAAP), organised by the Communist Party of China in Beijing.
Senior leaders of the BJP, Congress, CPI(M) and CPI who took part in the meeting highlighted India's concerns over the projects and asked China to forge consensus to address the apprehensions.
For its part, China has been trying to rope in India into OBOR but only after it conceived the idea.
While the project made modest progress, especially on CPEC, China has offered to merge its concept with India's Spice Route concept to take India's concerns on board the MSR.
India in principle has expressed its backing for the BCIM which is still in drawing board stage.
Elaborating on China's approach, Hua said Beijing had put forward OBOR with the aim of promoting "regional economic cooperation and economic prosperity of countries along the Belt and Road, enhancing mutual learning and exchanges of different cultures, and promoting world peace and development".
The OBOR will be jointly built through consultation to meet the interests of all.
"It will carry forward the spirit of openness, inclusiveness, and mutual learning, stick to the goal of mutual benefit and joint development, and uphold the purposes of putting people first and serving the people, so as to deliver tangible benefits to people from countries along OBOR," she said.
"Since the OBOR as brought up two years ago, it has been warmly responded by the international community, especially by over 60 countries along the Belt and Road, and has started to yield fruits," she said.