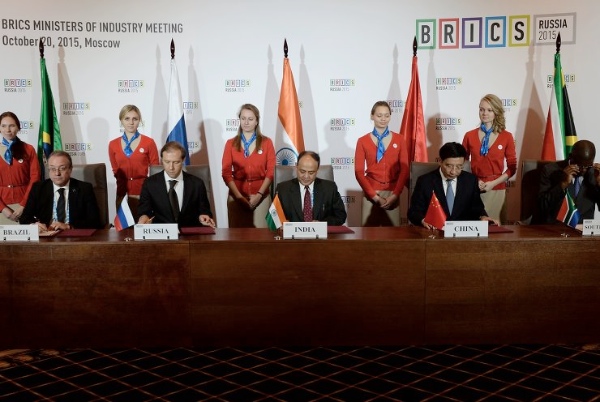 BRICS industry ministers held their first meeting in Moscow on Tuesday. Officials from the five countries discussed "new opportunities for growth" and  "collaborative multilateral infrastructure projects", said a statement.
"BRICS New Development Bank which has already started the selection of next year's priority projects, will contribute in attracting investment in joint projects in a wide range of industries," said Minister of Industry and Trade of Russia Denis Manturov.
Russia has worked out a 'roadmap' on boosting intra-BRICS trade ties through till 2020, the minister said. It includes projects in manufacturing, mining, engineering, energy and many other sectors of the economy.
"We are ready to work them out and determine the range of initiatives that will be implemented jointly with the assistance of the new development bank and national mechanisms of support," Manturov said.
Also attending the meeting on Tuesday were industrial ministers of the Eurasian Economic Union and officials of the United Nations Industrial Development Organisation (UNIDO).
The Russian Trade Minister during Tuesday's meet also urged governments to eliminate trade barriers between the BRICS countries and the members of the Russia-led Eurasian Economic Union.
"I suggest elaborating on how to decrease different barriers between the BRICS countries and EEU in order to increase mutual trade, investment and new large industrial projects," said Manturov, adding that: "Eurasian Economic Union is not an exclusive club in which only the CIS countries can be members."
China and the Eurasian Economic Union (EAEU) will start negotiations on an economic partnership agreement (EPA) as soon as possible, Chinese Commerce Minister Gao Hucheng said in Russia in July.
The EAEU is a Russia-led trade bloc established in 2015. It currently has four members: Armenia, Belarus, Kazakhstan, and Russia.
The EAEU already has an integrated single market of more than 171 million people. Armenia, Kyrgyzstan, Tajikistan and Uzbekistan have also expressed interest in joining. That would bring it to a total of 217 million.
Russian President Vladimir Putin has said Moscow and Beijing are working on plans for docking China's ambitious Silk Road project and the Russia-led Eurasian Economic Union.
"We are intensively working on combining these two projects – the economic zone of the Silk Road and cooperation as part of the Eurasian Economic Union, and Russia's plans to expand its transport network in the east of the country. We are absolutely confident that the implementation of this joint work fully meets our mutual interests," Putin said earlier this year.
By holding simultaneous summits of the EAEU and the BRICS in July, Russia was "at the center of the world" writes analyst Mark Sleboda.
"Russia, with host and presidency duties of the annual heads of state's summits of both BRICS (Brazil, Russia, India, China, and South Africa) and the SCO (Shanghai Cooperation Organization), has taken advantage of the opportunity to hold both summits in concert. The occasion is also being used to hold a meeting of the heads of the newly formed EAEU (Eurasian Economic Union). This is no coincidence or mere convenience – this is a definitive statement about world order and international relations," said Sleboda.