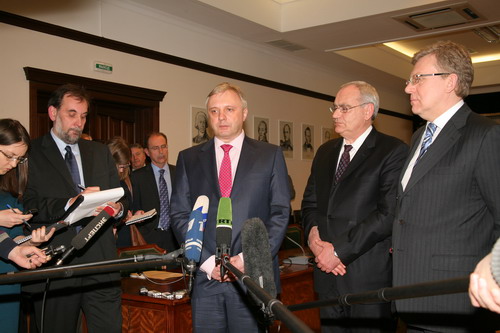 ST. PETERSBURG, October 20. /TASS/. The Eurasian Development Bank (EDB) plans to increase the number of its member-states, Chairman Dmitry Pankin told TASS on Tuesday, adding that China, Korea, Turkey, India and Iran may potentially become its new members.
"Among EDB top-priorities is the goal of increasing its member-states. Potentially those are countries interested in the region – China, Korea, maybe Turkey, India, Iran. Of course, we don't have a tough schedule of adding new members to the EDB, this being more like a motion vector," Pankin said.
In August, the bank's shareholders reviewed its development strategy, the official said. "We offered an option to the EDB board: if founders assume that the Bank should be engaged in big infrastructure projects, significant to the regions' states recapitalization should equal to at least $10 bln. Then the Bank may take on big energy, transport projects involving member-states. But their budgets have no such funds thus, a decision was made not to carry out this huge recapitalization," he said, adding that amid this environment "the Bank's goal is to focus on integration projects with value chains in industry, chemicals, pharmacy, machine building." "Intersection of interests of the Bank's member-states was our key criterion in the project," Pankin said.
Eurasian Development Bank is an international financial organization established to promote economic growth in its member states, extend trade and economic ties between them and to support integration in Eurasia. It was conceived by Presidents of the Russian Federation and the Republic of Kazakhstan and established in 2006. The Republic of Armenia and the Republic of Tajikistan, the Republic of Belarus and the Kyrgyz Republic became its full members of in 2009, 2010 and 2011 respectively. The Bank's equity capital totals $1.5 bln.