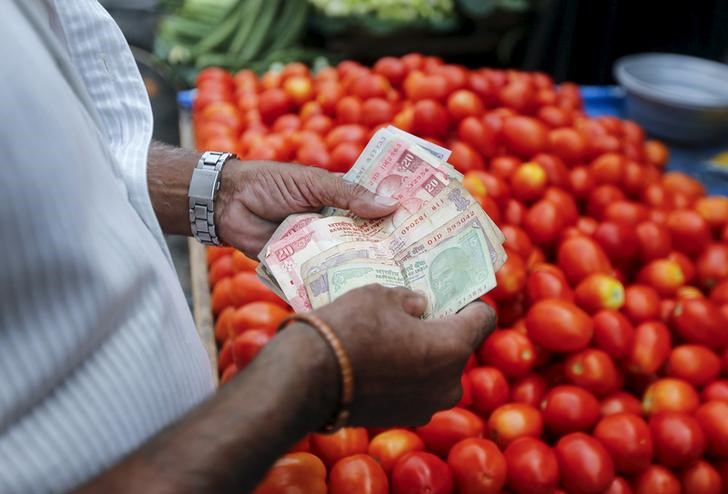 NEW DELHI: Rising prices for some food and firm demand during the festival season probably pushed up India's retail inflation in October for the third straight month, making it less likely the RBI will cut interest rates at its policy review next month.
Retail inflation in India has slowed sharply, but a surge in prices of items like lentils threaten the popularity of PM Narendra Modi, whose party lost elections in Bihar on Sunday.
Higher demand for consumer durables and food items during the festival season beginning in October also contributed to inflation.
Analysts said inflation may moderate once festival demand softens and prices of lentils and vegetables fall as imports increase.
"The uptick in inflation, if any, related to the festive demand, would dissipate over the next month," said Aditi Nayar, an economist at ICRA, the Indian arm of Rating Agency Moody's.
She said easing prices of pulses would also soften headline inflation to some extent.
Food items, which accounts for almost half the CPI basket, have increased in price up to one-third, forcing the government to import pulses and onions to offset the impact of a drought for the second straight year in much of the country.
Consumer prices likely rose 4.82 per cent in October from a year earlier, according to a Reuters poll of economists, compared with September's 4.41 per cent.
Industrial output, however, likely slowed to 4.7 per cent in September compared with a year earlier and from a 6.4 per cent rise in the previous month.
Both sets of data will be released around 1200 GMT on Thursday.
Raghuram Rajan the governor of the Reserve Bank of India, has said the central bank expected to meet its 6 per cent retail inflation target for January and will focus on its 5 per cent target for March 2017.
He cut the benchmark policy rate by a half per centage point to 6.75 per cent in September, after months of pleading by government leaders and industrial groups.
Analysts said that the central bank may leave rates unchanged in its policy review meeting in early December and might wait for the US Fed decision on interest rates.
"A rate cut in the December policy remains a remote possibility, partly in light of the looming interest rate hike by the US Federal Reserve," Nayar said.