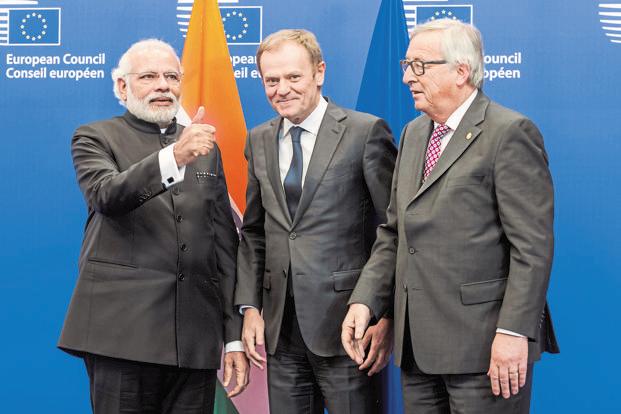 New Delhi: India and the 28-member European Union (EU) have agreed to implement a framework to boost European investments in Asia's third largest economy even as the two sides agreed to continue talks on concluding a bilateral trade and investment pact.
Both sides also agreed to use existing arrangements to resolve trade irritants, a statement titled "EU-India Agenda for Action 2020" issued after the 13th India-EU Summit said on Thursday.
In a separate joint statement, Donald Tusk, president of the European Council, Jean-Claude Juncker, president of the European Commission, and Prime Minister Narendra Modi hailed a €450 million loan extended by the European Investment Bank for the construction of a metro line in Lucknow.
India and the EU also agreed to settle the thorny issue of detention of two Italian marines by Indian authorities for killing two Indian fishermen through the framework of the United Nations Convention on the Law of the Sea (UNCLOS), the statement said.
"The EU shares Italy's concerns to find an expeditious solution for the prolonged restriction of liberty of the two marines. India stressed the need for rendering due justice for the families of the Indian fishermen who were killed," the statement said.
The India-EU summit held late on Wednesday in Brussels was the first in four years. The last such summit was hosted by India in New Delhi. A summit was to be held last year but India pulled out after the EU refused to confirm dates following friction over the Italian marines.
According to Indian officials, India's aim at the current summit was to reinvigorate ties with the EU, which India considers to be a "global economic powerhouse" and "the biggest economy in the world with a GDP of $18 trillion", despite its economic difficulties and slow growth.
Bilateral trade between India and the EU stood at $126 billion and India has so far garnered $69 billion in foreign direct investment, according to Indian figures. India is also keep to tap advanced technologies developed by various EU member states to help it advance to the next level of development.
According to the joint statement, leaders of both sides "expressed their commitment to further strengthen the EU-India economic partnership. The EU's Agenda for Jobs, Growth, Fairness and Democratic Change and India's Sabka Saath, Sabka Vikas (collective efforts, inclusive growth) initiatives create new opportunities for mutually beneficial cooperation between people and businesses on both sides".
"The leaders welcomed that both sides have re-engaged in discussions with a view to considering how to further the EU-India Broad-based Trade and Investment Agreement (BTIA) negotiations," it said. Talks for the pact have been on for almost a decade and both sides have missed several deadlines to reach an agreement.
The India-EU action plan added that "both sides remain engaged to discuss how to deepen bilateral trade and investment relations in order to fully reap the benefits, including through negotiations on the BTIA". The two delegations also agreed to "implement a mechanism to facilitate investments of EU businesses in India", and to "make full use of the existing institutional mechanisms to resolve trade irritants in particular concerning goods, services and investments, and strengthen trade and investment relations between India and the EU".
So far, India has special arrangements to fast-track investments from a handful of countries, including Japan and South Korea, to support flagship programmes like Make in India, Digital India and the Smart Cities initiative.
The action plan also outlined areas for "foreign policy cooperation, in areas of mutual interest such as Asia, Africa, the Middle East/West Asia (and) Europe".
It also spoke of plans by India and the EU to "strengthen cooperation and work towards tangible outcomes on shared objectives of non-proliferation and disarmament, counter-piracy, counter-terrorism (including counter-radicalisation) and cyber security" and "explore possibilities for sharing information between Europol and Indian agencies in the context of transnational threats including terrorism".
A separate statement on India-EU cooperation in the area of environment and climate change said the two sides "underlined the challenges that the EU and India face in terms of ensuring a secure, clean, affordable and reliable energy supply for all, as required for sustainable economic growth, and of mitigating and adapting to climate change, as well as the importance of working jointly to successfully meet these challenges".