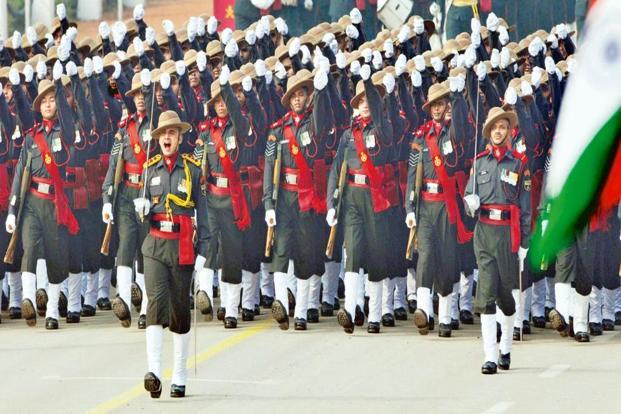 Mumbai: India has become the world's fourth largest spender on defence, following a 13.1% increase in its 2016-17 defence budget, according to US research firm IHS Inc.
India's rise in the rankings from sixth position last year is a result of an increase in expenditure to $50.7 billion, combined with cuts to military spending by Russia and Saudi Arabia, where low oil prices have put considerable strain on their finances.
"Growth in the Indian budget is expected to outpace that of all other major defence spenders over the next five years. This position is only likely to strengthen further," said Craig Caffrey, principal analyst at IHS.
According to IHS analysis, short-term pressures, caused by increases to military pay and the introduction of one rank, one pension (OROP) are the main reasons for the higher rate of growth in budget allocation to defence. As a result, spending on the acquisition of military equipment remained largely static in real terms and remains lower than its 2013-14 peak, despite an increase in the overall budget.
"There are definitely strains with regards to the 2016-17 defence budget, not least that last year's medium-term guidance suggested India would see a growth of 17-18% this year. The pressure on the capital budget will be the main concern from the perspective of both domestic and foreign defence suppliers," said Caffrey.
Nonetheless, longer-term budgetary prospects have improved and are expected to strengthen further over the next five years, IHS said.
The Indian defence budget is expected to reach $64.8 billion by 2020 with procurement expenditure expected to grow faster than overall spending, according to IHS.
India's aerospace and defence market is among the most attractive globally and the government is keen to leverage this advantage to promote investments in the sector.
According to a report released by PricewaterhouseCoopers Pvt. Ltd and industry lobby group Assocham on 29 March in Goa, India ranks among the top 10 countries in the world in terms of its military expenditure and import of defence equipment and it allocates about 1.8% of its GDP to defence spending, of which 36% is assigned to capital acquisitions. However, only about 35% of defence equipment is manufactured in India, mainly by public sector units.
Moreover, even when defence products are made locally, there is a large import component of raw material at both the system and sub-system levels.
Prime Minister Narendra Modi launched the Make in India campaign in 2014 with the objective of boosting manufacturing and generating employment by focusing on 25 sectors, including defence.
The objectives for the defence sector were promoting self-reliance, indigenization, achieving economies of scale, developing capabilities for export, transfer of technology and domestic research and development.
On Monday, defence minister Manohar Parrikar unveiled the Defence Procurement Procedure-2016 (DPP-2016) and said that the centre has tweaked policies to address the concerns of defence manufacturers and increase transparency.
The new procurement policy being promulgated by DPP-2016 will ensure faster pace in procurement, especially through newly introduced categories under indigenously designed, developed and manufactured (IDDM) provisions.
Parrikar said the government has allocated funds for the budget based on the orders that it had previously placed and funds are not an issue for future defence acquisitions.
India will finalize defence orders worth Rs.2.8 trillion by 2016 even as the defence ministry is pushing for at least 40% indigenous content in the defence products, the minister said. However, IHS said the pressure on the defence budget will be inevitable, citing OROP.
"The strain on the equipment budget was inevitable given the pressures of OROP and the seventh pay commission, but we should now see a period of sustained growth in procurement spending," said Caffrey.
The increase in capital expenditure will be driven by extensive modernization requirements across the armed forces, IHS said. It has observed that the majority of the armoured vehicle inventory of the Indian Army has passed their service life while the air Force possesses 34 active combat aircraft squadrons against a sanctioned requirement for 42.
As a result of these pressures, procurement spending is expected to rise from $10.4 billion this year to around $15 billion by 2020, IHS said.