NEW DELHI: Voicing "great satisfaction" over performance of the Indian economy in "a year of turmoil and volatility" globally, Finance Minister Arun Jaitley today dismissed grumblings about the economy not having taken off as "cynicism — a way of life in India".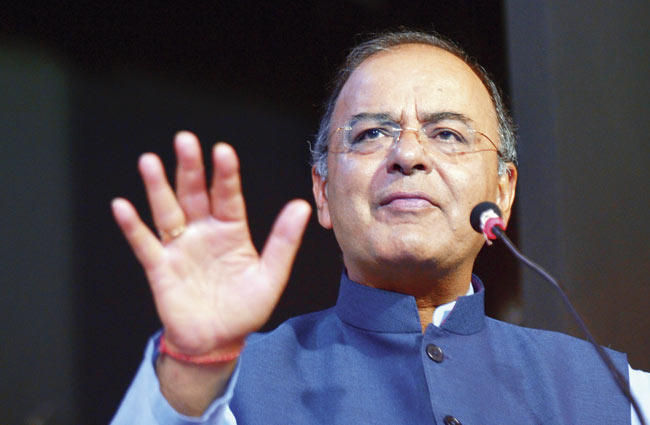 Looking back at 2015, Jaitley said India has been the bright spot with growth prospects of 7-7.5 per cent despite global slowdown and adversities, and expressed optimism that the growth rate which is "quite good" would improve further in the months to come.
India has responded well to the challenge posed by the slowdown in global economy, he said, but acknowledged that "there are areas (in which) we have to respond faster".
"As the year ends, I look back with a sense of great satisfaction," Jaitley told PTI in an interview, during which he underlined that India's fiscal fundamentals are "extremely sound".
Outlining his priorities for the New Year, the Finance Minister said he would continue with structural reforms and the priorities would include GST, rationalising direct taxes, further easing the system of doing business.
"After having done that, I would like to concentrate essentially on three things – more money for physical infrastructure, more money on social infrastructure and lastly more money on irrigation because that is a neglected sector."
Asked about murmurs that the economy has not really taken off, Jaitley dismissed such grumblings as without merit and said that "the revenue collections do not go up without the economy taking off".
"Cynicism is a way of life in India. You can question any other data but you cannot question the actual rise of revenue and the actual rise of revenue is showing that the economy is doing better," he said.
Asked whether the Indian industry was also prone to such cynicism, Jaitley said, "Well, I think a section of the Indian industry has overstretched itself and those who have overstretched themselves see this as a universal problem."
Besides global headwinds due to slowdown in China and weakness in commodity markets, India also had to face domestic challenges in form of two continuous weak monsoons and slower private sector investment, making the management of the Indian economy a "great challenge for us," Jaitley said.
"Private sector investments continued to be slow because the private sector had overstretched itself… they had surplus capacity and demand was slow."
The government responded well to these challenges by stepping up public investment, which has been complemented by 40 per cent rise in FDI and a rebound in consumption, he said.
The government has utilised the savings from low oil prices for infrastructure spending, resulting in sectors like highways, rural roads and railways getting a significant step-up of investment. Port areas have also been targets of private sector investments, he said.
"As a result, despite the global slowdown and adversities, India became the bright spot in the global economy with a growth prospect of 7-7.5 per cent. It is lesser than our targetted 8 per cent. I have no doubt if we have had a normal monsoon, we would have been close to the target."
Jaitley said the services sector continues to be strong, while "revival of manufacturing and the IIP (Index of Industrial Production) are high points of this year", which is also reflected in record rise in indirect tax collections.
"Inflation remains under control, the repo rate (the policy interest rate decided by RBI) has come down this year by 125 basis points. Foreign exchange reserves were as good as always. Compared to the rest of the global economies, we were far more stable vis-a-vis the dollar," Jaitley said while summing up the macroeconomic trends for 2015.
"The year 2015 has been an extremely challenging year as far as economy is concerned, because the world economy has been going through a downturn," he said, while adding that imports as well as exports have shrunk due to decline in prices and shrinking of the global trade.
"International trade has contracted. So both imports and exports have shrunk. In India context, the shrinkage is more in value (terms) because the prices are low and to some extent in volumes because of the shrinkage of global trade," he said.
Jaitley further said that the government has continued with its reform process including on fronts like FDI norms and ease of doing business, while some of the old taxation issues are being resolved "one by one".
"The rationalisation of subsidies in a big way has taken place. The methodology of distribution of natural resources has become extremely fair… These are important positives which have emerged as far as our economy is concerned."
On way ahead for the Indian economy, Jaitley said a "fast moving economy" will help generate more revenues for investing in physical and social infrastructure as well as irrigation.
"I have already been constrained by a 42 per cent (tax) collections going to the states on recommendation of the Finance Commission. Next year, I am constrained by Rs 1,02,000 crore extra spending because of the Pay Commission. So, I have to always keep counting my balance resources," he said.
On some states requesting deferring the Pay Panel recommendations due to lack of resources available with them, Jaitley said a committee of secretaries was already working on the implementation.
"The Pay Commission has already raised the expectations of government servants and defying that expectation is very difficult. I don't grudge the government servants being paid more because after all they are supposed to work harder and work honestly."
Asked whether it would be implemented from January 1, Jaitley said, "The expert committee will decide (that). The Secretaries Committee is already working on the matter".
Asked whether there have been any disappointment, Jaitley said, "I would say fighting a slowdown is a challenge, it can never be a disappointment and we have responded to the challenge".
On areas where the government needs to respond faster, he said these include various structural changes.
"We need to bring our direct taxes at par with what is happening elsewhere in the world… I had hoped that we complete the process of GST this year," Jaitley said, while putting the blame on Congress for delaying this reform with its "plain and simple obstructionism".
"In fact, a national party adopting a disruptionist role and getting a sadistic pleasure in stalling a reform which could add to India's GDP is a disappointment.
"It used disruption in order to obstruct and I think it is a very bad precedent for India's Parliamentary democracy if this is followed in state legislatures, if this is followed by future opposition parties, I think it would be a bad trend to set."
Jaitley further said the Parliament itself would have to find alternative methods of approving legislation if the Congress party does not change its tactics.
Asked about such alternatives, he said, "I hope it does not come to a stage where all legislations are passed in a din or you rely on money legislations, you rely more on executive decision making".
Stating that some of the legislations have been passed even without discussion, Jaitley said it was not the "ideal way how laws should be passed".
On his comments about the role of Rajya Sabha, Jaitley said, "I have frankly not argued for a fresh look at Rajya Sabha. Rajya Sabha is essential and part of India's basic structure. The structure of Rajya Sabha cannot be altered."
Asserting that he would never suggest altering this structure, Jaitley said, "I am only on the impact on Parliamentary democracy if the indirectly elected house continues to veto a directly elected house".
"… Rajya Sabha as a house which is supposed to maintain a check and balance, can once in a while disagree with a legislation passed by the Lok Sabha. It can be referred to a joint session, but every other law they cannot disagree with. It cannot happen too frequently.
"And if the indirectly elected house, for political and collateral reasons, vetoes a directly elected house, it does not augur well," he said.
Talking about the system in other countries, Jaitley said, "In Britain, they follow a pattern that the Upper House can send it (a bill) back once for reconsideration to the Lower House and if the Lower House, which works on a mandate and which has been elected on a manifesto, second time approves it, the Upper House always accepts it."
Asked whether that can be followed in India too, he said, "That could be accepted as a possible precedent."
On rising bad loans of banks, Jaitley said it was "a problem inherited from the previous regime".
"We are addressing each one of the sectors – the highways, the infrastructure contracts, the discoms. There is a lot of activity on each and all of these fronts. There is a system of recapitalisation of banks, but the problem is large and therefore, we will have to continue this effort and probably even improve on these efforts," he added.