PHNOM PENH: Asserting that India-ASEAN ties are poised to scale new heights, Vice President Hamid Ansari today said India's relationship with Cambodia was a "key element" in its engagement with the key regional grouping as the country moves forward with the Act East policy.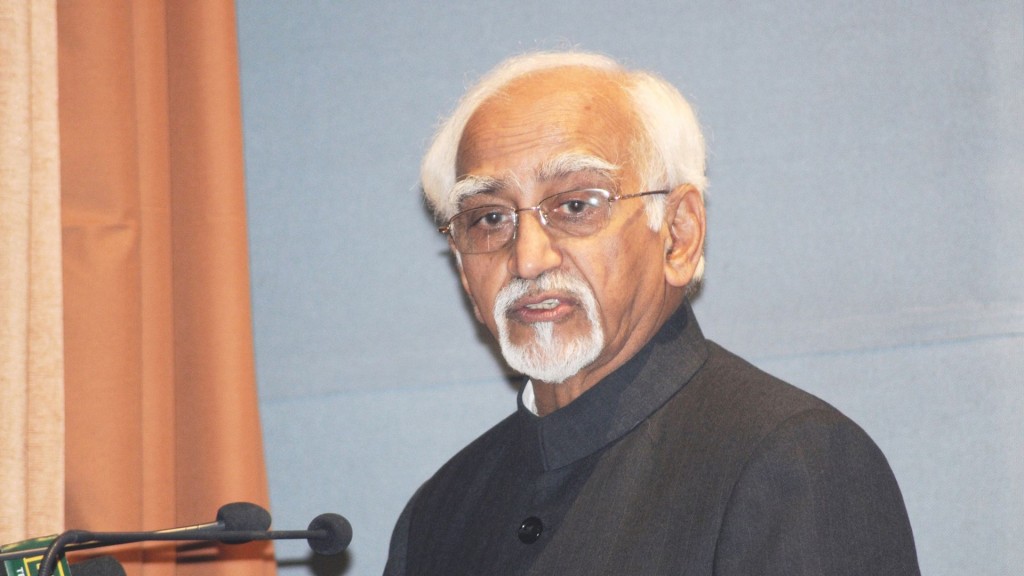 Ansari in his address at the Office of the Council of Ministers said the government has recently set-up a Special Purpose Vehicle (SPV) to attract Indian investments into Cambodia and other CLMV — Cambodia, Laos, Myanmar and Vietnam – countries.
"We hope to launch this new initiative soon and I am confident that in the near future more Indian companies will explore the investment opportunities here," Ansari told the audience which included ministers, top officials and university and school students.
Talking about India-ASEAN ties, Ansari said, "The current economic relationship between India and ASEAN countries presents a multitude of industrial, commercial and investment opportunities."
Noting that CLMV countries among the ASEAN partners are of particular interest to India, Ansari said these countries include some of the fastest growing economies in the region and are primarily agrarian, enjoying a certain degree of macroeconomic stability in recent years, with vast potential for future development.
"This creates strong complementary interests between India and the countries in the region on the basis of a tripod: Commerce, Culture and Connectivity. These are sustained by more frequent political exchanges. The India- ASEAN relations are thus poised to scale new heights," the Vice President asserted.
India has welcomed ASEAN's plans to establish economic and political relationships with neighbouring nations and India and ASEAN have increasingly supported bilateral trade, promoted foreign investment, and strengthened diplomatic relations, he noted. "My visit to Cambodia underscores the importance India attaches to Cambodia as part of our increasing engagement with the region. Geographically, Cambodia lies at the heart of ASEAN. For us in India, our relationship with Cambodia is a key element of our engagement with ASEAN," the Vice President said, adding that India looks forward to Cambodia's strong support in building bridges and deepening of India's relationship with the entire region.
The Association of Southeast Asian Nations (ASEAN) is a political and economic organisation of ten Southeast Asian countries Brunei, Cambodia, Indonesia, Laos, Malaysia, Myanmar, the Philippines, Singapore, Thailand and Vietnam.
Highlighting that in recent months India has enhanced its engagement in the East, Ansari said the intent to do so was reflected in Prime Minister Narendra Modi's remarks last year at the India-ASEAN summit at Nay Pyi Taw in Myanmar in which he declared that "India's 'Look East policy' has become 'Act East policy'".
The Vice President said, "As India embarks on the new phase of its Act East policy, and as Cambodia prepares for successfully integrating economically in to the ASEAN Community, we hope to work with our Cambodian partners to realise this potential." ASEAN and India earlier this year reaffirmed their commitment to strengthen and advance the strategic partnership and agreed to step-up cooperation.
Terming Cambodia's transformation from a period of strife and disturbance to a stable and peaceful country with a growing economy as an "inspiring story", Ansari said the Indian government has made clear its intention to partner Cambodia in its economic development.
Noting that there was a good scope for sharing experiences for mutual benefit between our two countries, the Vice President pointed out that agriculture and agro processing sector, mining, oil and gas and small and medium enterprises offers opportunities for trade and investment by Indian business. Ansari, who earlier held talks with Prime Minister Hun Sen, said that another area of cooperation is the defence sector.
"India is happy to have been involved in training efforts for the Cambodian defence forces. We will continue and enhance these training efforts," he said.
Stressing that the spreading tide of extremism and terrorism is a threat both countries face, Ansari said successfully dealing with such threats requires strong cooperation among like-minded partners.
"I am glad that we have taken some steps to institutionalise cooperation in this area. We will continue to pursue more regular exchanges between our security personnel," he said.
As two of the fastest growing economies in the world, the potential of their joint efforts to enhance bilateral trade and investment, collaboration in science and technology, cooperation in human resource development and cultural exchanges is boundless, he asserted.
Highlighting Cambodia and India's shared legacy reflected in the religious and cultural ties, he said the structures at Angkor Wat, Angkor Thom, Bayon and other historical sites bear testimony to the flourishing exchanges and cultural synthesis between the peoples of the two countries.
"The waters of sister rivers – Ganga and Mekong – sustain our cultures. The centrality of rivers in our civilisation gives us shared traits, ethos and sensibilities. Our exchanges and cultural flows were disrupted in the period of colonialism.
"After India won her independence in 1947, we have made a conscious effort to re-engage with our brothers and sisters in South East Asia," he said.
"Our early political cooperation in the Non-Aligned Forum and the re-invigoration of our relationship since 1981, provide us with a strong and much trusted base upon which a towering edifice of friendship can now be built," he added.
Noting that the two countries have a similar world view, Ansari said the two nations share many challenges and have the same opportunities of growth ahead of them.
"Our shared socio-economic compulsions make for a strong case of cooperation- particularly in the economic development of each other. The desire and efforts of the Government of Cambodia to continue on the path of economic progress and work towards social uplift of its peoples is deeply appreciated in India," Ansari, who will also visit Laos to shore up economic ties, said.
"We, in India, also have similar objectives. My visit provides an opportunity to convey to people of Cambodia, the deep commitment of the Government and People of India to the enduring friendship and co-operation between our two nations," he said.
Noting that development of water resources is a mutually identified area of cooperation, the Vice President said in future also India would continue working with the Cambodian Government in this area.
"We have a partnership with Cambodia for capacity building, as well as several training and educational programmes. I am very happy to learn that a large number of Cambodians have benefitted from these.
"The Entrepreneurship Development Center established in Phnom Penh with Indian assistance has been contributing fruitfully to this end. We would look forward to strengthening and augmenting the facilities there," he said.
"We have also enhanced our cooperation with Cambodia under the Mekong-Ganga Cooperation Initiative. I am informed that the Asian Traditional Textiles Museum in Siem Reap which showcases our collective cultural heritage has been successfully built with Indian assistance," the Vice President said.
The shared world view of the two countries is reflected in their close cooperation on regional and international issues.
"We in India value greatly the support that Cambodia has extended to us in the ASEAN-India context. It was for us a matter of pride that Cambodia in 2002 hosted the first India-ASEAN Summit.
"We greatly appreciate Cambodia's support to our initiatives including our efforts to reform the UN, make it more representative and secure for India the permanent membership of the Security Council," Ansari said.
"We need to delineate more precisely the contours of our relationship in the coming years. Our glorious past and shared cultural ties create a strong platform for cooperation in the future. Despite extremely cordial political relations the diverse areas of cooperation, our bilateral trade and investments remains much below its potential," Ansari said.
Highlighting that Cambodia has maintained a growth of 7 per cent in the last few years, Ansari said the Cambodian government is also undertaking policies to further attract investments and broad base the economy.
The recent launch of the new Industrial Policy is a step in that direction, he said.
"In India too the economy is back on an upward trajectory and we hope to maintain good economic growth in the foreseeable future. These trends provide us a very good basis to strengthen our economic ties," he said.
Cambodia's Deputy Prime Minister said India had stood by Cambodia during tough times and called for boosting bilateral economic ties and tourism. He suggested that Bollywood could come and shoot films here to boost tourist footfall.