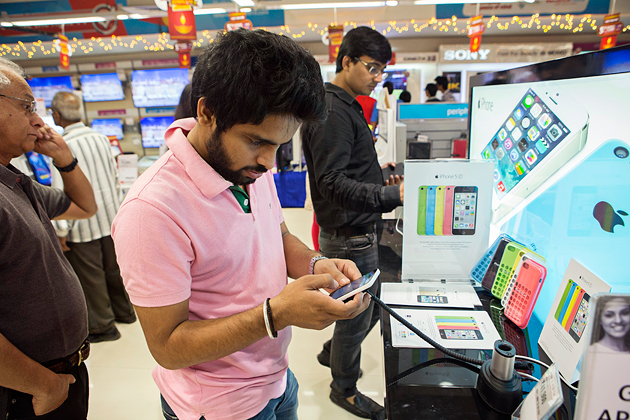 KOLKATA: Apple is, for the first time, targeting corporates and institutions in India to open up newer growth engines for its iPhones, iPads and iMacs in the country that the technology giant increasingly sees as a high potential market.
The Cupertino-headquartered firm has appointed over 130 dedicated corporate resellers across the country, including in several tier-II and -III cities such as Agra, Aizawl, Bhopal, Kozhikode, Jamshedpur, Mathura and Varanasi, two senior trade partners of Apple said. The target is to grow this network to over 200 resellers by March 2016, they said.
Apple is expecting 15-20% of its revenues to come from the enterprises business in India, which will also de-risk the company from any slowdown in the consumer market, they said. An Apple spokesperson refused to comment in response to an email sent by ET.
The two trade partners said Apple is also creating a separate network of dealers for the education sector through which it will offer both product and integrated software solutions to schools, colleges and higher education institutions.
"Earlier, the Apple distributors and premium resellers were doing enterprise sales, which was not getting dedicated focus. Hence, Apple felt the need to appoint exclusive corporate resellers for India the way it has done for bigger global markets," one of them said.
Apple has been globally focusing on enterprise business, especially for products like iPads, whose sales have slowed down lately. The enterprise business globally accounts for around 14% of the company's turnover at around $25 billion and Apple has indicated it is open to partnership with global firms to push sales.
The focus on enterprise business in India comes at a time when the firm's latest flagships iPhone 6S and 6S Plus received muted response much below its expectation, mostly due to high launch price, which even prompted the company to roll out a buyback plan for consumers.