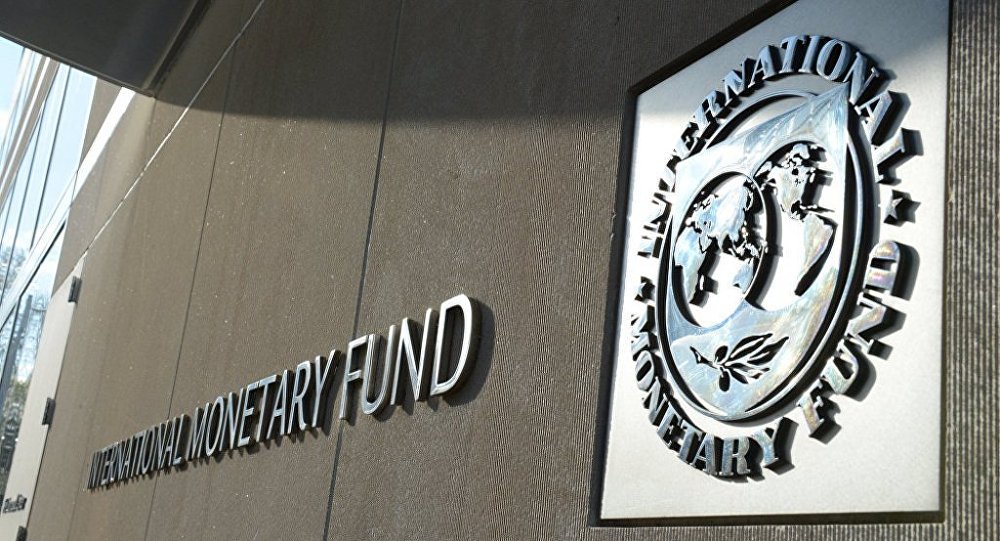 Even after almost a year of unchanged rates, caution is still a virtue for economists gaging the Russian central bank's next move.
All but two of the 25 economists surveyed by Bloomberg agreed with the International Monetary Fund's advice to keep the pace of future easing gradual. The rest said they concur with a call by the head of VTB Group, Russia's second-largest lender, for a "decisive" single cut of 2 percentage points. The analysts are split over whether the central bank will lower interest rates when it meets next month, with 13 predicting no change from the current 11 percent and 11 seeing a reduction, according to the survey.
"With sharp movements in an environment where there are no apparent mortal threats to financial stability or inflation, as was the case in December 2014, the bank will undermine its credibility," Armen Mirzoyan, an economist with Moody's Analytics in Prague, said by e-mail. "For an inflation-targeting regime to work efficiently, the credibility of the central bank is single-handedly the most important asset."
The central bank has shied away from the kind of policy zigzags that defined its first response to a currency crisis in 2014 and a recession that followed. As oil prices collapsed a year and a half ago, Governor Elvira Nabiullina hoisted the key rate to 17 percent from 10.5 percent in the middle of the night in Moscow to stabilize the ruble. A month later, the authority made one of the most abrupt reversals by central banks since 1990 by cutting it to 15 percent. None of the five reductions that followed exceeded 150 basis points.
"Our estimate shows that a sharp cut of the key rate now, as some are proposing, won't lead to significant economic growth, but will only cause a jump in inflation," Nabiullina told lawmakers Monday, according to Interfax news agency. The quote was confirmed by the central bank's press office.
Easing Anew
The pieces are now falling into place for the easing cycle to resume after a pause since July. The ruble has stabilized with a rebound in crude prices to near $50 a barrel and inflation is stable at the slowest pace in almost two years. While the IMF urged slower cuts as questions remain about the outlook for oil, fiscal policy and wages, VTB Chief Executive Officer Andrey Kostin said the market needs a "clear signal" in the form of an abrupt decrease in borrowing costs.
Policy makers have attached a greater weight to their credibility in the past year, standing pat as inflation expectations remained stubbornly high while the economic contraction deepened. The central bank in April held out the prospect of a rate cut at one of its "forthcoming" meetings.
"The best thing the central bank can do is to continue to build its credibility with the markets and become quite predictable, removing itself as a source of uncertainty," said Tom Levinson, senior foreign-currency and rates analyst at Sberbank CIB in Moscow, who sees a 50 basis-point cut in each of the next two quarters. "External factors look unlikely to calm any time soon. For this reason, we are cautious on Bank of Russia easing."
The benchmark rate will remain at 11 percent in June and reach 9.5 percent by year-end, according to a separate Bloomberg survey. Derivatives traders are also pricing in monetary loosening ahead. As of late Friday, forward-rate agreements signaled 44 basis points in rate cuts during the next three months. The ruble has gained more than 11 percent against the dollar this year after a 20 percent loss in 2015. It traded 0.3 percent stronger at 65.9475 to the dollar at 5:28 p.m. in Moscow on Monday.
Price growth stalled in the past two months at 7.3 percent from a year earlier, almost double the bank's 4 percent target. Last year's base effect may even result in a higher rate in May-June before disinflation resumes, according to the central bank.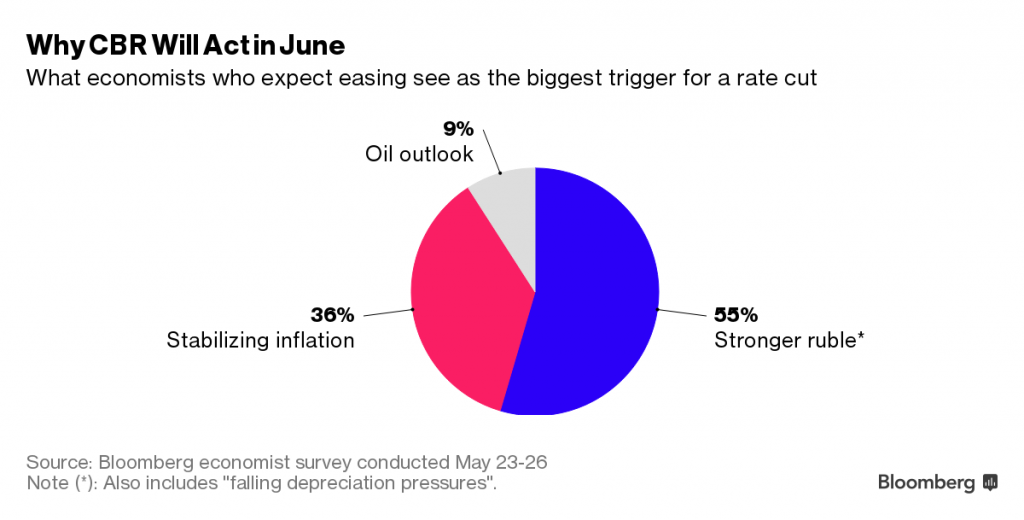 The Bank of Russia has signaled it's in no rush with monetary easing. First Deputy Governor Dmitry Tulin said it believes rate cuts will bring no "significant growth of the real economy."
Most economists surveyed by Bloomberg say the central bank will remain focused on the domestic outlook in its decision-making amid mounting external risks, such as an economic slowdown in China. Its rate path will change depending on the number of increases in borrowing costs by the U.S. Federal Reserve, according to 16 of the 25 respondents.
Analysts now see the Russian economy contracting 1 percent this year, down from a previous median forecast last month for a drop of 1.5 percent.
"The central bank can and should cut by 2 percentage points — there is little risk of a renewed run on the ruble, much cheaper oil prices are also unlikely," said Nerijus Maciulis, chief economist at Swedbank AB in Vilnius, Lithuania. "The current policy rate is no longer justified by macroeconomic and financial conditions."