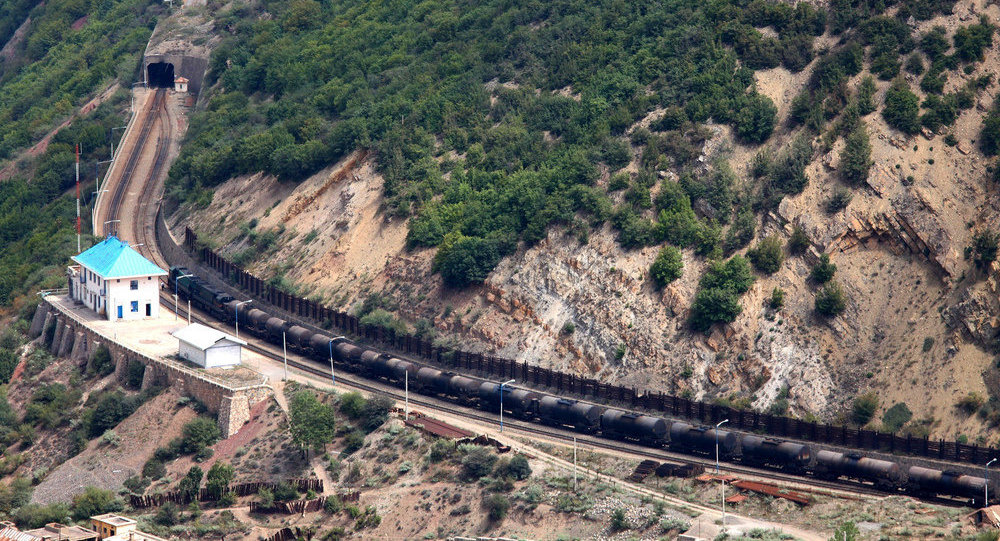 The first freight train from China will arrive in the Iranian capital Monday as part of the New Silk Road infrastructure project being led by Beijing.
The arrival of the train shows that the 10,400-km route from the city of Yiwu in China's Zhejiang province to Tehran, known as the "Economic Belt of the Silk Road," is complete and soon will be ready for use.
It took the train exactly two weeks to reach its destination. On its way from China, the train passed through Turkmenistan, Uzbekistan and Kazakhstan before finally reaching the Iranian capital.
The train signifies an important day for the developers of the New Silk Road project: the new route is the first logistical solution offering the delivery of cargo from the Asia Pacific region to the coast of the Persian Gulf.
"The arrival of the first cargo train from China to Iran opens a new chapter in mutually beneficial cooperation between our countries… This saves time and significantly increases the trade volume between Iran and China," Mohsenpour Seyed Aghaei, the Iranian Deputy Minister of Transport, Roads and Urban Development, told Sputnik.
The high-ranking Iranian official added that Iran is ready to build the railroad further, so it would reach Europe. That way, Tehran would become a key transportation hub between China and the European Union.
Iranian academic Mohsen Shariatiniya agrees with the deputy minister, stating that the first and most important step toward building economic cooperation between China and Iran has been successfully established.
"For Iran, the start of the first trade route with China under the framework of the "Economic Belt of the Silk Road" signifies the revival of cooperation with China… The route of the New Silk Road is, undoubtedly, beneficial for Iran… The Islamic Republic sees only benefits and the acquisition of new opportunities with this project," Shariatiniya told Sputnik.
Less than a month ago, on January 23, Iranian President Hassan Rouhani and his Chinese counterpart Xi Jinping signed 17 cooperation agreements to strengthen bilateral ties after the two countries set a goal of increasing bilateral trade to $600 billion over the next decade.
The New Silk Road will also include Russia as one of the major partners. On February 6, a test freight train arrived in Russia's Kaluga Region from China.
When the New Silk Road is ready, the Chinese-led $900 billion infrastructural project will connect the Asia Pacific region, the Middle East, Europe and Africa.