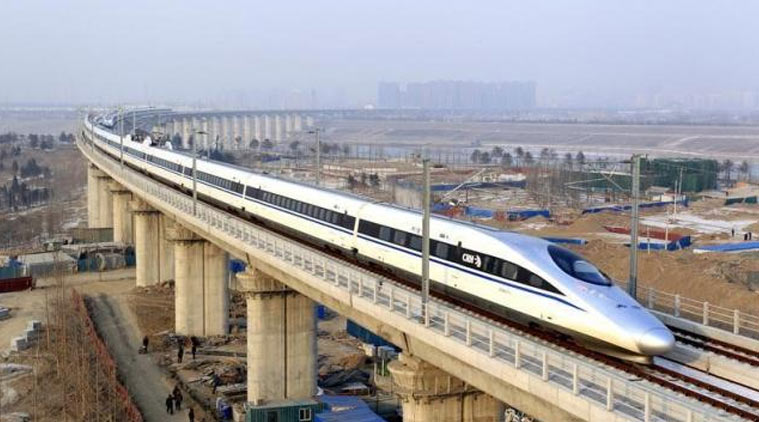 The government has decided to open up India's first bullet-train corridor between Mumbai and Ahmedabad to private train operators paving the way for the private sector in passenger train operations for the first time in the country.
As per the decision, Indian Railways will operate the bullet train corridor for five years after it is commissioned. After that private players will run the train service — translating into managing the rolling stock, the onboard services, the fares and other charges.
The Arvind Panagariya-led Committee on Innovative Collaborations, which had approved the project, has incorporated this policy move which has subsequently been approved by the Cabinet.
Better efficiency in services and relieving the national transporter of a possibility of being saddled with a huge financial burden of running the expensive service are believed to be some of the reasons behind the move. Japan, which is funding 81 per cent of the project, also has private operators running the Shinkansen — a version of which will be rolled out in India — whereas the government owns the infrastructure.
Railways will formulate a policy, which will enable the private players to come in and either share revenue with or pay a certain amount of fee to the national transporter for the service, sources said. As per the official timeline, the service is expected to commence by 2022 and Prime Minister Narendra Modi is said to be keen that the timeline is adhered to.
Sources said Railways had argued before the high-level committee that a public infrastructure project with such a huge viability gap funding should not be given away to private players on a platter.
Moreover, since Mumbai-Ahmedabad is one of the many bullet-train corridors coming up in India in the future, Indian Railway needs to attain the expertise and the upgraded know-how required to run a bullet-train service professionally and efficiently, the committee was told. It was also highlighted that even in Japan, Shinkansen's operations went to private players a good two decades after the service was started in the 1960s. France and Germany, both have government arms running the trains. Eventually, it was agreed that Indian Railways will run the operations in the first five years after which private players will come in.
As per the feasibility report of the corridor prepared by Japan, the service needs to have good frequency in order to generate maximum traffic and earn the maximum money possible. This is because the financial rate of return of the corridor is below 4 per cent, so the viability of its operations hinges on more playing the corridor and not less.